GOLEM, produced by theatre company 1927, is an innovative and dazzling fable which encompasses our addiction to smart phones and the internet, wrapped in a world of animation and onstage action.
The plot draws on the myth of the Golem; a man fashioned from clay
If you read some of the most annoying facebook posts by friends, some will ask their followers what they should be having for breakfast and plug every product they purchase. It's not an event unless it's been logged or posted with pictorial evidence. 1927 take the concept of this reliance and give it a light-hearted façade, so that it never feels preachy or patronising.
The vivid animation feels so real you could leap into it and the actors ability to interact with this beautiful backdrop mean there is a rarely a dull moment in this bright and breezy show.
The plot draws on the myth of the Golem; a man fashioned from clay as we follow shy and introverted protagonist, Robert, who buys a man-servant fashioned from clay to help him improve his life.
To begin with, the Golem provides Robert with pace to his life: access to products he never knew he needed, multiple dating choices and a whole new world. The problem is, Robert's old life is replaced by a reliance on this character for help and advice and it starts to feel controlling.
Sound familiar? One of the clever things about Golem is that it does make you question your own reliance on the likes of Apple, Google and other corporations that constantly update their products. You are also reminded of the times you may have checked the weather on your phone as opposed to look out of the window, used GPS on foot for directions and not looked out in front you, or simply staring at a screen expecting to find answers having forgotten the question.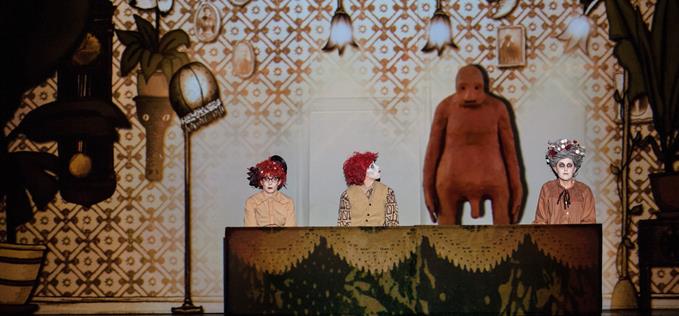 Golem, HOME
At times, however, the concept – though engaging and always involving - feels slightly stretched. Some of the points are repeated to such an extent, that one hour into the piece, there are few surprises left. You could easily lose twenty minutes from the running time and not really notice.
Still, Golem is such a feast for the eyes you are willing to bypass this minor flaw. Writer and director of the piece, Suzanne Andrade, incorporates sight gags and plenty of blink and you'll miss it moments of genuine hilarity. The inventor of Golem sits reading the magazine ClayBoy, as he waits for his machines to do their thing. While Paul Barritt's film, animation and design provides a feeling of constant movement and gives the production a cinematic quality, as well as providing the actors with something tangible to work with.
Shamira Turner's Robert is part Tim Burton character whilst also reminiscent of a Laika character from the film Coraline. Turner embodies the role to such an extent you are convinced, at times, she must be animated. Ben Whitehead's booming voice brings the Golem to life and it's interesting to note Whitehead has worked with Aardman animations, as the piece has the playful approach of Wallace and Gromit - there's even a version of the famous Knit-O-Matic invention from A Close Shave.
If you've yet to visit HOME, Manchester's new £25m cultural hub, Golem is a good place to start; funny, fast-paced, relevant and filled with technical wizardry.
Golem is at HOME until 17 October.