*****
HOME's current theatre production, Samuel Beckett's Endgame, feels – well – right at home. I won't ask for pun forgiveness. Previous theatre productions have explored aspects of the potential of the new theatre space, often testing its limits. But the space needed an opportunity to fall back from its occasional starring role and just be there, supporting.
Chris Gascoyne is a revelation
What shines is the work: the writing, direction, design and, above all in this production, the performances.
Beckett's work, classed as Theatre of the Absurd, examines a world where human existence no longer has meaning or purpose. In his 1957 play Endgame, as in chess, few pieces are left on the board. Hamm (David Neilson) and his loyal servant Clov (Chris Gascoyne) are trapped in a repetitious world, in a narrow decaying room reliant on the ever diminishing supplies gleaned from the decayed landscape occasionally glimpsed outside. Clov, his movements hampered by diminished mobility into a clumsy ritual, gets through the day's tedious tasks with difficulty, serving his blind and wheel-chair confined master Hamm. Occasionally we meet Nagg and Nell, Hamm's parents, living in dustbins in the corner, waiting to be fed and reminiscing about happier times. A brief glimpse of a young boy outside, someone who might ensure a future for humanity, is quickly ignored; to do otherwise would require action, decisions, and a willingness to believe that there might be someone who might give hope, some future purpose to life.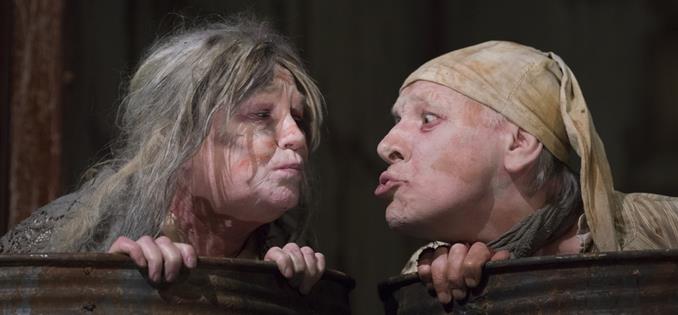 Nell (Barbara Rafferty) and Nagg (Peter Kelly)
David Neilson and Chris Gascoyne, well known from Coronation Street, give superb performances. David Neilson, who took time out of Corrie eight years ago to appear on The Library Theatre's stage in Beckett's more famous, Waiting for Godot, is no surprise. His Hamm delights in his power with words, his ability to tell stories to an apparently enthralled audience of Clov, Nagg and Nell: they have no real option of escape. Neilson commands the stage from a wheelchair, his voice powerful, cruel, used to command.
Chris Gascoyne is a revelation. My familiarity with the actor had been confined to his tv role, and the occasional sighting in decent local pubs. His physical, wordless display of doggedness and routine in the face of physical barriers is a captivating opening and hints at a potential inner conflict over his servitude, just sufficient enough to work for modern audiences without introducing a level of logic unintended by the writer. Peter Kelly's Nagg, and Barbara Rafferty's Nell, confined to live the remains of their days in bins, provide a glimpse to earlier and wider worlds with brief tales of holidays in sunnier times.
With obvious echoes of Waiting for Godot the relationships and motivations, such as they exist, remind me of Pinter's Caretaker, though without the optimism. It's surprisingly funny at times, but painfully so. Perhaps it's unsurprising that Steptoe and Son took to our small screens just five years later.
This is a co-production with Glasgow's Citizens Theatre, whose director, Dominic Hill, and creative team have done a superb job. But it's home-grown too: apparently David Neilson and Chris Gascoyne exercised their muscles by reading the parts between Corrie takes and suggested a local production. Their reading was joined by Malcolm Hebden, Corrie's Norris, and Stephanie Cole, then playing Roy's mum, taking the Nagg and Nell roles. Norris in a bin would have been a popular attraction.
This is a really welcome production. More please.
Endgame runs at HOME between Thursday 25 February - Sat 12 Mach