I'LL HAVE you know that I'm not particularly proud of the monobrow I presented to the beautician at the Benefit Brow Bar counter, House Of Fraser.
We stopped on one eyebrow to examine the arch. One side of my face had been lifted, and remiscent of WWE wrestler The Rock's famous 'People's Eyebrow'. It was as arched as the Hulme bridge and I loved it.
They (or more appropriately 'it') are the direct result of a particularly dominant curly hair gene and come complete with an even hairier sibling: a dark moustache.
Still, I've been feeling empowered by my forehead bushes of late.
In recent years, the fashion industry have favoured the bushier brow look and told us to leave our tweezermans to one side.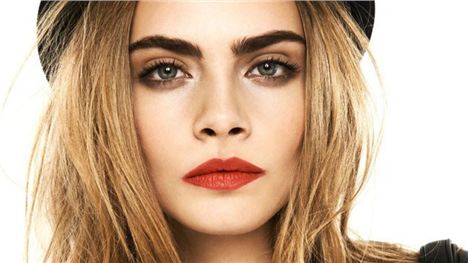 Supermodel Cara Delevigne brows
Of course, the popularity of supermodel Cara Delevigne's much publicised mammoth brows has helped to pull me in-sync with the trend. The 90s skinny brow has been commited to the fashion vault, me and my brows are finally in.
Although, they still need to be groomed.
Somewhere in amongst this 'brow revolution', eyebrows and their maintenance have become big business - and a bit complicated. 
From waxing, threading, pencil filling, powdering, highlighting, tinting, tattooing and all the bother with HD brows - it seems with more methods we've found a lot more ways to get it wrong.
I got it wrong recently and following a bad threading experience I've spent much time growing my eyebrows back to full volume. See below...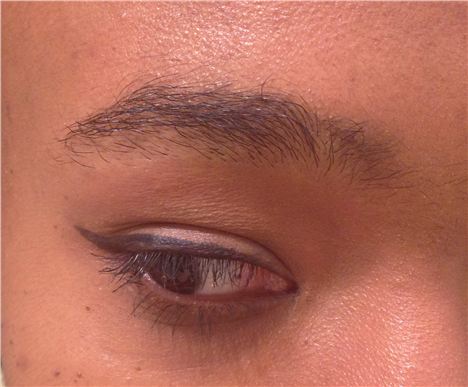 BEFORE: Bushy and monobrowed
The Benefit Brow Bar specialists are hailed across the city as experts in brow shaping, so I was keen to have them sort mine out.
Based within most major department stores, its cosmetic counter and products are all kitsch, girly and comic with cutesy statements like "Brows frame the face... and you wouldn't put a pretty picture in an ugly frame!" I'd be inclined to agree.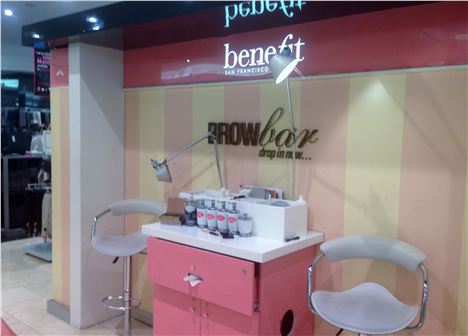 Benefit Brow Bar, House of Fraser
The brand's signiture 'Benefit Brow Arch' is also easy to spot. Waltz through House Of Fraser and you'll find one of Benefit's specialists looking either suspicious or extremely surprised to see you; it's safe to say they are fond of a very bold, high arch look. 
I was hesistant to say the least and approached with a list of rules and expectations including, "I don't do thin eyebrows" and "I would like to look like a supermodel, if you please".
My brow specialist, Shannen, was more than up to the job. Her own eyebrows were perfectly formed and she appeared to know exactly what sort of brow I was going for.
"Let's think of it as an ongoing project," she said, in a bid to ensure my return.
Shannen would start by 'brow-mapping' my eyebrows and pin-pointed where my brows would start, arch and end.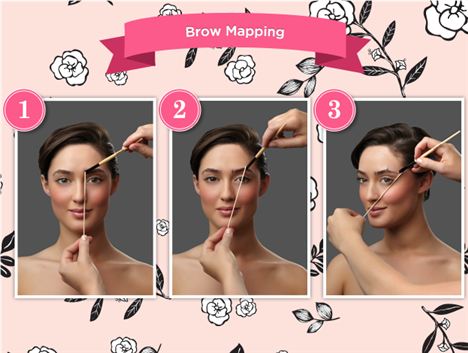 Benefit's Brow Mapping
After oiling my brows down, she explained she'd be using the waxing method. As a long-term fan of eyebrow threading, usually opting Shavata in Harvey Nichols or Blink in Selfridges, I was unsure whether the waxing end result would be as precise.
"You can ensure you'll get a nice shape and structure with waxing. It's also far quicker and less painful," she explained.
As she spread on the wax and whipped it off with ease, she was right about the minimal pain factor.
We stopped on one eyebrow to examine the arch. One side of my face had been lifted, and remiscent of WWE wrestler The Rock's famous 'People's Eyebrow'. It was as arched as the Hulme bridge and I loved it. Shannen matched up the other.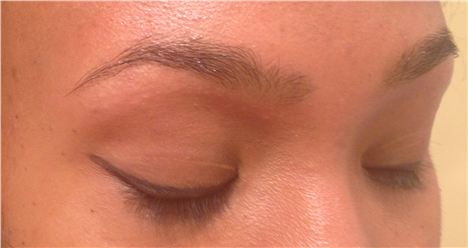 AFTER: Eyebrows without touch-up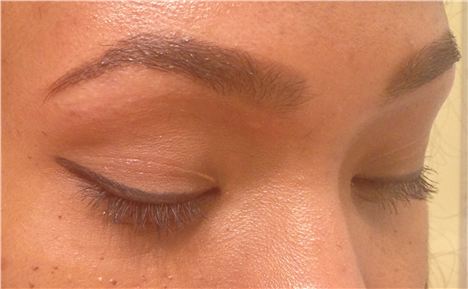 AFTER: Eyebrows with fill in.
A great part of Benefit's service is they will also teach you how to add the finishing touches with powder and pencils. Using Benefit's 'Browzings' shaping kit (£24.50) she began to lightly dust my new brows with powder, paying attention to areas where hair is sparse. Although pricey I decided to buy one - a great upsell on Shannen's part.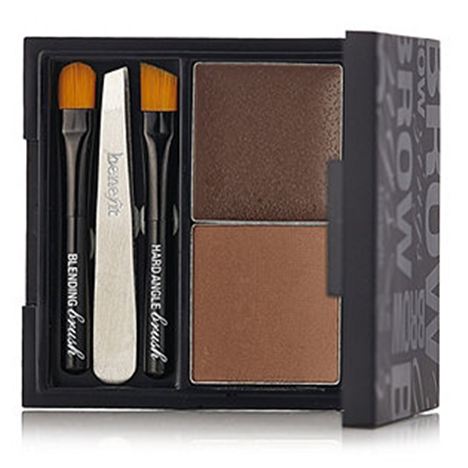 Browzings (£24.50)
In less than twenty minutes, the result was two thick, arched and well groomed eyebrows, as I requested.
For £11.50 the shaping service has much to be admired, rivalling other big department eyebrow brands priced around the £18 mark. Benefit's brow service also includes tinting (for an extra cost). 
I left House Of Fraser feeling anew. The more I delve into the beauty world, the more I'm convinced by the transformative powers a good eyebrow can have on your entire face. Today I look alert, fresh and for future years, I'll have cut the cost of any botox treatment with investment in a good eyebrow waxer.
Follow @LOreal_B on Twitter
ALL SCORED CONFIDENTIAL REVIEWS ARE IMPARTIAL AND PAID FOR BY THE MAGAZINE. 

L'Oréal visited the Benefit Brow Bar at House Of Fraser, Deansgate.
98-116 Deansgate | Manchester | M3 2QG | Benefit's website
Score: 16.5/20 
Product: 8/10 (a very thorough service and there is choice between threading and waxing)
 Effectiveness:4.5/5 (My brows look great, neat and still thick as requested)
Service:4/5 (Shannen was attentive, chatty and full of brow knowledge)