ALBERT'S Schloss is Brannigans Mark II and I mean that as a compliment.
It's been like Saturday night every day since we opened...
The folk behind the Trof bars and the glorious Albert Hall venue above Albert's Schloss have teamed up with the Revolution Bar folk to produce a fun palace of extraordinary dimensions and clever design. This is one for the people. There's nothing about the place that smacks of Northern Quarter artifice or Spinningfields exclusivity. As with that other Revolution venue, Revolucion de Cuba, close by on Peter Street it's a let-your-hair down, pressures-off type of place. Leave your pretensions by the door and pick them up on the way to Brewdog.
Behind the glistening tiles of the former Manchester and Salford Wesleyan Mission building from 1910 there's a bar longer and wider than the M60, real fires, excellent original plaster and tile work, racks of vintage magazines, generously placed tables, a stage, live music, entertainment nights, a DJ, elevated beer tanks, a 'shufflepuck' table (described by Confidential's David Blake as curling but with silicone balls) and hordes of adoring punters. Hordes of them.
"It's been like Saturday night every day since we opened," said our waitress ducking and weaving to our table on a packed Wednesday at 5.45pm. There's a capacity of 600 and it seems it's been up near that figure every evening so far.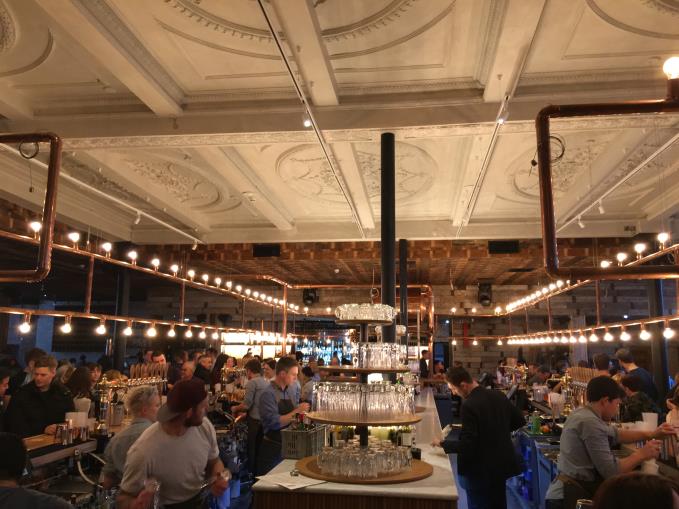 It's busy and the the bar is longer than the M60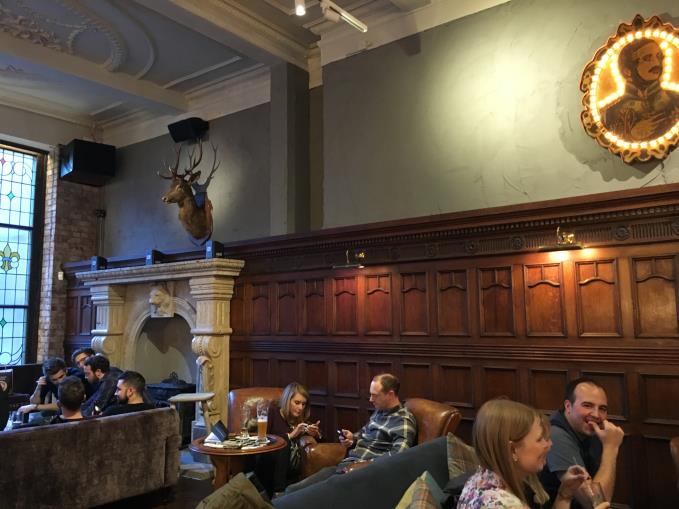 Fires and original details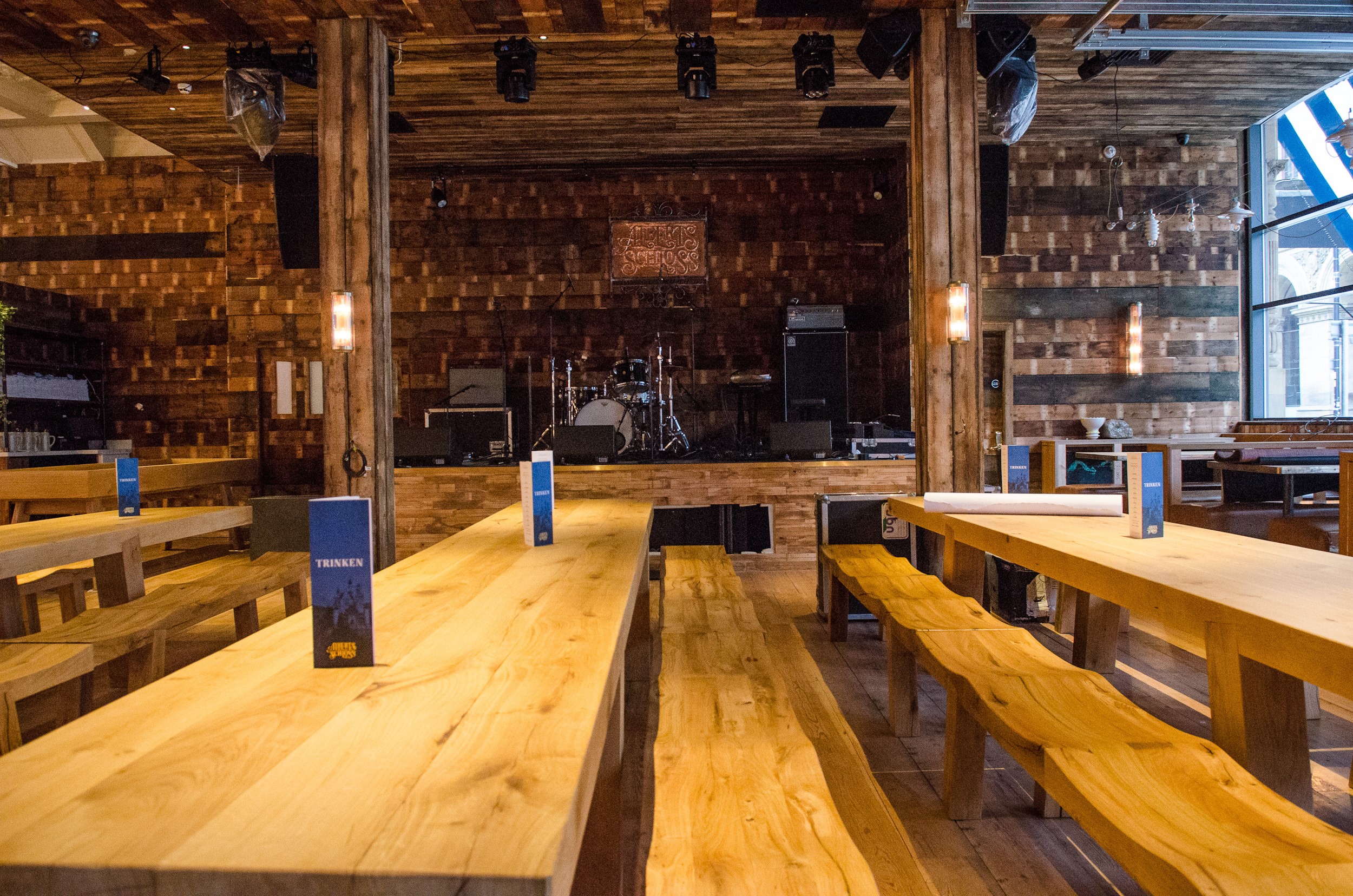 Waiting for the onslaught
Neil Macleod of Revolution Bars says, "A Schloss is a Bavarian palace, not a defensive fort, but built by the nobility to enjoy themselves - a manor house to relax and to party. Albert's Schloss is exactly that, a place to enjoy, engage, refresh, refuel, meet friends, be entertained - there's something of the city, the countryside and the mountains here..."
The mountains? Steady on Neil.
The strapline for Albert's Schloss is 'Cook Haus and Bier Palace', although it appears in a rather different form in the gents as 'Cock Haus and Boob Palace'. Saucy. Very music hall. Apt. The theme across the site is Bavarian or maybe Mittel Europe and the menu reflects this.
Mostly. Not sure how padron peppers (£5) made it on there but they were very enjoyable, bitey, juicy, blackened for extra tang, with an in-the-end decent but pointless red pepper harissa dip. Another starter of bratwurst and kraut (£5) was back on message and the produced an enjoyable sausage and pickled cabbage experience that didn't shout from the rooftops but was fine and given edge with the mustard.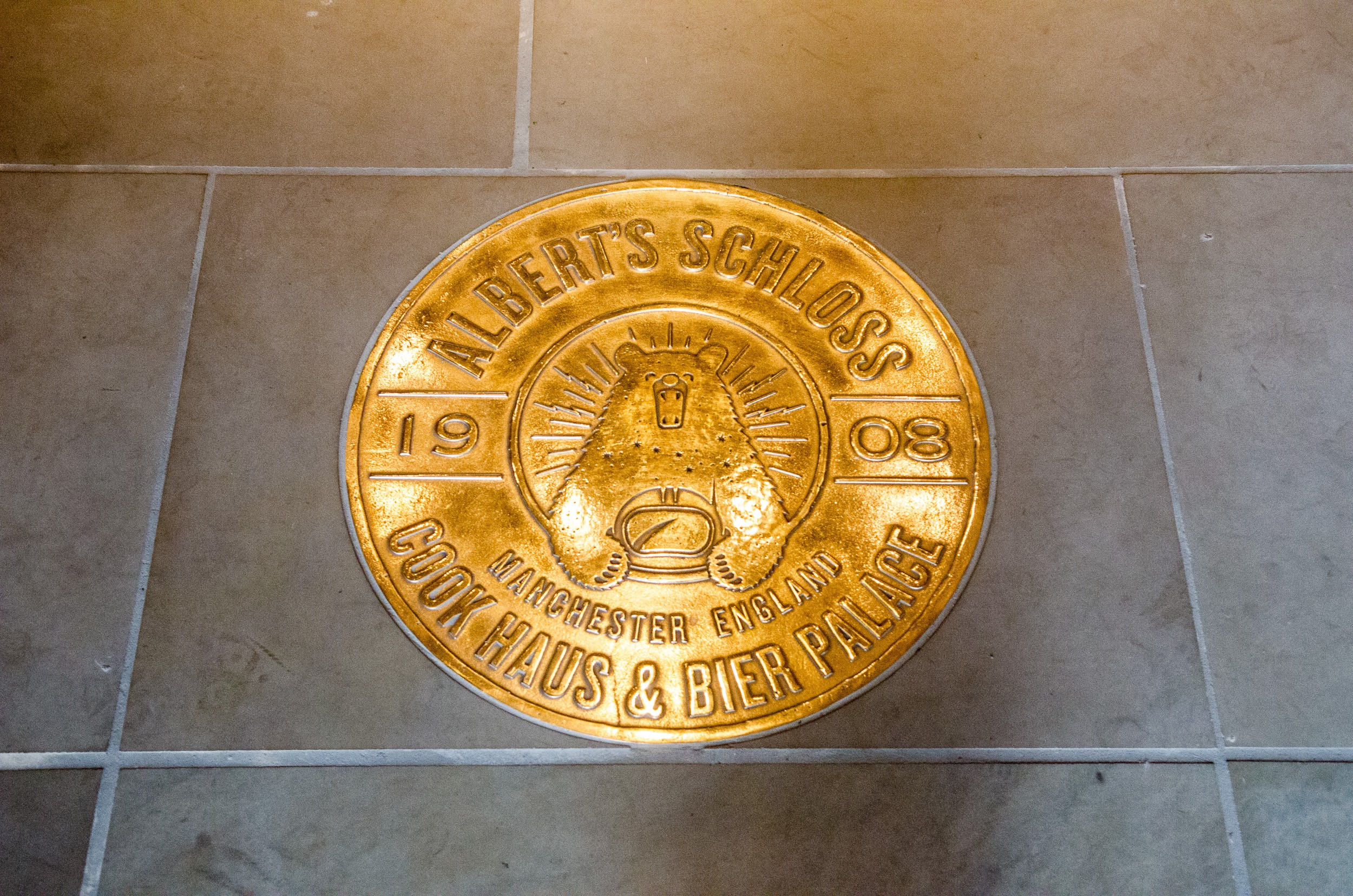 Strapline - the clean one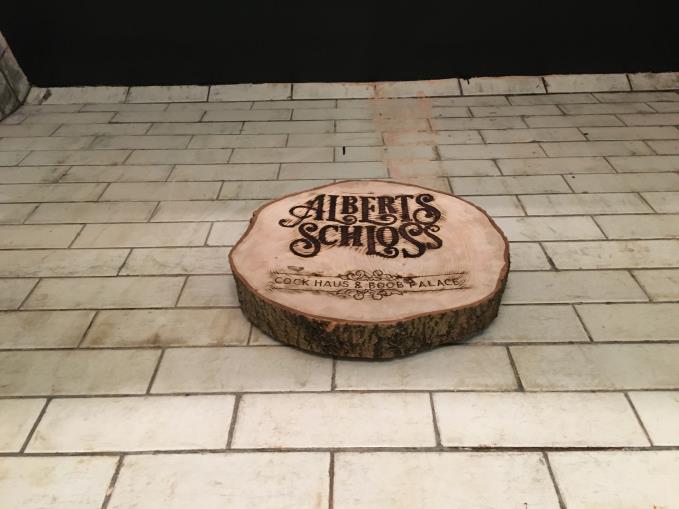 The rude strapline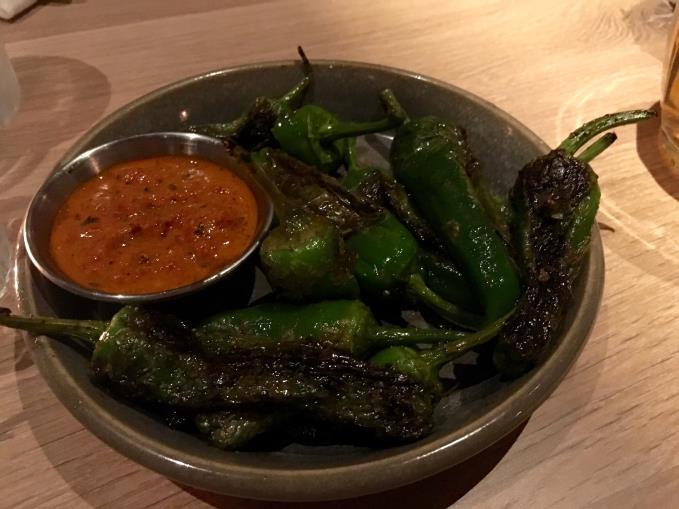 Padron peppers from Bavaria - something like that
Definitely not the 'wurst' I've had
The pork knuckle main (£13.50) with pickled red cabbage sat in a sea of gravy was a proper filler, as unsubtle as a right hook to the mush, but with great pig flesh underneath a crackling top that looked charred and dry but turned out to be juicy and delightful. The inelegant gravy puddle is sloppy and bothersome, especially with a white shirt. Albert's Schloss should use a gravy boat with the dish so punters can apply the liquid themselves. Having the red cabbage sloshing (schlossing) about in the gravy doesn't help matters. The dish is called a Schweinshaxe. Had to be.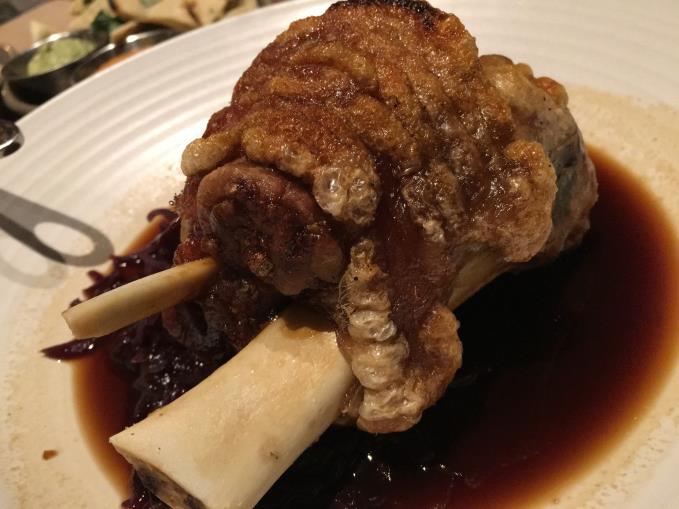 Call me Mr Schweinshaxe
A baba ganoush (£4.50), little pots of red pepper humous and smoked aubergine puree to be ladled into the mouth with charred flatbread, was delicious, especially the aubergine bit. Of course these were salsas and sauces that were a typically northern European take on the food of the hotter countries to the south, passive aggressive in other words. The cheesy fries with truffle were on top form and cost £5.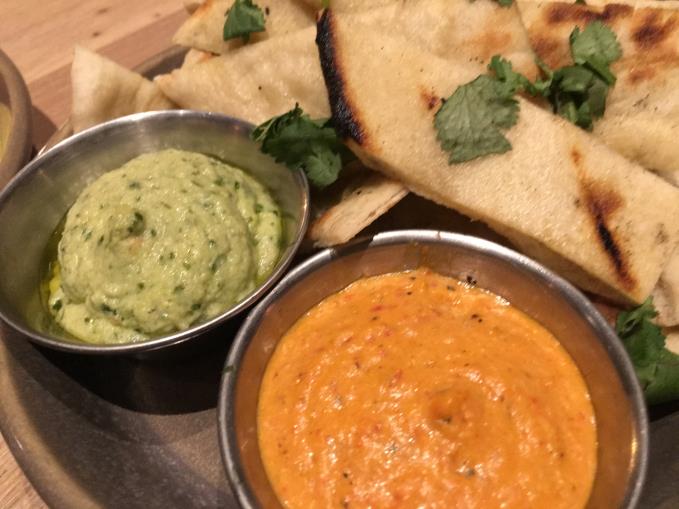 Aubergine delight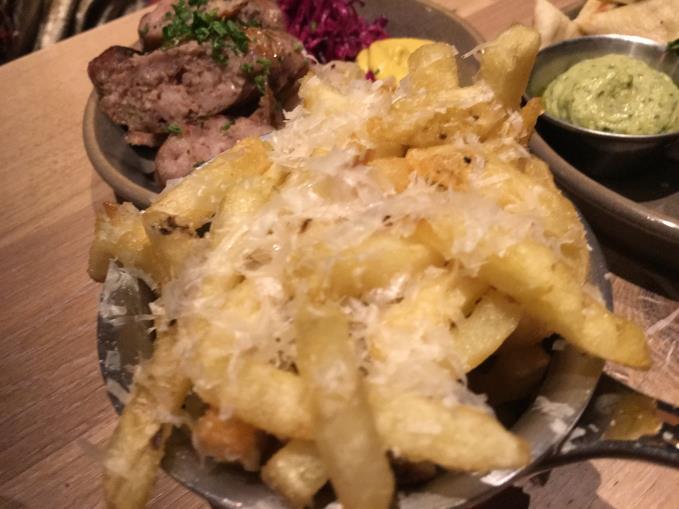 Goodly fare, the cheesy truffle chips
A banana and butterscotch waffle at £7.50 was a masterclass in moreish sweetness that was generous enough for two, light rather than heavy. There are 26 beers, 26 cocktails, 40 wines/bubbles and 31 varities of Schnapps available. The Tank beer flowing from the 4,000 pint capacity tanks around the building is not to my taste. This is unpasteurised Pilsner Urquell beer, made with Moravian Barley, Saaz Hops and Plzen water and delivered directly from the brewery in Plzen once a week. Fair enough, but it's heavier than a hippo that's just accidentally eaten Oleksiy Torokhtiy, the gold-medal heavyweight weight-lifter from London 2012. It sulks in the belly. Angrily.
I abandoned the Tank beer and slammed down a couple of large glasses of Fleurie which set me back £18. Daft. Should have gone for the bottle.
I liked Albert's Schloss. This place wants people to have fun. The staff are excellent, the doorstaff polite. It's a million miles from being stuck up its own jacksie. My mood was so jolly after the food and the drink that when the DJ slapped on some Barry White I felt I might be tempted to do a few steps. Unfortunately for the crowds of people in Albert's Schloss desperately waiting for a vision of Terpsichorean genius the Tank beer had me pinned to the spot.
So instead I told my dining companion about two tour guiding experiences I had when Albert's Schloss was Brannigans back before the latter closed in 2011.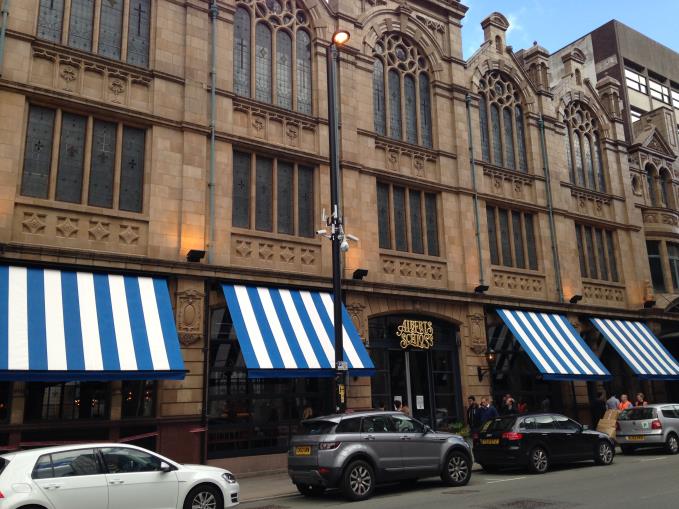 Albert's Schloss - it'll be full in there
One involved appropriately a Bavarian Trade Union group. This was composed of fifty-year-old male officials and twenty something female secretaries. To an amazed, and frankly bladdered audience, the older German men and their younger ladies paired off ballroom dancing style and waltzed around the dancefloor.
They waltzed to Hungry like the Wolf by Duran Duran which was being covered live by a band who resembled the bad guy extras from CIS Miami. Within four bars of the song the locals had retreated to the edge of the dancefloor and were twisted double with laughter. The band meanwhile were looking around wondering about the exact quality of the 'night-enhancers' they'd taken before coming on stage.
On another occasion there was a group of Dutch visitors who were staying at the Midland Hotel and had 'heard' Brannigans was a 'good night'.
It was for one of them.
A seventy five-year-old Dutch social housing consultant had to be physically carried back to his hotel. He'd bagged off with a forty something Gorton divorcee and when his compatriots tried to haul him away he'd jumped on a table shouting, "This is life, this is sex!" in English. Remember he was seventy five. At the very least.
When the other elderly Dutch architects were shouting to him in Dutch to get down off the table he started to shout back in Dutch
"What are you saying?" I said.
"We're telling him his wife won't be happy?" came the reply.
"What's he saying?" I said.
"He's saying he doesn't care."
It might have been the Low Countries' lowest moment.
You can follow Jonathan Schofield on Twitter @JonathSchofield or connect via Google+
Albert's Schloss, 27 Peter Street, Manchester, M2 5QR. 0161 833 4040
Rating: 14.5/20
Food: 6.5/10 (Padron peppers 7, bratwurst 6.5, baba ganoush 7, schweinshaxe 6, fries 6.5, waffle 7)
Service: 4/5
Ambience: 4/5
PLEASE NOTE: Remember venues are rated against the best examples of their type. All scored reviews are unannounced, impartial, paid for by Confidential and completely independent of any commerical relationship. Venues are rated against the best examples of their kind: fine dining against the best fine dining, cafes against the best cafes. Following on from this the scores represent: 1-5 saw your leg off and eat it, 6-9 get a DVD, 10-11 if you must, 12-13 if you're passing, 14-15 worth a trip, 16-17 very good, 17-18 exceptional, 19 pure quality, 20 perfect. More than 20, we get carried away.