WE'RE talking Salford but the best quote ever committed to paper about Manchester still applies, especially if we simply read it as Greater Manchester.
We want to turn the place into the Notting Hill of Salford.
'Manchester is the place where people do things. It is good to talk about doing things, but better still to do them. 'Don't talk about what you are going to do - do it.' That is the Manchester habit. And in the past through the manifestation of this quality the word Manchester became a synonym for energy and freedom and the right to do and to think without shackles.'
That gem came from incomer Sir Edward Abbott Parry in a 1912 book.
Speaking to Neil McArthur puts me in mind of this quote, because Neil and Anne McArthur are 'doing' as well as 'talking' despite the name of their former company. These are rich people who have made a lot of money through their own energy. Neil M is the founder of IT company Talk Talk, and together the McArthurs have created the Hamilton Davies Trust (HDT).
We need these trusts all across the North West because this one is making a big difference. The trust has pumped £6m into the local communities of Irlam and Cadishead in Salford, with additional support given to Rixton-with-Glazebrook. What the McArthurs are doing is old-fashioned philanthropy and it's bloody marvellous.
"I was born in Irlam," says Neil McArthur, "and I was educated here and worked here. My father worked in the steel works but in my time I saw the area move from industry to decline. You lose the big companies and you lose the support industries. Shops became boarded up, the steelworks site was a wasteland, it all looked and felt grim. Yet I never felt I wanted to abandon the place. This was my home, so after growing a business it felt right to give something back."
"When we kicked off this project Irlam, down Liverpool Road, looked bad and this was largely because of the physical aspect," continues McArthur. "So we decided to buy derelict shops and make the flats above habitable. We made the fascias of the shops look neat and attractive. Shops started to open again and the initiative made other people react. If you do four shops in a row, then the person in the fifth might do their shop up too."
But there was a big eyesore down by the tracks.
"A problem for the whole area was the railway station. It was derelict. So we thought, let's make that something for the community that looks good and projects a positive image. Irlam lies between two great cities on the main line from Manchester to Liverpool and the face we presented was a ruin. We've fixed that and it's made a huge difference to perceptions. To begin with there was some opposition to renovating the station, even Salford council didn't really understand. There were negative reports including some claiming we wanted to turn the whole place into some sort of wild pub with raves at night. Instead it's turned into a real focal point for the community."
He's right. The station is a total success, a sweet place, a café, community rooms and museum all in one. There is a cycle hub and a 60-space car park plus loads of art. It works and it's popular. On my visit I overheard some older folk at a table, one saying, "I can't believe what's happened to this place. I come every week at least once, it makes me feel proud."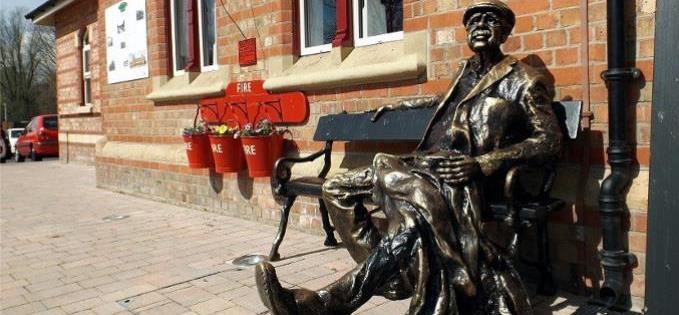 Art on the station
The station is the jewel in the crown of the Hamilton Davies Trust but the villages have also benefited from many other projects. The trust has distributed 400 grants to local organisations and projects and, with partners, funded a number of major, high-quality projects such as the building of a new sixth form college, the refurbishment of the local leisure centre, helping with a new leisure cycle route as well as the re-invention of the station.
"It's funny but sometimes the smaller projects really stick in people's minds. The 150 flower baskets and the Christmas lights are top of many people's list of what the Trust has delivered," says McArthur. "It's gratifying to see the army of volunteers that turn up for things such as the litter picks as well. We can get forty people helping out."
McArthur is an engaging character, and amongst tales of cheekily replacing broken trees and removing redundant telecommunications hardware that had gone to the third or more council meeting, his passion for the area shines through.
"You know what," he says. "We want to turn the place into the Notting Hill of Salford."
Unforgivably, I laugh.
"I'm serious," he continues. "Look at the links with the cities we have. When we first started this process I think some people thought I was a bourgeois capitalist pig - locally and in the council. Now we get on with things, despite occasional differences in politics. The Trust is about is setting things in motion. This is a nice place so I want people to continue moving in and lifting the aspirations and amenity of the area."
As a guide as well as a writer, I'm very aware of the obligation successful Victorian business people felt about endowing a park, a hospital, a library, a gallery and so on. Does McArthur think wealthy people should be more active in their home communities in 2016?
"Of course it used to be the norm," says McArthur, "but remember taxation was much lower and there were less distractions, less ease of travel and places to spend money. But absolutely more wealthy people should get involved in making lives better for their own areas or the areas where they grew up no matter how unglamorous they may be. Some do but most do not. There's this general view that solving local problems are the council's or government's job. That is plain wrong. Small steps add up to long journeys and I've found you might have to do twenty things before you make a difference. But that doesn't mean you never start. If people would identify with their own area more then the country would be better. Simple as that."
Neil McArthur is literally putting his money where his mouth is and Irlam and nearby villages are benefitting. If only there were a similar trust to the Hamilton Davies Trust in Royton, Moston, Radcliffe or countless other places across the North West. Surely it's sound advice that as a country people have to stop passing responsibility on to the strained resources of councils and central government and get on with the job themselves, especially if they have the wherewithal to do so.
Powered by Wakelet