THIS was a new experience for me. Having not stepped into the modern day fashion bazaar of choice before, I had no cause to hold any assumptions about it, no views in particular be they positive or negative.
I witnessed one lad curse his luck that they didn't have his size in the toweled Hulk onesie, while another decided against dressing as a tiger after a serious discussion with his two mates. This sight took quite some time to process. 
It was a place I had simply never particularly wanted to shop. Rightly or wrongly, I had fed off the stories of friends who told of shoddy stitching that came apart within days, jeans that were cut to a fit which never satisfied and queues... the endless queues.
Yet it was these same Primark bashers that returned time and time again. A bargain is still a bargain after all.
But when does a bargain overtake the nature of value for money? Had I just heard the worst about Primark's shortcomings? Do they really offer everything you could need for a fraction of the price? Could I even find the menswear section?
I was about to find the answers to these questions, plus raise some other unanswerable ones. One of them is about a penguin.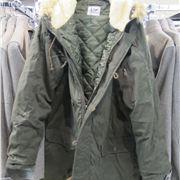 Manc ParkaInitially I found my path to the clothing Mecca blocked off on Market Street for renovation. Working my way to the Mosley Street entrance proved a stroke of luck as the first sign I saw directed me to the menswear section - downstairs as usual.
Rumours of getting lost among the endless clothing racks in search for something appropriate to my gender had been immediately dispelled thankfully.
So far this was shopping as I like it, to the point. I was told exactly where to go and off I went. Often in department stores due to their ensnaring layout there exists a curious vacuum of anxious men who can find neither the exit nor the menswear section. In these situations it is commonplace to huddle somewhere neutral such as homeware and wait for help, less we stray into the lingerie section a la Father Ted. But there was none of that in Primark.
Stepping from the last disappearing step of the escalator into the basement however, an initial fear was confirmed – a mountain of T-shirts all emblazoned with an identical nonsense 'Easy Ride' caption. There were hundreds of them, albeit it in three different colours, but more than enough to clothe every other person passing overhead on Market Street.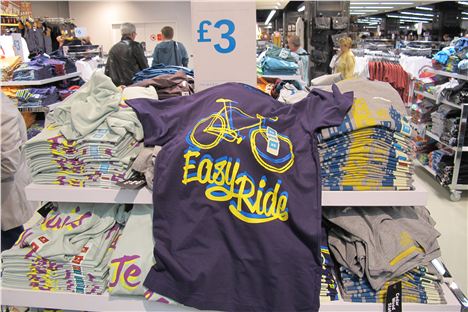 T-Shirts For All

This is what I didn't want to be true about Primark – that it was more of a wholesale warehouse outlet than a shop. The chances of seeing someone in the same shirt as you must be approaching 100 per cent every time you leave the house. Only £3 though I suppose.
There was a lot more to Primark though and I wasn't going to let this first impression get the better of me...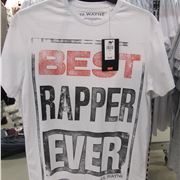 A Bold ClaimWho shops there?
A lot of people. Despite the huge amount of floor space it's hard not to bump into someone looking for a perfect bargain or ten. Not to draw on lazy male shopping cliches but around 40 per cent of the customers were indeed women being trailed by their partners.
Curiously though, after a while I noticed a lot of people were behaving in an unusual fashion when compared with most shops.
It seems the way to shop in Primark, from a newcomers perspective, is to move sporadically around the floor touching random items and raising your eyebrows at your friend or partner until they respond in turn with an eyebrow movement of their own, accompanied by a spasm of the lips and/or an approving groan.
I observed this from countless people and tried it myself, wandering to a T-shirt emblazoned with 'Best Rapper Ever'. I raised my eyebrows at a nearby couple. I must not have done it quite right though, as they hastily put down a Macaulay Culkin T-shirt and moved on.
What do they sell?
They sell far too much to list here without reaching new levels of tedium. Basically most things you can think of. Primark menswear seems to specialise in T-shirts, the displays of which represent the Peak District in terms of the various mounds of brightly coloured fabric. I don't recall seeing a plain T-shirt however, which confirms my initial concern - if it doesn't have a slogan or a famous face, it's not Primark.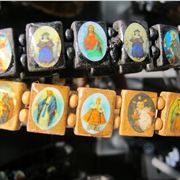 WWJD?One of the things I had to get a closer look at was a selection of bracelets featuring Jesus and various other religious iconography. Two for a pound, how could you say no?
The knitwear section is also pretty sizeable. There are a lot of jumpers of various styles as well as cardigans and hoodies for prices that rarely reach £15. The pick of the lot for me were the knitted traditional fisherman style pocket jumpers - an ideal alternative to similar ones found in American Apparel for £60+.
The most confusing of all though were the onesies. I wasn't aware of a trend among twenty-first century blokes who desire to dress as a penguin, elephant, tiger or even The Incredible Hulk. I was puzzling over the market for these monstrosities when I witnessed one lad curse his luck that they didn't have his size in the toweled Hulk onesie while another decided against dressing as a tiger after a serious discussion with his two mates. This sight took quite some time to process.  
Moving as far away from the onesies as I could, I found a range of suits that David Byrne would enjoy and I doubt you'll find cheaper anywhere else for £40.
Best Item:
The best item was in the footwear section. The Primark take on a Vans' classic to be precise. The range of simple trainers available in muted colours are a perfect substitute for the always popular and versatile Vans' staple. Plus at £6 you'll get a lot more mileage for your money.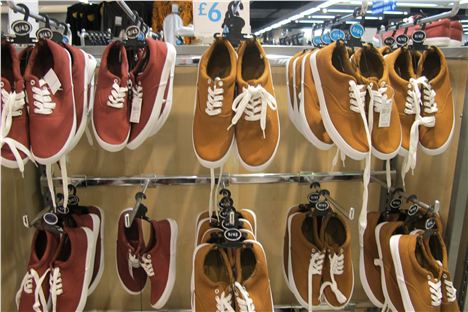 Bargain Trainers
Worst Item:
The penguin onesie. Why a penguin? No man should ever have to dress as a penguin.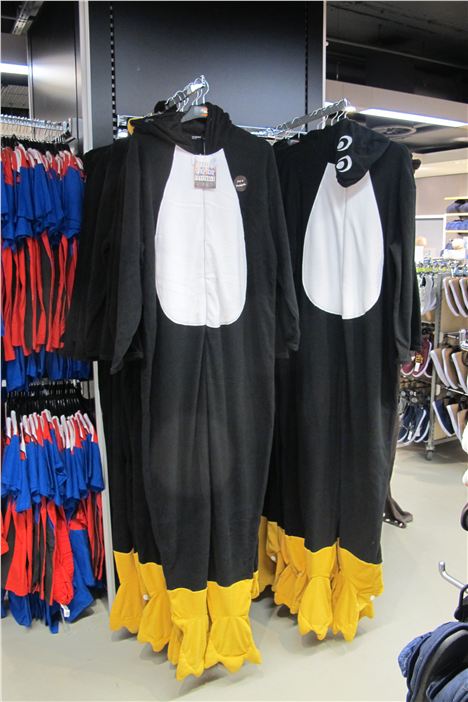 Penguin
Verdict:
All in all venturing into the underground hangar sized space is a curious experience. There's no doubt that there are plenty of bargains to be had, although I can't comment on the quality of workmanship/life-span of clothing just yet.
The disappointing thing about Primark however, is the company's tendency to adorn the majority of their clothes with hideous meaningless slogans or the faces of anyone who's reached number one in the charts recently.
They would be much better served toning it down and offering a more classic and casual range of plain or patterned T-shirts. On a positive note, they do offer a few key items that are a far cheaper alternative to current trends on the rest of the high street. The traditional parka jacket pictured near the top of this article is a snip at £32. But please, no more onesies.
Primark Manchester is at 106-122 Market Street, Manchester, M1 1WA.

0161 923 4772