HEAD chef and chief matriarch of homely Prestwich restaurant-in-a-cottage, Aumbry, started off cooking for bands in the Northern Quarter and quickly moved on to being the first female chef to work in Michelin-starred hotel, Sharrow Bay in the Lake District. Mary-Ellen recently faced-off against Living Ventures new prized chef, Aiden Byrne, in the finals of the Great British Menu North West 2013 – she is also the very first woman to jump out of our frying pan.
So Laurence, my cousin's husband and another guy from the party turned up to do the service. There were four of us then, but two of the four had never even worked in a kitchen. It was nuts but we got through it. It was just one of those moments.
Hi Mary-Ellen, so where have you come from?
I was born and brought up in Bury, I've worked away a lot but ended up coming back here. My first real cooking job was up at Michelin-starred country house and hotel, Sharrow Bay. I got a really good grounding in classical French and British cookery there.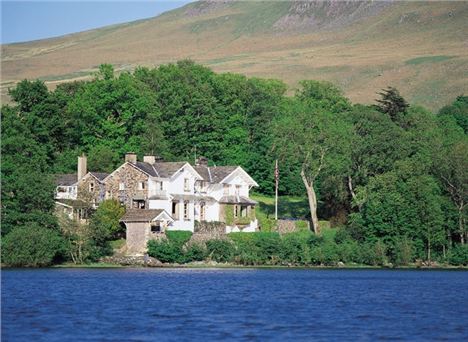 Sharrow Bay, Ullswater
Your first cooking job was in a Michelin starred kitchen?
I hadn't even been to college to learn to cook; I didn't have any proper training. I was at Manchester University studying French and Italian languages, but I just wasn't enjoying it. While studying I was also working behind the bar at the Roadhouse in Northern Quarter. The owner of Roadhouse is Kate Mountain who's actually our current business partner here. We met at the Roadhouse and have been friends ever since. Well, they needed someone to cook for all the touring bands coming through, so that's where I first started cooking. I just loved it and thought that's what I want to do with my life. This was about fourteen years ago.
So Uni wasn't working out and you'd found a passion for cooking. What then?
I bought a copy of the Good Food Guide, picked out five places that I liked the look of and just started sending letters off to them. I thought that if I'm going to do it, I may as well go in at a high level. I was only twenty-one but felt like I was a bit late getting into it. Most people start on this route about sixteen to eighteen.
I got two positive responses, one from Heston at the Fat Duck saying that I should go down for a chat. So I went down the next week to have lunch and meet him, he basically said get some experience and come back to me. The other positive response was from Sharrow Bay, saying that they didn't have anything in the kitchen but that I could have a housekeeping job until something came up. So I started off cleaning rooms, changing beds, then ended up in the kitchen at the beginning of the following year.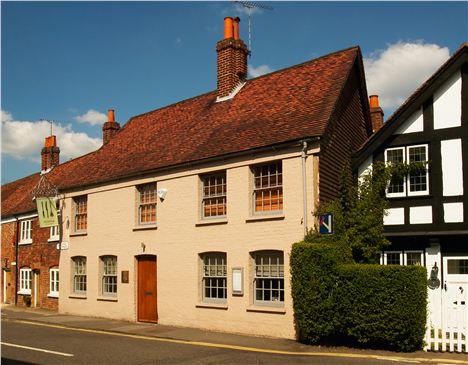 Heston's Fat Duck
How was the transition?
Well I started there as a commis chef and didn't have a great first year. I was pretty useless actually. It was all a bit of a shock to the system; I'd never worked that hard in my life. Also I was the first woman ever in that kitchen, so it was a bit of a change for all of them as well. They didn't quite know what to do with me.
In what respect? Did they have to tone it down?
Not at all, they definitely didn't do that. The head chefs just didn't really speak to me for most of the first year. It took me along while to settle in, a good year until I got in to my stride. But after that I worked up to Chef de Partie at Sharrow Bay. That's where I met my husband (Laurence, Aumbry co-owner and co-chef), then we both went off to America together.
Work or play?
Bit of both. We ended up working at a resort in Missouri called Big Cedar Lodge. It was mostly crap food, but it was really good fun. I did learn some interesting stuff but it wasn't really about the cooking. When we came back I got back in touch with Heston at the Fat Duck and they had something for me. So I went for a trial and got the job there. That place was just amazing.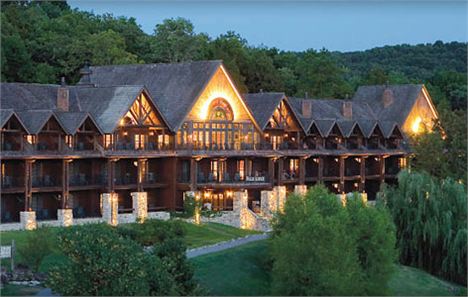 Big Cedar Lodge, Missouri, U.S.A.
Hard graft?
It was very difficult, the standards and pressure were incredibly hard. I barely slept the first few months I was working there. It was so stressful. Laurence eventually moved down so that we could live together and ended up getting a job there too. So we're both working in the kitchen there and then Heston gave me a job doing historical research and development for his pub next door, the Hinds Head.
Historical research and development? Bit odd.
It was developing historical dishes for the Hinds Head and a little bit for the Fat Duck as well. I was doing lots and lots of reading old cookery books, meeting and spending time with food historians, trying to source ancient ingredients. It was a really fascinating job. We were using modern techniques to create historical dishes. I think that comes out a lot in the food we produce here at Aumbry.
Anything particularly strange come out of that?
Chocolate wine was a good one. Mainly because nobody thought it would work, turned out to be great. I think they do that at the Fat Duck these days actually.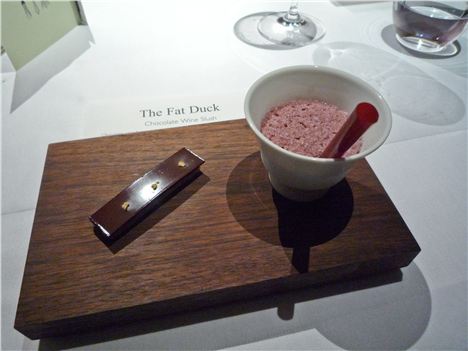 The Fat Duck's Chocolate Wine Slush
How is working in the kitchen with your husband? Any flying pans?
Well nowadays we barely work together in the kitchen. We've got two kids (five and two), so when one of us is here working, the other is with the kids. Actually we've always worked together well. We've always been around the same kitchens and come from the same place, so our ways of doing things are very similar – But we might not get on too well working together anymore (laughs).
Moving on quickly, your favourite dish on the current menu?
Probably our beef dish. Before the main dish comes out you get an oyster loaf, it's a scooped out loaf with oysters and shredded beef from an eighteenth century recipe. Then the main comes out with 33-day beef, but it's still quite a fresh dish, the beef gravy has lemon juice and oil so it's not too heavy. Then we've got some fresh peppery leaves and an oyster vinaigrette with deep fried pickled cockles. It's got that historical aspect to it but it's perfect for this time of year.
What's your favourite meat?
I really love game. When the game season starts, venison, hare, we always have those on.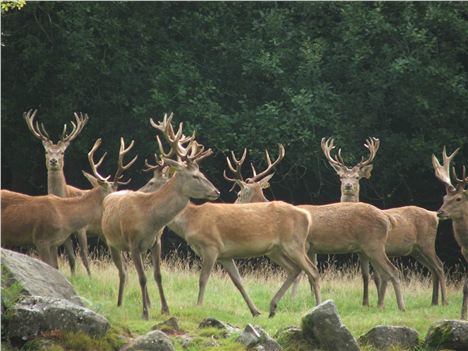 Bugger. Mary-Ellen's coming. Leg it
And your favourite dessert?
I like quite simple desserts. We do a posset here, just sugar, cream and grape juice. Easy but delicious.
Type of fruit?
I'd say gooseberries right now, we've got a gooseberry fool on at the minute with elderflower. It's so fresh and light. Right now gooseberries but it was strawberries when they first came in season. I'm very seasonal, it makes it slightly harder work with the menu but when food is in season then it's really at its best. A real joy to work with.
What's your favourite vegetable?
Asparagus, peas, broad beans or celeriac. I'm going to say celeriac, it's so versatile and has a quite complex flavour.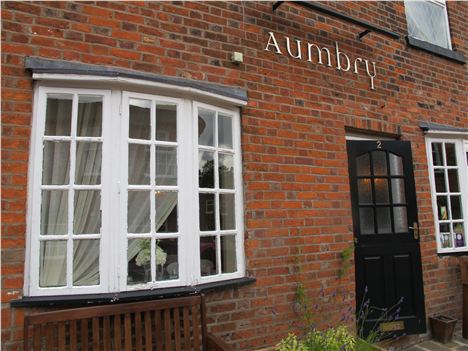 Aumbry, Prestwich
And your favourite piece of kit in the kitchen?
Hmm, that's quite hard. My knives, thermomix, oven, hands. Not my pans, they're shit. I'll say my knives, I keep them super-super sharp. It's so important to have sharp knives in the kitchen; it drives me crazy when people have blunt knives.
Do you ever just grab a takeaway?
Oh yeah course we do, curries mostly. Sindhoor in Whitefield  is a Southern Indian restaurant so does a really light curry with delicate flavours.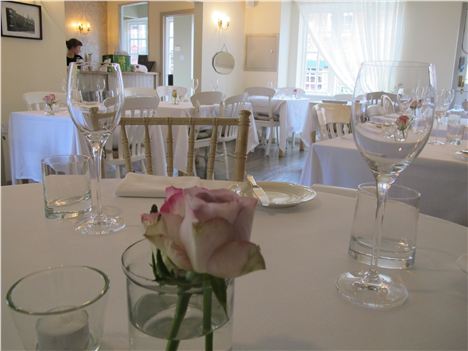 Aumbry interior
Not a big vindaloo fan then?
Actually they do an amazing pork vindaloo. It's not crazy hot. The vindaloo gets a pretty bad rep, a proper vindaloo is a Goan thing and it's got wine in it. Don't get me wrong it's hot but it's only about madras hot. Manageable.
Why did you become a chef?
I just love cooking and food. There's nothing more to it than that really. But there doesn't need to be. It's certainly not an easy job. I've worked in tough, intense, high pressure places. But then again I suppose I must enjoy that a little bit or I wouldn't still be here doing it. Deep down it's just a real passion for food. You have to have that or else you may as well be doing any other labour intensive job. Because that's what it is, it's a real slog. If you don't love it then you'll just be miserable.
So what do you enjoy most about it?
The creative side definitely. Getting an idea from my head and onto the plate. It's never exactly as you imagine, but as long as you get to a place where you're reasonably happy with it.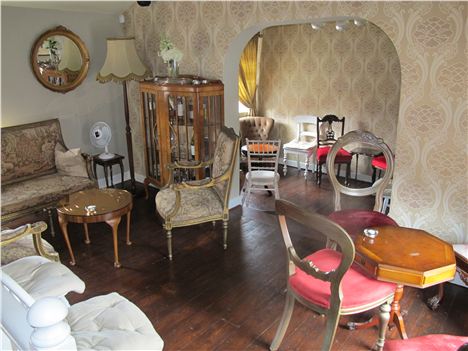 Aumbry's delightful upstairs drinking quarters
How long does it usually take to go from head to the plate?
I'd say at least twenty goes at it. However many it takes to get there and to get it right. Some things are very quick, but some dishes take us months, then it'll suddenly fall into place. An idea usually takes on a life of its own and ends up being something completely different.
What do you enjoy least about your job?
It's the hours now, because I have kids. I find it hard not being at home as much as I'd like to be. I've never minded the hours really, I just wish now that my lifestyle was slightly different. But that's the same for a lot of people. We manage it between us. When I started out it was difficult dealing with the stress, so much can go wrong so quickly and one mistake can ruin a whole service. It's just that constant pressure to never make any mistakes, ever. Which is impossible. But that's what is expected of you.
What has been the craziest moment of your career?
Earlier this year probably. It was a crazy Saturday. I was short staffed anyway and was already two staff down. We're only a five person team so there was only three of us left. One slipped and fell on the stove so had to go to hospital with burns. Then the other one started to get chest pains and also had to be rushed to hospital. So we went from a team of five to just me, all on my own, fully booked on a Saturday night. We very nearly had to cancel some customer tables.
But you didn't?
Laurence came to the rescue. He'd taken our kids to a family party and told everyone what was going on at the restaurant. So he, my cousin's husband and another guy from the party turned up to do the service. There were four of us then, but two of the four had never even worked in a kitchen. It was nuts but we got through it. It was just one of those moments.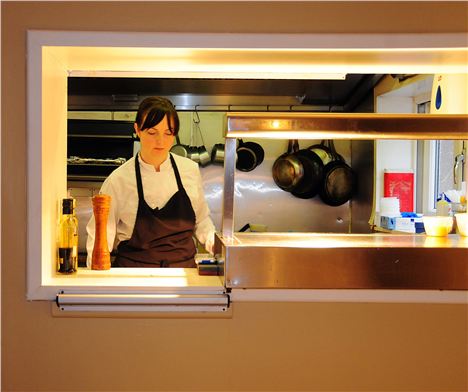 Mary-Ellen slogging away
Ever fancied packing it all in?
Yeah, every other week. One day I'll love it, not want to change it for the world, then the next day I'm thinking why am I doing this? But I've never seriously considered it. Never.
You recently appeared on the Great British Menu. Does that kind of TV chefery appeal to you?
No not really, it just never has. I wouldn't necessarily say no, but it's never been really important to me. Depends how much money they were offering I suppose. Only joking. There's a lot of awful cheesey stuff that I wouldn't go anywhere near. I wouldn't want it to be shit. I take it all quite seriously; I really care about what I do and what we've made here. I wouldn't want to devalue that.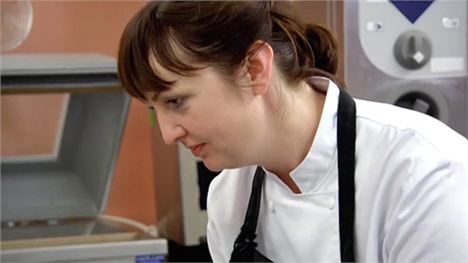 Mary-Ellen on the Great British Menu North West 2013
Do you manage to take days off?
We're closed on Sundays and Mondays. So I'll try not to do any work on a Sunday and get some family stuff in, but Monday there's emails and meetings and a whole load of other stuff to do that doesn't get done during our opening hours. So Monday isn't really a day off. I'm off, but I'm not off.
Do you have a favourite place to eat outside of your own restaurant?
Umezushi at the minute. It's really good quality and inexpensive. I love Japanese food.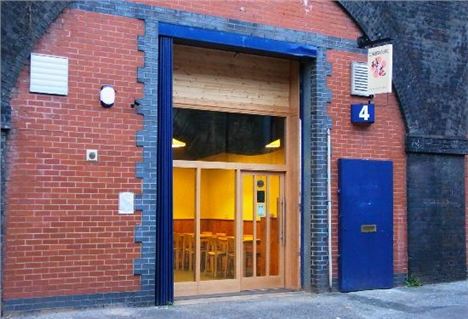 Umezushi, Manchester
Who are your favourite chefs?
Simon Rogan (The French) would be one, he's amazing. Heston goes without saying, he gave me a job. Marc Wilkinson at Fraiche. He's a really talented guy, I don't know how he does it all by himself. It's just the most amazing food.
Is it true that chefs don't like to cook at home?
It depends. Cooking for friends or family, that's one thing. But day to day cooking at home is very much like doing the laundry or cleaning, it's just another job, something else to get done. So in that respect it's not very fun, we'll do batch cooking so we're not scrambling around every day.
What if you could only eat one thing for the rest of your life?
Pizza… if I could change the toppings.
Crafty. But not allowed…
Well then, Fiorentina pizza with added parma ham.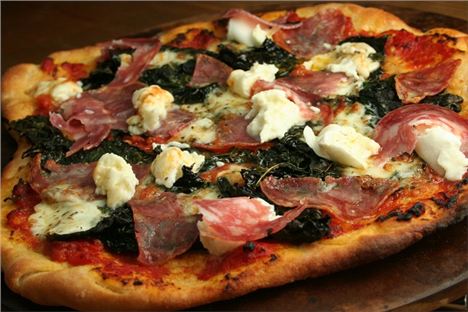 Fiorentina
And to wash it all down?
Wine. All wine. I just love wine.
What would you be doing if you weren't a chef?
I'd like to have a go at writing. That would be something I'd definitely like to do.
Are we talking a cook book?
Well, because of where I've come from that'd be what I'd naturally lean towards doing. I couldn't see it anytime soon though, I haven't got enough time. But hopefully someday. It'd have to be a cookbook or some non-fiction that's food related.
Food critic?
No I wouldn't want to be a critic. Food journalism yeah great, but not a critic. Just doesn't appeal to me.
What's the most complex dish you've ever made?
All of the Fat Duck dishes were complex. I mean really complex. Loads of layers and stages of preparation. We've brought some of that over here to Aumbry. Here it'd be the beef, the pastrami is cured, smoked and cooked. Then the oysters are made into a mayonnaise and the cockles are flamed off and then picked down. Then we make a vinegar jelly, dip them in the jelly, then batter and deep fried. It's all about five to six days work before that dish is fully ready.
So no cow head stuffed with swamp eel and a firework coming out of its mouth?
We haven't got time to mess around doing disgusting things when we've got customers to cook for. We make them things they'd actually like to eat.
Fair enough. Cooked for anyone particularly famous?
Ed Norton (Fight Club, The Incredible Hulk) came into the Fat Duck. Julie Hesmondhalgh who plays Hayley in Corrie is a regular; she and her husband are great, we love them. But to be honest it's more exciting when people we know come in then any celebrities.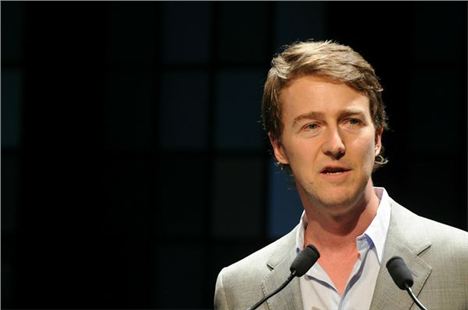 Ed Norton
What's your proudest achievement?
Kids aside, this place. We've managed to survive over the years, we'll be four years old in October and we're just learning as we go. We're constantly improving, changing and growing. So yeah, Aumbry.
Aspirations for the future? Another one? A restaurant I mean (not a child)?
Well the restaurant is like having another child actually. There are some other things we'd like to do. We're currently working on our community bakery project; so we'd like to get that set-up and running. We'd like to grow, expand the business. Aumbry will always be the focus though.
Maybe an Aumbry Two?
Could do, but I like being around the corner from my house. Personally I'd like to stay in Prestwich, just makes life easier with the kids. Always comes back to the kids doesn't it? I imagine it'd be here or somewhere in and around Manchester. There's nothing on the table yet though.
And if kids weren't a factor?
I'd go live in New York for a while, go and work in some amazing restaurants there. Actually, I'd just go around the world working in all the best restaurants.
Is the husband allowed to come?
Yeah he can come, that's fine.
Aumbry, 2 Church Ln, Manchester M25 1AJ
enquiries@aumbryrestaurant.co.uk
0161 798 5841