IT'S not the first time an inanimate object has been accused of making women feel inferior.
"If you walk in to Topshop and aspire to look like a plastic, headless mannequin then you OBVIOUSLY have issues. Don't blame Topshop."

The ubiquitous Barbie and her perky rock-hard breasts, equator wide thigh gap and pencil thin waist made my younger self question when I would look the same. Consequently, I spent most of my playtimes with a fluffy white towel on my head cruising in an imaginary pink jeep next to a chiselled bodied Ken.
Of course, I'm older now and most can separate unattainable ideas of beauty - from photoshopped models to our plastic Barbies - from the living and breathing reality: breasts are squishy, hips have rounded and for some of us, thighs rub. We also discovered chiselled Kens are more run-of-the-mill Steves.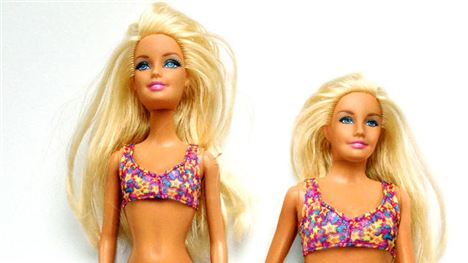 Barbie next to 'normal sized' Barbie
Regardless, over the past week Topshop has been embroiled in controversy over the dress size of its mannequins. Student, Becky Hopper, had tweeted an image of a friend, sized 8/10, next to the mannequin beside her. Her thighs were drastically larger than that of Topshop's dummy.
The image went viral with more than 8,000 shares across social networks and western media further stirred the debate. 
— Becky Leigh Hopper (@BeckyLHopper) October 27, 2014
Some tweeted in support of Hopper's campaign:
Absolutely appalled @Topshop mannequin leg measures half the diameter of a petite size 10

— Tara Chirpy (@TaraChirpy) November 5, 2014
While others argued: 
"If you walk in to Topshop and aspire to look like a plastic, headless mannequin then you OBVIOUSLY have issues. Don't blame Topshop," said one tweeter.
Were Topshop (and other accused stores) and their skinny mannequins promoting an unhealthy body image? Isn't a mannequin just an elaborate life-like hanger on which to display clothes and not a reflection on the woman who intends to wear the clothes?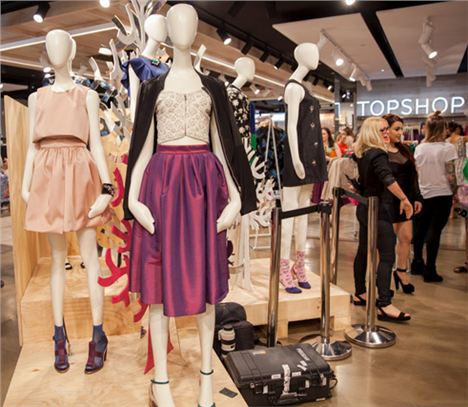 Typical Topshop Mannequins
In an essay by collectorsweekly.com, they argue that mannequins can reveal a society's general consciousness. 
"The mannequin figure itself has so much meaning to it," said Dr. Marsha Bentley Hale.
Described as a 'mannequin specialist', she noted the changes in size and stature of the mannequin through the decades. "Close to World War II, female mannequins had these broad shoulders. After World War II ended and the soldiers were coming home, all of a sudden the female mannequins were very voluptuous, almost like sirens calling them home." 
It's difficult to decipher what today's mannequins would state about our generation's current state-of-mind; they can come angular, bald, sometimes blue or red and some without a head altogether.
What is certain - much like the walking mannequins on the catwalk - most popular stores and designers prefer a slimmer silhouette for their clothes. The BBC reported in 2013 that average mannequins are typically a UK size 8-10, 5ft 11in (1.80m) tall, 34B bra, 24/25in (61/64cm) waist, 36in (91cm) hips and 32in (81cm) inside leg with a 3/3.5in (8cm) heel.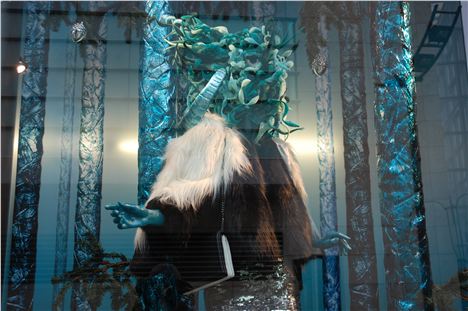 What do today's mannequins say about us?
As one of my colleagues remarked, "A mannequin is supposed to portray the ideal way your clothes should be worn. In a shop such as Evans, which sells clothes for women over a size 12, it would be peculiar if the stores used a standard size mannequin at a size 8. So, what are stores suggesting with dummies at a size zero?" 
It's a good point to make and it's not the first time a high-street store has been accused of using skinny mannequins in bad taste. Again, with help of social media activists, Primark was pushed to remove mannequins with 'protruding ribs' from a window display. Lingerie shop La Perla was also criticised publically.
La Perla 
Topshop's official response has lacked an apology. The store claimed its fibre glass mannequin size is 'in order for clothing to fit' and 'allow clothing to be put on and removed' rather than 'a representation of the average female body'.
A fair response. 
But I was keen to know whether a mannequin's size could subconsciously effect the way I thought about my own body shape. I was well aware that changing room mirrors tend to have an adverse effect on my self esteem, but the size of the mannequins less so.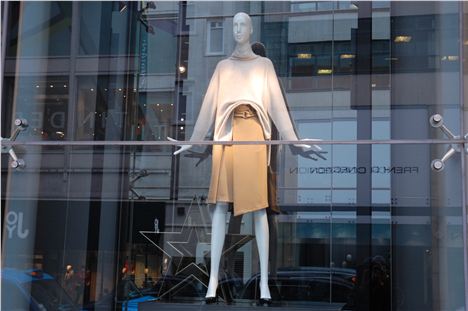 Zara, Manchester
Overall high-street mannequins are skinny but that doesn't bother me. Most stores have opted for faceless, hairless, raceless inoffensive plastic models. Even as a woman with shape, cellulite and stretch marks, I didn't envy or aspire to the slim physiques displayed in window displays. And why should I? With functional joints, working genitalia and a soul, I was much better off.
The argument began to seem absurd.
Even so, campaigners have taken the size row seriously and earlier this year Debenhams rolled out size 16 mannequins throughout each department store in the country. They now have full boobs, rounded stomachs and bigger thighs to reflect the nation's average. They say the average women wants to see themselves reflected and I'll always cast vote in favour of diversity campaigns.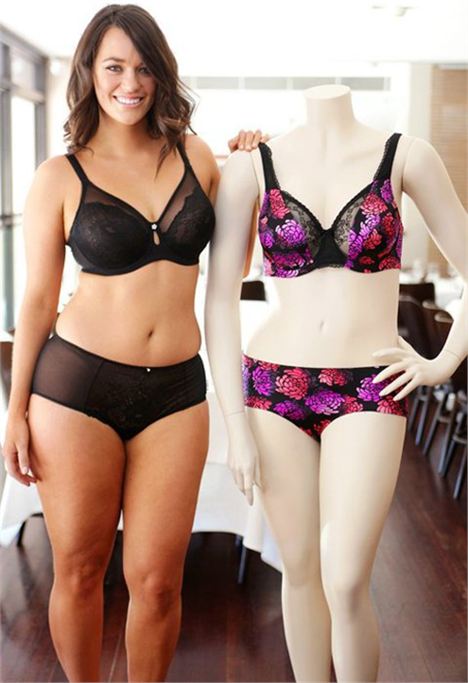 Plus-sized model Laura Wells with a fuller mannequin
Agreed, it's not preposterous to suggest stores reflect all women who shop there with their advertising. But what's concerning is the need some women have for stores to give us the thumbs up and say our bodies are OK, through from our first Barbie to the shop floor mannequin. 
Some of us our thin, some of us are not, but all of us are real. 
Let's retire old Barbie inferiority complexes once and for all. 
Follow @LOreal_B on Twitter.