WE see Chef Michael O'Hare has been making pals again.
It's like saying all chefs are arrogant, insecure, grumpy arseholes
As the rest of the industry rounds on the nescient knobs of TripAdvisor, O'Hare (pictured), who's never been backward in coming forward, has done the unthinkable – he's turned on his own.
Well, almost, he's turned on the kitchen's once time-hallowed ally, the bartender; who, for generations long, has been reviving hungover chefs with triple shot lattes, staving off their dehydration with a pint of black 'n soda, and rewarding their toils with a cold one at clocking-off.
Now the Michelin-starred chef - who found critical acclaim with 'Man Behind The Curtain' in Leeds and notoriety with a jet-black, Nigel Tufnel-inspired mop on Great British Menu – would be lucky to be served anything other than a cold shoulder, after he had this to say during a recent interview with the MEN discussing his new Manchester projects:
"I don't want to hear a [cocktail] shaker – it's the most disgusting noise in the world. I don't want some barman looking down your top... the sleaziness of cocktail culture is gross."
Burn.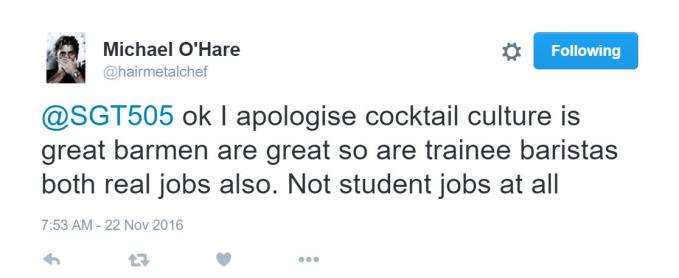 And as you can imagine - with O'Hare preparing to open no less than three new restaurants in Manchester over the coming months (all of which are likely to have a bar) - the belittling of his former brothers-in-arms has gone down like a bucket of Bubbly Bahama at a Texan trucker's dive bar.
"What an incredibly deluded and out-of-touch approach," said Kit Muir, bar manager of The Refuge, "insinuating we're all just unskilled, male, racket-making, knuckle-dragging sex pests… It's quite a way to greet a new city, don't you think?"
The interview has since found its way onto local bartender blogs and forums, where the response has been equally aghast.
"Sleazy bartenders? What about sleazy servers, managers, chefs? You can't stereotype a particular job type like that," says Martin Dixon, a former Oast House bartender-turned-manager. "It's like saying all footballers are stupid, or all chefs are arrogant, insecure, grumpy arseholes. We are professionals doing a job we love, not predators."
Earlier this year, former United stars Gary Neville and Ryan Giggs appointed Michael O'Hare as Creative Director of their hospitality firm, G&G, with plans for three new restaurants in Manchester:
- The Rabbit In The Moon opens on the top floor of the National Football Museum at Urbis in December. The 'space age Asian' restaurant will reportedly serve a seventeen course tasting menu with no cutlery in a room of wall-to-wall mirrors.
- The Man Who Fell To Earth opening in the former Stock Exchange on Norfolk Street next year will be modelled on a 'grand Parisian ballroom-style restaurant'.
- Are Friends Electric, also opening in Stock next year, will be a more casual roodtop restaurant.
What seems to have irked the bartending community just as much as the jibes is O'Hare's suggestion that all cocktails at his new restaurant be 'pre-made each day', presumably to avoid the risk of a bartender creeping into the restaurant during service to look up skirts and sniff seats.
"For a chef who's made his name using flair and creativity, surely he can appreciate the theatre of producing that product right in front of a customer," says Liquor Store bartender, Danny Bigg-Wither. "Otherwise, why would so many restaurants have open kitchens?
"Any place can buy-in and prepare products to sell as their own, but the skill is in the process, as a Michelin-starred chef surely knows."
And isn't the notion that drinks should not be made to order just a little contradictory, coming from a chef? I mean, if that were the case with the food, couldn't O'Hare simply turn up at 9am, plate up all the food to stick in the microwave later and bugger off back to the KitKat factory? (He might find that preferable, of course, never having to cross paths with another stinking bartender, who, as we all know, won't rise until well after midday due to a night spent downing mezcal and whoring.)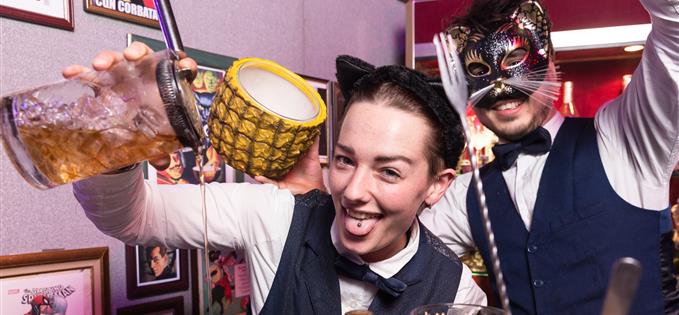 'Gross' - Manchester bartenders at Cocktails in the City 2016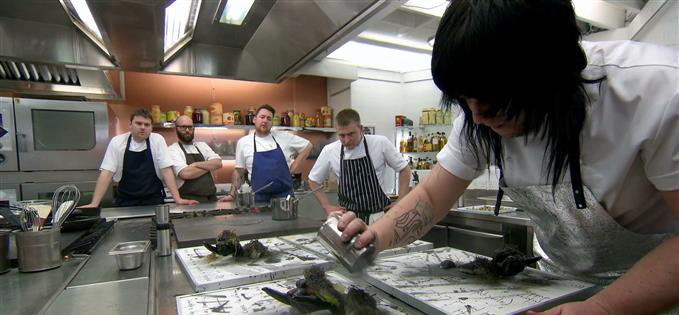 Not gross - O'Hare on the BBC's Great British Menu in 2015
"It's all well and good having pre-batched cocktails set to a strict specification, but where's the interaction, where's the flair?" says Dixon, "and what happens if a customer wants a cocktail that's not on the menu? Do you flat out refuse? You may as well have these cocktails coming out of a vending machine or served by a robot."
Not an unthinkable scenario at O'Hare's new 'space-age' restaurant - I mean, the Japanese have been at it for years.
Of course, the likelihood is that O'Hare is simply doing his bit for pre-opening publicity. That all this bark and bluster is just good PR. He certainly has form. Whilst railing against feminism ('it fucking does me in') during a recent Telegraph interview, the chef suggested his grandfather would not have been allowed into the Women's Institute lest he stick his todger in the jam.
Others to fall victim to O'Hare's sharpened spatula include foragers, customers who photograph food and even veteran chef Frances Atkins.
So should Manchester's bartending community take O'Hare's comments with a pinch of salt and put them down to savvy, swag marketing? Career bartender and The Liquorists co-founder, Tom Sneesby, thinks so:
"He's simply following the Donald Trump approach: making so much noise that people have to pay attention to his narcissistic, self-involved, ego-trip of a restaurant."
Back burn.
A little more forgiving is Steven Poland, the author of bartender blog Cheapest Shot:
"We're not angry with him, we're just disappointed," said Poland. "Bartenders and chefs are supposed to get along and unite against the common enemy, the serving staff and vegans, instead of hating on each other. He's let the side down."
Whether O'Hare, in his dismissal of an entire hospitality profession (two if you count baristas), was being sincere or simply playing the game, one thing is for certain: he's going to spend an awful lot of time waiting by the bar in Manchester... even with his tits out.
Michael O'Hare declined to comment.
Powered by Wakelet