AFTER two tonnes of clothing were donated to charity last year, The Empty Shop is to return to Manchester Arndale with the support of Coronation Street's Brooke Vincent from Friday 23 January to Sunday 1 February. 
In total, 7,550 garments were donated to The Empty Shop to help those struggling with homelessness in the area. 

You can't buy clothes at the Empty Shop (it starts empty after all), instead members of the public, retailers and Manchester businesses are invited to donate items of pre-loved clothing each day. The clothes are then styled by stylists and fashion bloggers, emptied each night and donated to Manchester based homeless charity, The Mustard Tree.
Now in its second year, the pop-up shop built by Clarke Gough will reopen in the Arndale by the entrance to Exchange Square (see below).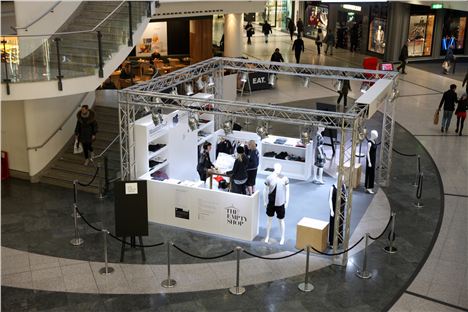 The Empty Shop 
Coronation Street actress, Brooke Vincent (whose character Sophie Webster is currently embroiled in a storyline dealing with homelessness), has shown her support this year for The Empty Shop and will be donating her own clothes and trying her hand at styling one of the mannequins.
Vincent said: "My homelessness storyline in Coronation Street really made me aware of the challenges that many homeless people face and I am very proud to be named as the official ambassador for The Empty Shop.
Brooke Vincent's (left) character Sophie Webster finds herself homeless
"It's fantastic to be able to support a charity like Mustard Tree in my home town, to raise the profile of this widespread issue and help raise vital funds to help people get back on their feet. 
"I'd like to encourage the people of Manchester, both businesses and the general public, to give generously. I myself have donated several items and I'll be encouraging my co-stars and colleagues to do the same."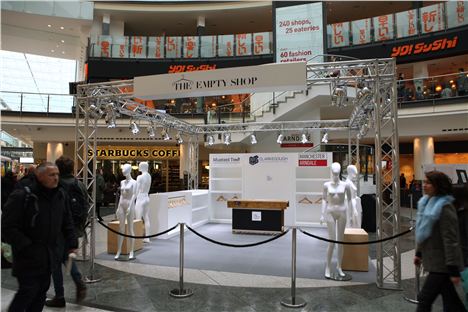 Stylists will be challenged to style the mannequins
A host of stylists, fashion bloggers, retailers and students will take on the challenge of styling a mannequin each day and a number of famous names will be clearing out their wardrobe in the New Year to donate their own pre-loved items, including Phil and Julie Neville, whose Win Naturally store is located in Manchester Arndale.
The concept for The Empty Shop started in Brazil before coming to Manchester last January. In total, 7,550 garments were donated to The Empty Shop to help those struggling with homelessness in the area. 
Adrian Nottingham, CEO of Mustard Tree said:"The Empty Shop was a fantastic project to be part of at the start of 2014 and we are very excited to be part of the initiative again a second time round. 
"We were able to connect with people we may never otherwise have reached, and raising two tons of clothes is a remarkable amount. For the majority of us, being able to share what we do with others and witnessing their positive reactions reinforced why we do what we do – creating choice and opportunity for people who are homeless and marginalised."
For more information on the project, and details of how to donate please visit The Empty Shop website
Find out more about Manchester charity The Mustard Tree and its work with the city's homeless on the website.