WHEREVER Manchester's awards cabinet be (by the Freemen's wall in the Town Hall Anteroom, we imagine), it's beginning to buckle.
Manchester is a fine place to walk across in 2015, full of interest...
Having been singled out earlier this year by the New York Times as the only place in the UK worth visiting, then by Conde Nast Traveller as 2015's 'Brit Hit', then, less venerably, as Shortlist magazine's 'Best Place To Be A Bloke', Manchester has now bagged a spot in Lonely Planet's Top 10 must-visit cities for 2016.
The world's largest guidebook company awarded Manchester - the only UK entry - eighth place, behind the likes of Dublin, Mumbai and Rotterdam, but ahead of Nashville and Rome. The coastal town of Kotor in Montenegro took the top spot.
Lonely Planet's Top 10 Must-Visit Cities For 2016
1. Kotor, Montenegro
2. Quito, Ecuador
3. Dublin, Ireland
4. George Town, Malaysia
5. Rotterdam, Netherlands
6. Mumbai, India
7. Fremantle, Australia
8. Manchester, UK
9. Nashville, USA
10. Rome, Italy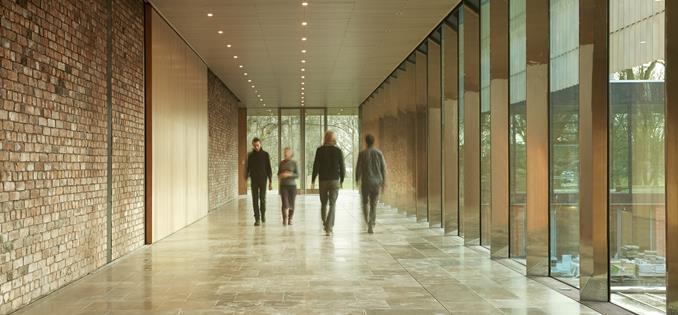 Manchester has become the 'UK's cultural boomtown' thanks to cultural institutions such as The Whitworth
The entry trumpets Manchester as the 'UK's cultural boomtown', citing the reopening of the Whitworth and the Central Library, the launch of HOME and plans for the £110m Factory theatre as a key draw for visitors. 'The one-time engine room of the Industrial Revolution has found a new groove for the 21st century as a dynamo of culture and the arts', reads the guide.
Naturally, football gets a run out, with Old Trafford and the Etihad Stadium declared 'life-changing experiences' (they clearly weren't at the last Derby), alongside Salford's multi-arts space, Islington Mill, and the effervescent Levenshulme Market.
The entry highlights Strangeway Prison's 71m ventilation tower as Manchester's 'most bizarre sight', while Manchester House, Great John Street Hotel and the Manchester Craft & Design Centre take best restaurant, hotel and shopping experience respectively.
James Smart, Lonely Planet's Destination Editor for the UK and Ireland, said:
"Manchester has been transformed in recent years, with inspirational new openings, the reinvention of existing spaces and vast investment. Whatever experience travellers are after – culture, sport, shopping, nightlife – they won't come away from Manchester disappointed. The city has something to offer everyone."
Confidential's Editor-at-Large and Blue Badge Guide, Jonathan Schofield, says:
You can smell it in Manchester city centre. Tourism is on the rise.
In April this year Manchester Guided Tours, an association of official Blue Badge and Green Badge Guides, started daily tours, called Discover Manchester, at 11am from Central Library. That's every day, year round. On average 10-12 people have arrived on each occasion. On Tuesday a colleague had 25 people on the tour.
Unlike the regular walks programme of speciality tours these are general, and rather than a local audience it attracts international visitors and those from other parts of the UK. The exercise was toe-in-the-water stuff to see if there was a market. Clearly there was and is.
Tourism shouldn't be a bonus for the city it should be part of the business plan
Nineteen years ago when I became a tour guide this wouldn't have been possible. 10-12 people a day, every day, would have been a pipe dream.
But the growth of intelligent tourism which seeks out the less well-known destinations (hugely aided by the independence of the digital age) plus the appeal of European city breaks and low-cost flights has helped change the picture.
Crucially over the last few years there has been a gathering of a critical mass of Manchester visitor destinations and events (as stated above). New areas of the city have opened up such as Spinningfields, while the Northern Quarter and The Quays have started to mature. Manchester's prestige as a conference centre and University town has soared. The wisdom of our forebears in providing Manchester with an airport with room to grow has been underlined time and time again.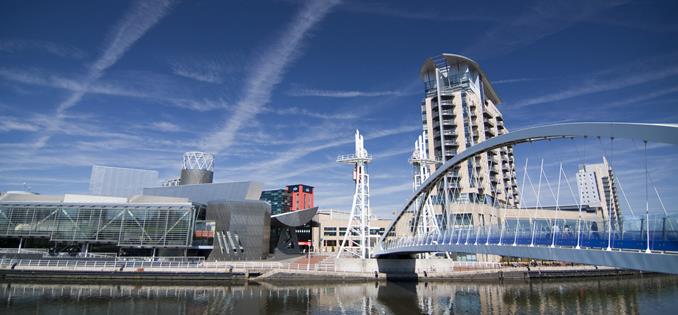 The Quays
Manchester is a fine place to walk across in 2015, full of exceptional interest. It's not me saying this, it's my visitors - for instance, not one of the 500 people I took round on tours during this year's Manchester International Festival had a negative word to say. The mix of endless festivals, superb attractions and a good range of hotels, bars, pubs, restaurants and so on is a winner. We are way beyond being all about United. And we do all this without any geography, no dramatic hills or broad river. The city's peculiar appeal was marvellously articulated by Maria Peña Serrano here.
In steering this and working with local businesses the city council and agencies such as Marketing Manchester garner great praise – generally. There are clouds on the horizon. The decline of city centre top end retailing is worrying. The city council's and Transport for Greater Manchester's bizarre infrastructure policy of narrowing key arteries such as Portland Street and Deansgate, often dangerously, remains unexplained seemingly designed to drive people away. Also inexplicable is the state of Piccadilly so-called 'Gardens', broken fountain, horrible lawns, hideous wall. The 'Gardens' are a disgrace, a shame on our city.
Despite such problems Lonely Planet's choice of Manchester as one of the top ten city picks in 2016 is deserved. The decision will only be surprising to locals who never take a day to do tourism in their own city. The moaners in other words. Now we have to continue building on the appeal of the place.
I'd like this to happen in two main ways.
I'd like Manchester to work hard to tick all the typical tourist boxes that are standard in other European cities. We need a regular boat link to the Quays from the city centre, we need the Town Clock Tower open every day for visitors, we need the Great Northern Tunnel opened to the public, we need a daily ghost tour and so on.
In the same vein I reckon we should make Piccadilly Gardens, debased as it is, a gallery of statuary of famous Greater Mancunians. I can see, in my mind's eye, the selfies being taken by the Morrissey and Marr acolytes right now at the Smiths' statue.
Far more profoundly I'd like bars and restaurants, shops and businesses in Manchester to get involved. In a time of deep council cuts, they should be out litter-picking around their premises, getting the hanging baskets out, showing pride, creating identity. Don't whinge about the upkeep, do it yourself. Castlefield Estates around Dukes 92 and Bass Warehouse are exemplary with this. Meanwhile Castlefield Forum has shown how central residents can make a difference.
Tourism is on the rise. Manchester is on the move. But we all have a part to play in making the benefits tourism brings an accepted norm of city life rather than something we are still surprised about. Tourism shouldn't be a bonus for the city it should be part of the business plan and not just for the city council, tourist attractions and the relevant city agencies, but for all of us.
lonelyplanet.com/best-in-travel