ACTRESS Megan Fox is the chosen face of Giorgio Armani's beauty campaign; smouldering, classically pretty and, depending on the eye of the beholder, has a face that's bloody near perfect. Or is it just the make up?
"I reeled off a list of my personal make-up pet-peeves; incorrectly matched foundation and the painstaking task of mastering the winged eyeliner flick"
Giorgio Armani's National Face Designer, Cesar Santos, has been enhancing the visages of the beautiful for over a decade, working with top names including Penelope Cruz and Kim Cattrall.
Much to our benefit, he is also more than equipped at camouflaging the skin woes of the not-at-all-rich and definitely-not-famous. The dark under-eye circles of nocturnal writers weren't to be a massive feat.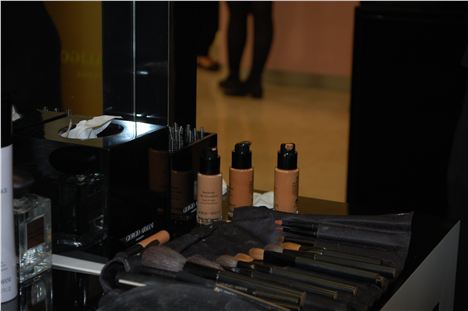 Joining Body Confidential at the Harvey Nichols Giorgio Armani beauty counter, Cesar wanted to know what we'd like to achieve from this session and eventually our every day make up routines.
"Giorgio Armani is all about the face," he explained. "People will compliment you for how great you look, not how great your make up looks. Armani products are subtle like that."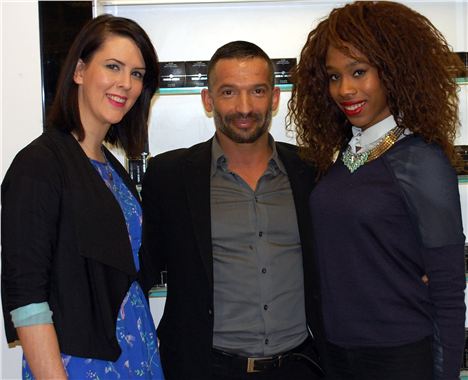 Niamh and L'Oréal with Giorgio Armani's Face Designer, Cesar Santos
I reeled off a list of my personal make up peeves; incorrectly matched foundation, the painstaking task of mastering the winged eyeliner flick and finding lipstick that does not chap my lips or, as it has done on many occasions, ended up on my forehead.
Niamh's own make up mission was quite simple and distinct – she just didn't want to look like she had been up all night before.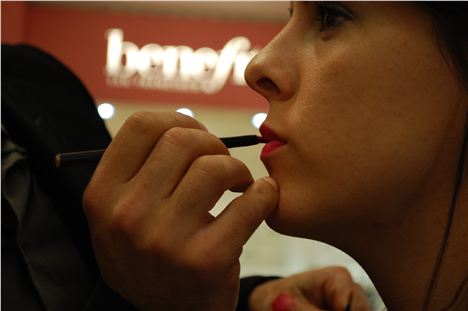 Face Designer, Cesar Santos applies Lip Maestro (503) to Niamh Spence 
With high expectations for a luxury brand, I was intrigued to see how its foundations would fair against my personal and cheaper favourites, MAC and Bobbi Brown.
Cesar introduced me to the Luminous Silk foundation in 8.5 (£35.50). A favourite of the Giorgio Armani brand, I was told.
True to its name, it was silky in texture against my skin. As I wanted a light coverage, Cesar used the foundation sparingly to provide that covetable dewy fresh faced look.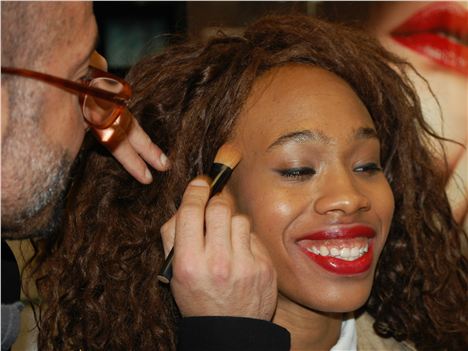 A foundation that matches makes L'Oréal a happy girl
"You must use a primer," said Cesar. "They ensure your make up stays put longer and gives you a better base for you make up, hiding your pores and so on."
Cesar is a technician and perfectionist when it comes to finding the make up that flatters his clients - he spent considerable time making sure my winged eyeliner was expertly lined and most of all, even. He also tempts his clients to be a little daring – he gave Niamh a bold neon pink gloss and for me, a deep orange looking liquid blusher. Would I look like Grace Jones?
"It's about how you apply the products," Cesar explained. "It may seem dramatic at first but the results are undeniable. See?"
We did see.
Completing both looks with bronzer and Giorgio Armani's Fluid Sheer skin illuminator, the results were quite evident. Makeup that was not overpowering but still made an impact. 
To my delight I had a foundation that matched, and a lipstick that stayed for the rest of the day. As a first time user of Giorgio Armani's products, I would be tempted to waft my loyalty to other brands. 
Niamh's result was a smokey eyed day look that masked any evidence of an all nighter. 
It was enlightening to meet Cesar and learn about the quality of high end make up brands and how we could add a little luxury to our make up bags. Yet as with most designer products there's usually a massive price tag involved.
To recreate the finished looks, how much would it cost us?
Oh, just in the region of two hundred pounds. See results below.
Visit Giorgio Armani at Harvey Nichols, 21 New Cathedral Street, Manchester, M1 1AD. 
Follow @LOreal_B on Twitter.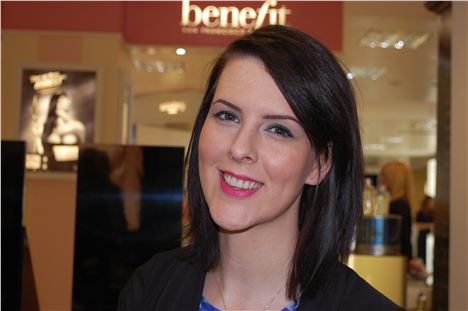 Niamh's finished look
Luminous silk foundation 4.5 (£35.50)

Waterproof eye pencil 1 (£18.00)

Eyes to kill palette 8 (£49.50) 

Mascara: Eyes To Kill classic (£25.50)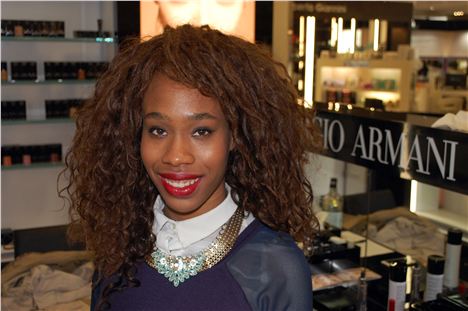 L'Oréal's finished look
Luminous silk foundation 8.5 (£35.50)

Waterproof eye pencil 1 (£18.00)

Mascara: ETK classic (£25.50)

Lipstick: Rouge D'Armani 400 (£26.50)