Jonathan Schofield on a disappeared beauty on Market Street
THE Kardomah café designed in Manchester for Market Street was one of the smoothest and loveliest internal fit-outs in the city's history. It also had one of the slickest of external designs, especially at night when it shone like a Modernist jewel. It was designed by Misha Black (1910-1977).
The Kardomah is featured in novels and books by two of Manchester's literary giants, Anthony Burgess and Howard Jacobson.
Black was born in Azerbaijan and came to England at the age of two. He began designing posters at the age of 17 and in 1934 joined the Bassett-Gray design consultancy, later named the Industrial Design Partnership. During this period, he contributed to designs for a number of exhibitions including the interior for the British Pavilion at the 1939 New York World's Fair.
He also designed various Kardomah's including this delicious modern, Art Deco influenced, sweetheart on Market Street, Manchester. It was completed in 1939. The interior featured a glorious, sweeping, feminine staircase as smooth, in this golden age of Hollywood, as Dorothy Lamour's complexion. There was a mural on the wall and gleaming tables and polished wooden fittings.
The Market Street Kardomah (there were several Kardomah's in Manchester although this was the best designed) was the place to see and be seen on the city's busiest shopping street, a futuristic promise of a hi-tech, cleaner world, with, as people said back then, 'all the mod-cons'. It opened just before the devastation of World War II, when futuristic promise turned to bomb-blown dust.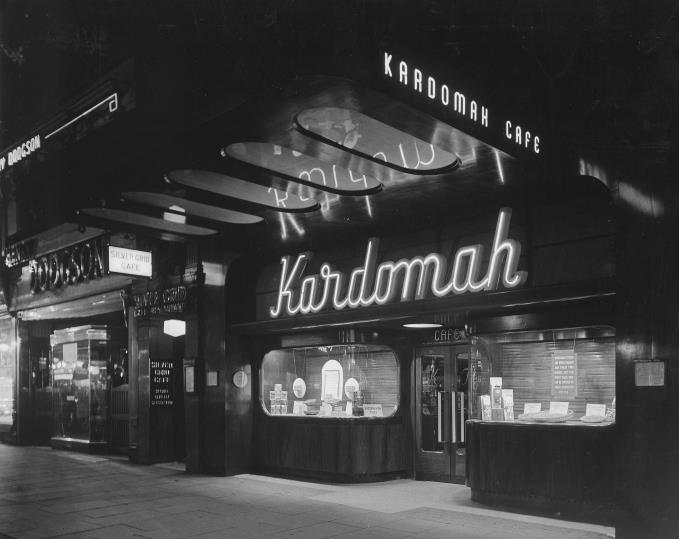 The sumptuous exterior
People remember this branch as a fine place to meet, one man recalling with affection the herring roes on toast. It was a venue where couples met, drank, ate, smoked and talked. Sometimes it was the younger people on first dates, sometimes, as we shall see, it wasn't. Live music was often a feature and the various Kardomah's across the country were important disseminators of jazz and new music coming from the States. They also popularised coffee among a broad British audience, and the fifties and sixties 'cool cats', although the exotic sounding name had come from a tea brand from Liverpool in the nineteenth century.
The Kardomah on Market Street is featured in novels and books by two of Manchester's literary giants, Anthony Burgess and Howard Jacobson.
The Mighty Walzer (1999) is by Jacobson and is a painfully funny book about growing up in Manchester's Jewish community in the 1950s. In these pages the Kardomah on Market Street is a place of aspiration, although with a sinister edge. The main character, Oliver Walzer is a champion table tennis player, who has 'put his name down, so to speak, for the Ritz, the Plaza and the Kardomah, especially the Kardomah, where hoarse-voiced men in camel coats croaked lewd propositions at women young enough to be their granddaughters.'
In response to Manchester being cited as one of the 'hot' places to visit by Conde Nast Traveller magazine in 2011, the Man Booker prizewinning Jacobson, remembered the city of his youth.
'I am pleased Manchester is up there,' he wrote. 'If proximity to great sporting events, an excellent reference library, a fine art gallery, the best curry houses in the Western world and some of the unlikeliest looking transvestites on the planet are considered pertinent, then Manchester deserves its ranking. Thirty years ago I'd have added the Kardomah Café in which a character called Russian Dave demonstrated the art of chatting up women of any age in a voice much like Rasputin's.'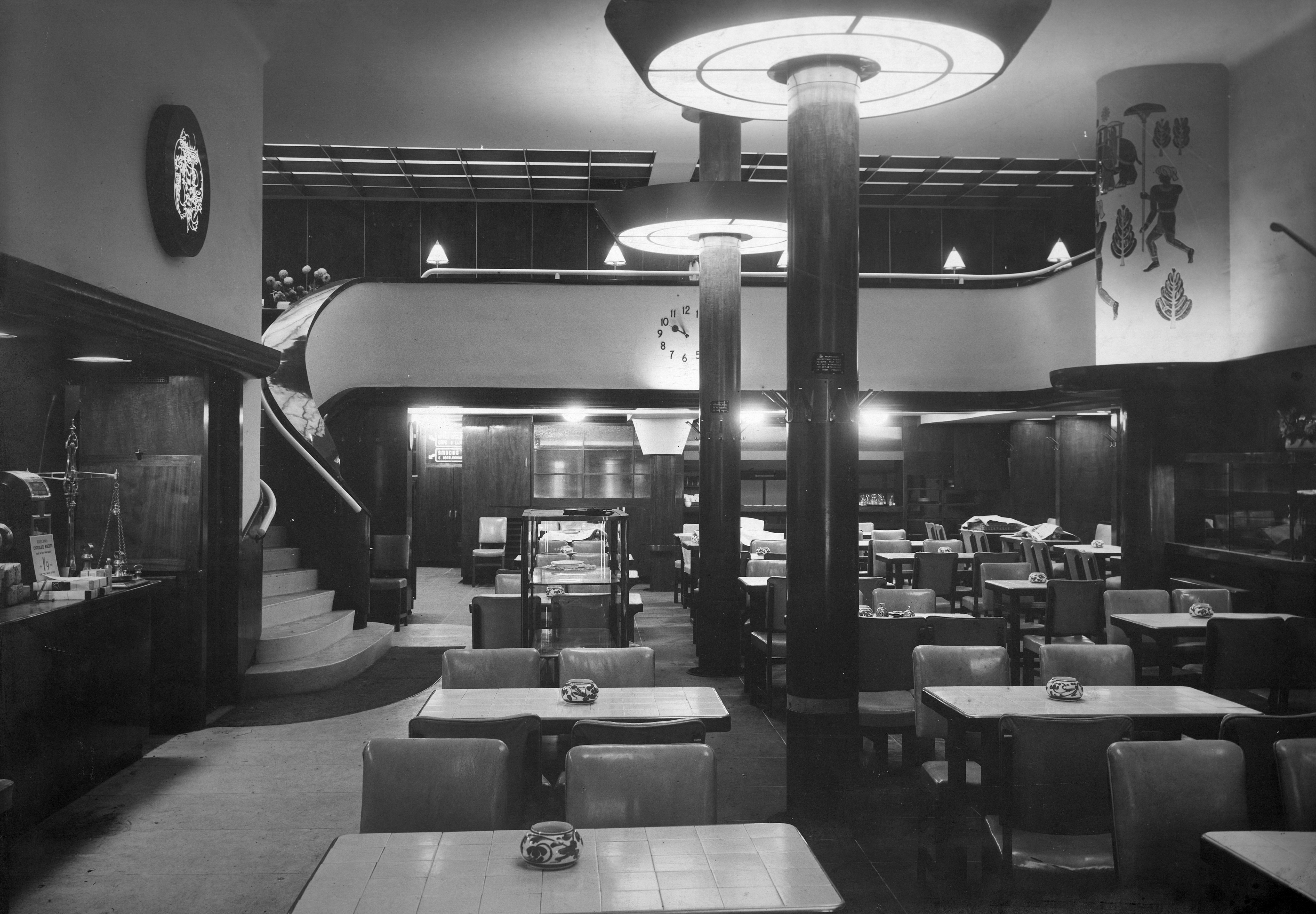 The utterly exquisite interior
Anthony Burgess, author of The Clockwork Orange, begins a crazy roller-coaster ride through the middle part of the twentieth century, in his 1989 novel Any Old Iron, in our Kardomah. Here a lead character tucks into a 'very Manchester meal of fried egg and chips'.
In an extraordinary scene in Burgess's fabulous and factually colourful autobiography, Little Wilson and Big God, the Kardomah features in the description of Burgess's coming of age, so to speak, as revealed in this slightly abridged version:
'I went to the Central Library and had difficulty with the index system. A woman of about 40 put me right, a charming woman running acceptably to fat, dressed in a green skirt and a blue sweater. On the steps of the library she said I looked cold and asked if I would like tea. I thought she was proposing a Kardomah cafe, but she put myself and herself on a tram and took me to Ardwick, where she had a small flat over a confectioner's shop. It was a bookish flat, warmed by a gas fire, with bright rugs and pictures on the walls. I needed, she said, to be educated.
'She meant more than instruction in the visual arts. She was a widow whose husband had drowned at Southport (this seemed improbable: I had been to Southport and never even seen the sea) and she was earning her living by lecturing. Marx and Engels, whoever they were, were among the subjects. But she was not disposed to talk about them after our strong tea and ginger snaps.'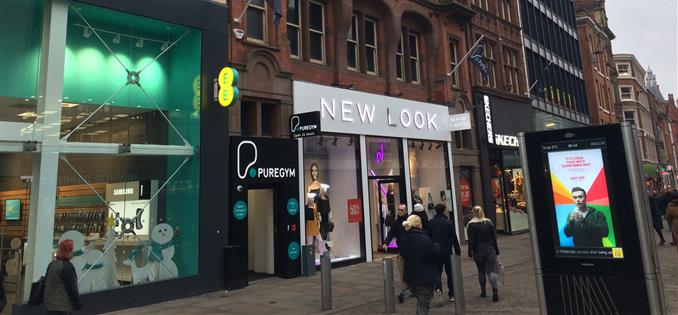 The site is now a New Look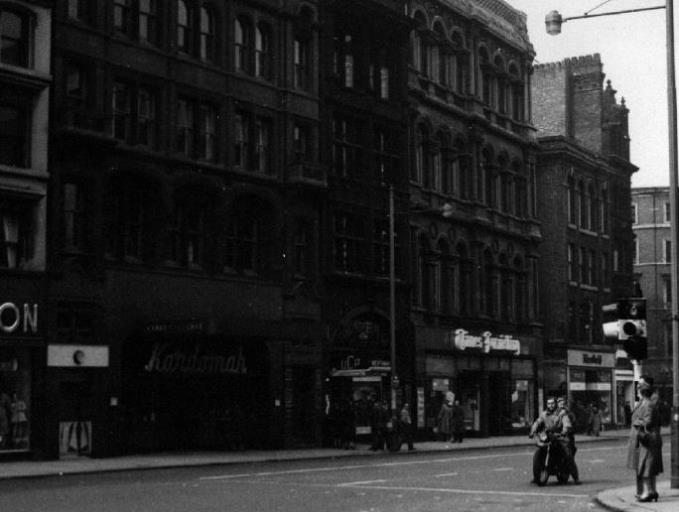 Kardomah sat close to the junction with Fountain Street in the 1950s (when motorcyclists did not need helmets)
As fashions changed and as Market Street became a retail desert rather than a street with shops, pubs and cafes, the Kardomah closed and that lovely interior was ripped out, gone by the 1970s, a sad loss on a street that could really do with it back. It's now a New Look.
After his Kardomah work Misha Black went on to found the Design Research Unit in 1943, which played an important role in post-war British design, contributing heavily to The Festival of Britain in 1951. Black was also the first Professor of Industrial Design at the Royal College of Art.
Of the many lost interiors this was one of the most valuable, a snapshot of design fashion and the state of mind of the people who frequented it. Bar and cafe interiors have always been seen as more dispensable than Town Hall, library or banking halls yet they can capture the spirit of the age in which they were built more completely than formal civic or commercial properties. And then of course, if retained, as fashions change, those interiors may become fashionable now. On the poor dull Market Street of 2016, Black's Kardomah would be a magnet.
This article forms part of the buildings, landscapes and city planning initiatives, some disappeared, some never completed, in the editor at large Jonathan Schofield's 2016 witty and illuminating book Illusion & Change Manchester. This can be purchased via Confidential

here.