'EAT me out'. Not a slogan you'd expect to be brandished across the cleavage of a seventeen-year-old. But then again, Kylie Jenner is not your average teenager.
Social media has slain any chance of growing up the way our parents did...
Think about it: she made her transition from childhood to adolescence on screen in front of millions on that TV show we love to hate, she lives in a $2 million home, dates Tyga (a 25-year-old heavily tattooed rapper) and drives a customised white Range Rover. Not to mention she's been using temporary lip fillers to covet those now infamous bee-stung lips - her young fans followed suit with a DIY lip-job in the form of the 'Kylie Jenner lip challenge' (the results aren't pretty).
What happened to acting your age?
Is it only a celebrity phenomenon where fame propels the children into full-blown adults?
Rewind to your seventeen-year-old self. Me? No parties, no drinking, no smoking, no sleepovers and absolutely no boyfriends. I went to work, I went to a single sex school, and I drove a pillar-box red 5-door Vauxhall Corsa (lovingly named Nio, may he rest in peace) with an exhaust so big you could literally (and did) put your foot in it. I alternated between skull jumpers and baggy jeans and kaftans and linen trousers. Oh the sheer horror. My seventeen-year-old contemporaries weren't image obsessed, and we would have water fights at break-time in school and not give two shits if we looked like extras from a My Chemical Romance video. We had Myspace and Facebook, and that was it. I was seventeen, and I felt like it.
Now think of a 17-year-old you know. They don't look seventeen. They're parading around the Arndale in sheer blouses with barely-there bras, they have the Michael Kors watch with matching handbag, and they won't leave the house unless their smartphone has at least 90% of battery. Childhood dissolved into adulthood, skipping the awkward in-between blue mascara phase. Baby-faced to perfectly contoured and 'fabulous'.
Where has this pressure to grow up come from, and who is responsible for encouraging tweens to over-line their lips and wear skin tight body con dresses and ankle-strap shoes to Starbucks on a Saturday?
Social media has slain any chance of growing up the way our parents did, whether you're Kylie Jenner or just your average teenager growing up on an estate in Salford. Blame Snapchat, Instagram, Keek, Facebook and Twitter. We can follow the Snapchat accounts of our idols, and with every ten second snap, watch their lives unfold on our own smartphones. There's more awareness of celebrity culture now than there ever has been, and its influence has never been so instant and close to us. So why wouldn't a young person want to mirror the lives of the rich, famous and attractive?
Former 'teen' star, Miley Cyrus and the famous video
Yet I try not to bash celebrity tweens too hard. I'll never understand their pressures when they have to go to business meetings, award shows, and dinners instead of doing jobs like the rest of us. At the same time that pressure comes with the privilege of being sent designer shoes and couture dresses.
We've seen celebrities in the past who have been victim to overbearing parenting which has affected them in later life - i.e Michael Jackson. Even the recent documentary film, Amy, it showed her father to be money-oriented to the detriment of Winehouse's wellbeing. Why hasn't Kris Jenner had the 'You're not wearing that outside this house. Go and change' conversation with her teenagers? Does she see any publicity as good publicity, or as a wild-child living in her own home, is Kylie beyond the parental grip of her mother? The lives of the rich and famous are so alien to us that it's almost impossible for us to judge them against our standards. Even so, no parent wants to see their child parading around in a t-shirt referring to their sexual gratification: whether seventeen or 27.
We see adverts of women with their necks being nuzzled by bearded beautiful men, we hear about Dior signing fourteen-year olds to model, and popular music referring to 'bitches', 'hoes', and 'dropping that ass to the floor', and we see celebrities pushing the boundaries of what we thought was risqué. There isn't a 'child friendly' filter or age restriction to all of the media that hits us when we set foot outside our front doors.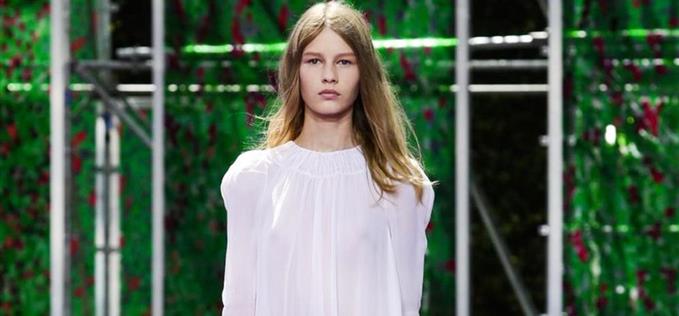 14-year-old Sofia Mechetner named the 'face of Dior'.
A seventeen-year-old's celebrity endorsement doesn't make it OK for our younger cousin to leave the house wearing nipple covers under a mesh shirt to Frankie & Benny's for granny's birthday lunch. When it comes to celebrity vs. reality, we know what we can get away with and what we can't. Celebrities don't live in our world. We do.
Age is just a number
Follow MissAmeerkat on Twitter