Where is it?
Online at www.isleeve.co.uk
History:
iSleeve came about following Manchester-based architect Roger Stephenson's search for a sleek and sophisticated case to hold his new iPad.
"We're a bit Apple geeky in our house you see" said Roger's wife and business partner, Margaret Stephenson.
"Roger tried hard to find a case but couldn't find something that didn't make it more weighty or bulky. He ended up carrying his new iPad around in an old canvas bag for a while. Then eventually I made him one on the kitchen table in canvas to his own design."
For anyone familiar with Roger's architectural designs, the iSleeve follows suit. As Roger's architect firm website describes: 'inspiring in concept, detail and construction.'
Roger's design specifications combined with Margaret's handiwork resulted in a functional and snug case that fulfilled Roger's requirements - and potentially a gap in the market place for more.
Margaret sought advice from business acquaintances in Manchester on how to turn a one-off homemade design into business model and blossoming brand.
"We soon realised that people who pay £400 to £500 for an iPad don't want a canvas cover, they want something leather, so we got in touch with a manufacturer off Blackfriars Street in Manchester to have them made. They've been key to the development of making these small leather goods and last summer was spent developing the product."
iSleeve In Nubuck, Matte Leather And Gloss
The finished design is simple, yet appealing and for anyone familiar with Roger's architectural designs, the iSleeve follows suit. As Roger's architect firm website describes: 'inspiring in concept, detail and construction.'
"All his work is contemporary and he's always been about clean lines' reiterated Margaret, "As Steve Jobs once said: 'Simple is harder to achieve.'"
What do they sell?
The iSleeve was primarily designed to enhance the cool, simple lines of Apple's sleek products. But with the recent growth in all manner of new technology, from android phones to tablets, iSleeve now also cater for everything including Kindle, Mac Book Air and more.

The gadgets fit perfectly in the smooth, slimline cases, allowing them to then glide effortlessly into a handbag or briefcase. They're soft, unlined and also double up as mats too, if you wish.
Another welcome addition to the range, is customisation. iSleeve can design cases to include company colours, logos, an extra pocket for your notepad and even a strap to turn it into a sleeve come satchel. Prices for an iSleeve for iPad start at £89. An iSleeve for an iPhone costs from £35.
"We've done a lot of customisation" said Margaret. "We see a market for that particularly in the corporate world because it's a brilliant way to get your brand out there. I'm convinced the days where companies used to send out hampers at Christmas are on their way. This is a fantastic new way of getting your brand out there."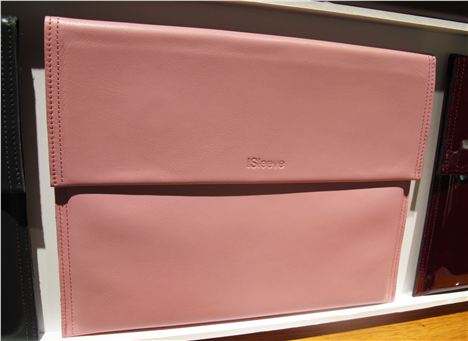 iSleeve In Pink
Who shops there?
With a wide range of colours (18 colours to be precise) fashionable colour blocks to more sophisticated shades in both nubuck and super shiny leather, there's an iSleeve to suit each and every one of the 11billion iPads that were sold in the last quarter, making the customer base for iSleeve large and varied.  
From aesthetics to functionality, Margaret and the team have left no stone unturned when it comes to protecting these precious products too. The sleeves even stay sealed with an Apple friendly magnet.
Why go there?
'Handmade in Manchester, England' is embossed on every iSleeve product because the iSleeve's origins are arguably as much of a sales feature as the cases themselves.
"We could get them made cheaper in China or India," said Margaret, "but there's most definitely a trend for stuff to be made in the UK. Several people have said to us 'Oh yeah, made in Manchester, China' fully believing those skills don't exist here anymore.
"Quality goods that you can genuinely say are made in Manchester are a bit thin on the ground really, so it's been a good local news story for us. These are not cheap to make. We use the best leather and making things in the UK comes at a price, but it's worth it."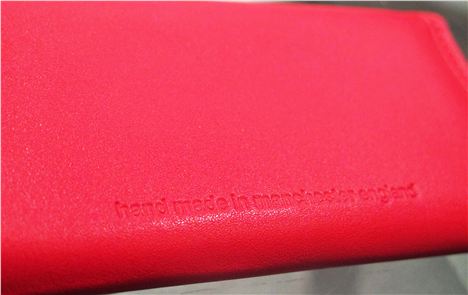 iSleeve - Handmade In Manchester, England
Future:
Having done their market research through a temporary pop-up shop on King Street over the Christmas period, the iSleeve team now have a clear idea of what customers want from the range.
"As times gone on the market has become more competitive with everyone making iPad cases from Mulberry to Prada to Jimmy Choo in a range of prices. But we have concluded that the price and difference of ours is sufficient to say there's a place in the market for it to go" said Margaret.
And that market place starts online, with plans in place for an additional exclusive range especially for Harvey Nichols.
"We're delighted," said Margaret. "The profile you get from being in Harvey Nichols is just not to be trifled with.
"Our key ambitions are certainly to get the internet working well and be available in the right kind of outlets and the corporate market."
Follow iSleeve on Twitter @isleeve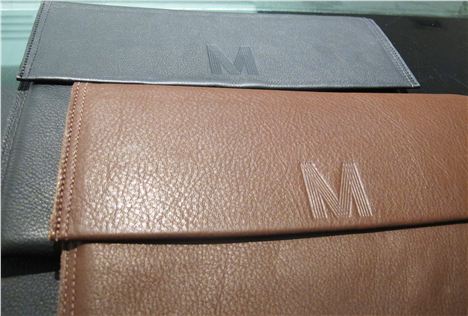 iSleeve With Customised Logo For Marketing Manchester