THE word 'facelift' immediately conjures up images of startled faced celebs who, after several thousand pounds worth of work, are left looking anything but au natural.
It's a strange feeling, having your face massaged. Intense, probably due to the fact tiny muscles are being stimulated far more than they normally would.
The idea of a facelift is to uplift the signs of facial drooping that often come with age. Surgeons use a variety of invasive techniques to redrape the skin on the face with the end facial result often mimicking that of a very tight ponytail – and probably even more painful.
A very unnatural faceliftWhen it comes to ageing, whilst many changes are genetic, some are environmental. If only you hadn't hammered the sunbeds in your teens, if only you'd started using anti-wrinkle creams in your early 20s, if only you'd drunk more water and less wine, if only you'd gone for regular facelift massages.
Facelift massages?
Whether it be to treat aches and pains or simply to feel relaxed and pampered for an hour, going for a full body massage is a popular indulgence. But when full body massage works right up to the neck, skips the face and moves straight to the top of your head, you should really question why. After all, the face is full of tired muscles too.
Many people suffer facial tension which builds up in the facial muscles causing puffiness, lines and wrinkles, yet, surgery aside, the most we do is slap some cream on it and hope for the best.
Rachel Wayte is a holistic therapist based at Neal's Yard Remedies on John Dalton Street, Manchester city centre. With a diploma in natural facelift massage, Rachel believes regular gentle facelift massage is not only incredibly relaxing for the entire body and mind, but can also make your face look younger. Rachel's own skin is as youthful as ever, which is encouraging.
We all know Neal's Yard Remedies, the shop full of blue bottles containing all manner of organic and natural goodness, but their discreet treatment rooms at the back of the shop are their best kept secret. In there, Rachel works her magic.
Neal's Yard Remedies, Manchester
A natural facelift massage lasts an hour (Rachel also offers 30 minute treatments too) and begins with feathery, smoothing touches to your face, up and down the jaw line, over the cheekbones, across the brow bone and around the sinuses in a very regimented fashion.
"Working the epidermis and helping to shed dead skin cells" Rachel doesn't use any products throughout the treatment as this allows her to focus directly on the skin rather than the products. No gimmicks, no tricks, just her confident touch dancing around the face.
"It's about bringing fresh blood supply to the skin and that's why the skin looks healthier at the end" she said. Got puffiness and dull looking skin? This movement aids lymphatic drainage and helps circulation.  
The second part of the treatment is where Rachel pummels a little deeper, using very specific and deliberate short strokes. These strokes are what separate a facelift massage from a standard facial massage. They feel similar to massage on other parts of the body, only on the face the motion is more compact and Rachel uses different parts of her hands than she would on a person's back, for example.
"I use a smoothing technique using my thumb then I use two fingers to lift" she said.
It's a strange feeling, having your face massaged. Intense, probably due to the fact tiny muscles are being stimulated far more than they normally would. Sure, we all talk, smile and frown all day, every day. But what about the area around your temples and your chin? What about each nostril and around your eye sockets? Rachel's technique covers the entire face and it does make a difference to how you feel and look.
To prove it, she massaged just one side of my face. The result, astonishingly, was a lopsided face. See for yourself: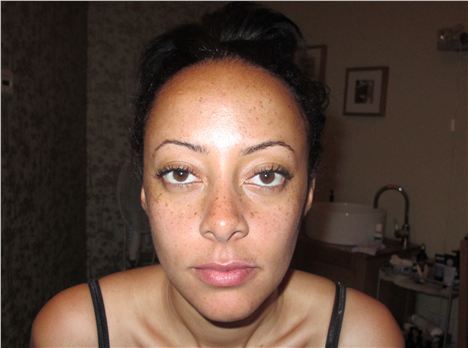 Left side massaged, right side untouched. Notice the lifted effect on the left.
Aside from the appearance, facial massage also has a strangely calming effect on the entire body. I actually dipped in and out of sleep during one half of the treatment and by the end it felt like a weight had been lifted off my shoulders as well as my face.
The only downside about the treatment is that it doesn't last. However, just like body massage, there's no doubt regular visits can encourage and extend the appearance of youth gradually and subtly.
A one hour facelift massage costs £40, or for half and hour, £25. Rachel offers a free treatment when a course of seven treatments are purchased.
For more information visit facebook.com/inharmonytherapies and follow on Twitter @inharmony_manch
Neal's Yard remedies
29 John Dalton Street
M2 6NY
0161 835 1713