I'VE become desensitised to breasts - other women's' breasts, to be precise.
I don't blink an eye at exposed boobs in see-through mesh tops on catwalks, or the women airing their pair out on beaches. I merely glance over the magazines of frontal exposed 'babes' with 'Buy Now!' stars carefully concealing their nipples.
I've seen it all, so much so, I no longer care enough to question it.
"Young girls are wearing denim shorts that are cut like knickers nowadays."
The epitome of all things loud, unnecessary and attention seeking, Lady Gaga and her recent photo-shoot did cause me to stop in my tracks, however.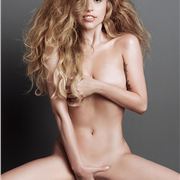 Lady Gaga in all her glory...Is there ever a reason for a woman to sit nude, spread eagle and grab her bits for the sake of a pending album? It would seem by the standards set by Madonna and upheld by Rihanna, nudity is a necessary controversy needed to sell music.
Where's the modesty gone girls? More to point where's your underwear?
Modesty isn't commonly valued in today's society full of liberals who readily reassure that when you've got 'it', you better flaunt 'it', whatever 'it' is. And we continue to flaunt 'it' on Instagram, Facebook, on the street and sometimes in our Sunday newspapers. Admittedly, we're a nation of exhibitionists.
To the ears of the modern woman, the M-word can sound a lot like, prudish, boring, unadventurous and bad in bed.
One writer for the Feminist Wire recently declared that the 'concept of modesty disgusts' her and for many other feminists, modesty can be considered a dirty, patriarchal word made to keep women in line, in dowdy A- line skirts that skim your knees.
It's with those sentiments that we reject modesty as a modern virtue and see it more as a fashion crutch. Is modesty no longer fashionable?
Muslim women's choice to be modest, receive just as much controversy, if not more, than the women who choose to bare all.
Manchester based accessories-line owner of 'Mab's Closet', Semab Humayan, has recently chosen to wear a hijab, yet believes her new found modesty doesn't need to be completely devoid of all style.
She said: "I personally don't need to show flesh to stand out from the crowd, I probably stand out more. The most you probably see is my face, my elbows and my feet maximum. I'm modest but I'm not boring."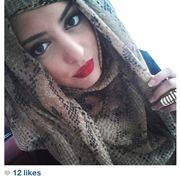 Semab HumayanAs a fashion enthusiast and admitted frequent "selfie-taker", Semab's choice to become more modest is just as much about self expression as it was about a commitment to Islam.
She said: "By covering up, my focus is not always on my body and my body image, it's on me, my heart, my mind. Fashion is always evolving but so is your character. Your first impression lasts longer than the trends."
Rarely acknowledged in the western world, is the idea of female empowerment through modesty.
Semab said: "In my whole family, I am only one of three who wears a headscarf. This is my choice and I have a lot of control over my image."
Yet with today's trends veering towards risqué than reserved, it would seem dressing modestly and fashionably is a difficult feat.
Semab doesn't agree.
"I have no trouble. I'm not ruled by trends anyway, but with midi-skirts making a comeback I find it very easy to get dressed up."
Semab works modesty and fashion through nit-picking individual items and tailoring them to fit her personal image.
"I will take Rihanna's Mac Ruby Woo lipstick, Rita Ora will wear an odd blazer I like, I used to really love Kim Kardashian's style, I've even got a Beyoncé hair-do under here. I get inspired by the odd item and then I work it into what I'm comfortable with."
Semab is closely affiliated with an upcoming Manchester online brand, BIAH - Beautiful Islamic Apparel House, a fashion line for Islamic dressing. BIAH looks at the season's colour trends, takes inspiration from the catwalks, works them into suitable items and insists personal style isn't compromised.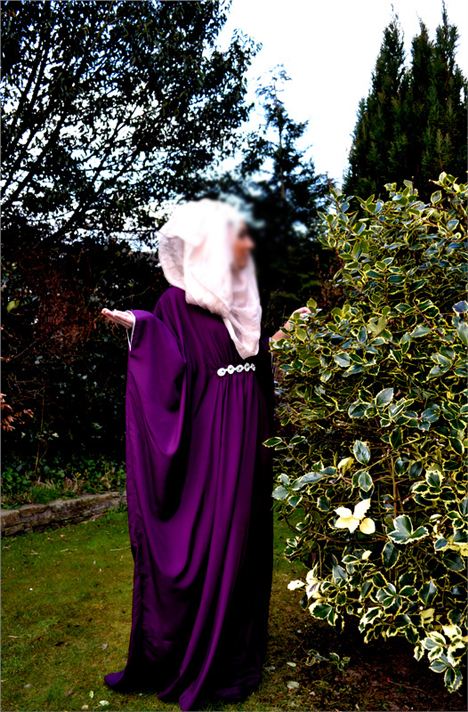 BIAH Couture


Other campaigners of modest fashion include American designer and actress, Jessica Rey, who delivered a conference this year to discuss the evolution of the bikini and her modest swimwear range, Rey Swimwear.
Under the tagline 'who says it has to be itsy bitsy', Rey spoke of women's "natural defence of their modesty", and instead of seeing the bikini as a power statement she believes it allows men to objectify women.
The objectification of women through sexy clothes is an old argument and to a large extent, questioning whether you should bare all seems a little outdated and pointless in an era that has eclipsed most taste and decency barriers.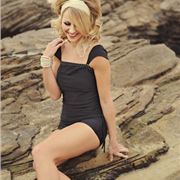 Jessica Rey SwimwearYet, it does seem more appropriate to ask why women want to show off to the world in the first place.
"It's empowering for me to a bit revealing", said Johna, a make-up artist who also works for Freak Boutique, in Afflecks, Manchester.
"The bolder the better, I say. I'm a tranny and for me it's the way I show what's inside and I think dressing modestly would be really restricting – and boring. It's all about expressing yourself and staying true to you."
Freak Boutique sells corsets, studded bras and even feather boas that could easily pass for the bedroom as well as a club. There are clothes that would take a woman with a certain level of confidence to wear bopping down the high street.
Even so, Johna does agree that today's trendsetters are lacking somewhat in modesty.
"Rihanna has become a role model without asking to be - it would be unfair to say she and others shouldn't do and wear what they like but Rihanna is practically a porn star now."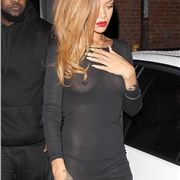 RihannaRihanna, with her apparent aversion to bras, seems to be the main culprit of immodest dressing, but according to many showbiz reports she is their most treasured trendsetter.
The alternative is a conservative style that feels far removed from popular culture and mostly associated with politicians, royalty and ladies of leisure. Am I the only one who finds Kate Middleton's style a bit, blah?
"Kate Middleton is very boring" agrees Jensen Chadwick owner of Cindy's House, one of the many boutiques in Afflecks that have got young trend down to a fine art.
"We're far more 'dare to wear' here. Right now modesty isn't the 'in trend' and I think that's pretty great. I think we need creative people that are a bit more out there and willing to shock a little bit. Otherwise we'd all be very bland."
Nonetheless she admits there are lines, especially when it comes to age.
"I think when it comes to young girls, I can imagine for some fathers having to see their daughters in skimpy outfits must be distressing."
Most would agree encouraging young teens to protect their modesty is no bad thing. However with few shining popular examples of conservative dressing, are teens brainwashed to believe 'skin is in'?
"Young girls are wearing denim shorts that are cut like knickers nowadays", said Kate Oakley, who works for boutique, Vintage Twists. "I think we could do with a bit more modesty with our modern trends."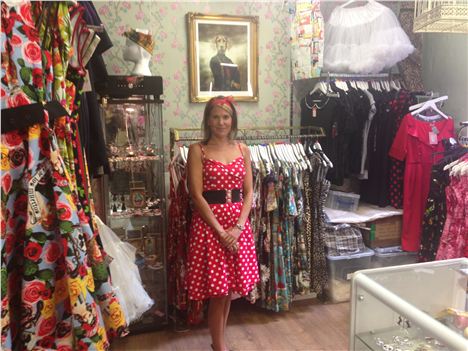 Vintage Twists - Kate
Vintage Twists is a boutique that pays homage to 1950s pin-up fashion. There are bold printed dresses that are neatly nipped in at the waist and the female frame is accentuated without being over exposing.
"You can still be sexy, show your shape, wear fitted clothes and look beautiful. It's a classic pretty that we should go for." said Kate. "I think we should keep some of our mystery with clothes that don't show your bum and your nipples. When very young girls come into the store and see our dresses, they love it."
So not all think modesty isn't fashionable, nor that Kate Middleton's style is the equivalent to toast without butter. Yes, dry.
"Modesty is definitely still in style" said Sarah of Bayliss and Knight boutique. "One of our most popular items is a gown we modelled on Kate Middleton's wedding dress and is covered up to the neck up and down to the ground.
"It's really does depend on the woman wearing the dress" said Sarah.
"We all have different body types and styles, one dress can look extremely different from woman to woman."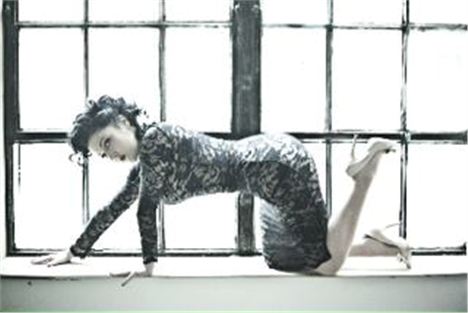 Bayliss and Knight
It appears we rarely differentiate the clothes from the woman wearing them and modesty feels as it's a 'woman only' virtue to uphold.
With the likes of Kanye West naming himself Yeesuz and proclaiming himself a God on his no. 1 album and good old David Beckham frequenting in his undies happily welcomed by the masses it's a double standard that's hard to ignore.
Nevertheless, whether your clothes are an extension of your religious duty, you wear less to impress or, like me, you operate a 'if the tops exposed then leave the bottom covered and vice versa' rule, thankfully, the beauty of today's fashion is that freedom to choose is more than just a virtue but our right.
You can find Mab's Closet and Biah Couture online:
The following boutiques can be found in Afflecks and online:
Follow @CINDYS_HOUSE on Twitter
www.facebook.com/freaksboutique