AS an awkward pre-teen I was incredibly envious of my classmates' polished nails and heavily made up faces. My own mum was firmly against the idea.
Beauty treatments among children are becoming as popular as toys when it comes to treat time. My friend's daughter recently opted for a 'princess pamper party' over a visit to an indoor play centre for her birthday.
Having been raised in a big Irish Catholic family where money was tight, she saw no point in wasting money on treatments and products that she assured me a child didn't need. After recently walking past a beauty salon and seeing a group of children who can't have been over six having manicures, I'm beginning to think she may have had a point.
Beauty treatments among children are becoming as popular as toys when it comes to treat time. My friend's daughter recently opted for a 'princess pamper party' over a visit to an indoor play centre for her birthday. Such parties often include non-alcoholic pink fizz, with treatments ranging from a simple application of nail polish to the puzzling mini facial designed to 'rejuvenate' skin, leaving most of us wondering what ever happened to kids just being kids?
Girls are now reaching puberty at an earlier age than ever before, with the average age now being just ten. It follows on that girls begin imitating older role models as they enter this stage of their lives.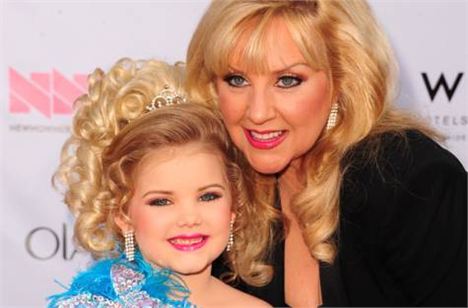 'Mommy And Me' beauty treatment packages are popular in Los Angeles
Beauty writer Alice Hart- Davis in her book, co written by her daughter Molly Hinghaugh, 'Be Beautiful: Every Girl's Guide to Hair, Skin and Make-up' explains her motivation.
She said: 'Sooner or later, every girl reaches an age where she starts asking questions about her skin, her hair and her looks. It might be nine, it might be 19; for Molly, it was 11, and her supposedly hairy legs were the tip of the iceberg.
"What about her face? Did she need a special wash for it like it said in the magazines? And anti-ageing cream? When could she wear make-up? And how could she cut the fingernails on her right hand.'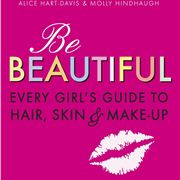 The motivation to help her daughter is an admirable one, with brands now gearing products towards younger skin such as Neals Yard, Dermalogica and Elizabeth's Daughter. However whilst for teens this seems an obvious move to introduce them to the world of health and beauty, what is the motivation for younger girls?
Walk through any city centre and you're guaranteed to spot a toddler sporting a pair of gold hoops. It's safe to assume this is their parents' idea and not their own, given most are still learning to speak. In fact stores such as Claire's accessories do not include a minimum age on their waiver for ear piercings, only that those under sixteen must have parental permission.
Glammed up tots with painted nails and lip gloss are also commonplace these days, with various beauty treatments now being requested by pre-teens and younger in the UK. How long before some salons start to offer 'mommy and me' packages as they do in Los Angeles? Worse still was the news of a pageant mum in the States giving her 8-year-old daughter Botox injections.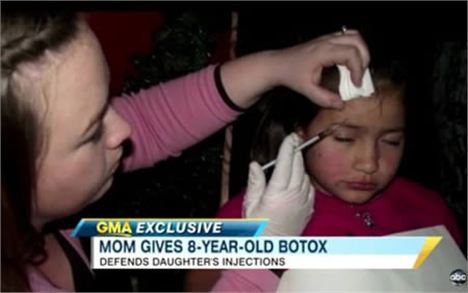 Pageant mum gives daughter Botox injections in San Francisco
The demand is now there, with many companies now gearing products specifically towards an even younger market and magazines such as French Vogue dressing pre-teen models up like adults.
Pamper Parties, Manchester describes their packages as 'A world of salon style treatments, fun packed themed party games and a whole heap of girlie fun! We offer a range of different packages to suit all age groups. So why don't you be a fun mum and book your special little princess a party today!' The site even offers hen party packages alongside their princess pamper parties, with the differences being minimal.
Parents in favour of such products and treatments may argue it can help their little ones with growing up, teaching them personal grooming and boosting their self-esteem in the process. But surely there has to be better ways to help children develop healthy attitudes to body image?
Child Model Thylane Blondeau, Age 10, In French Vogue
In a recent survey conducted by the department of Education, 45 per cent of parents expressed their concerns at adult-style clothes for children, which put unnecessary pressure on children to conform to a particular body shape and size. One parent questioned explained their concern that make up and certain clothing "might look provoking to the wrong people".
Pamper sessions may serve as reward and a chance for parents to spend time with their little ones, but it's up to parents to come up with activities actually geared towards children rather than adults. Fostering their sense of adventure and feeding their imagination is key.
In short, having some fun. They are children after all.
How young do you think is too young for beauty treatments?
Follow Alex on Twitter @LexyPike