TWENTY-TWO stone: a tremendous amount of weight to shed from one person's shoulders, both physically and mentally.
Without doubt, the biggest change in my life since losing weight is that I finally feel free
At his heaviest 28-year-old Mancunian, Jason McDonald, was a whopping 36 stone, with a 70 inch waist, a 22 inch neck, a 62 inch chest. He wore five to six XL clothes.
But two years ago McDonald decided enough was enough, springing into action he transformed himself into the person he wanted to be, without the help of surgery or even a personal trainer.
This is his inspirational story:
"Being the size I was placed far too many restrictions on my life. It stopped me doing things that I wanted to do, going places I wanted to go, buying clothes I wanted to buy. I wanted options and choices.
"I started taking my diet, exercise and general health seriously on 17 February 2014. How come I started on the particular date that I did? I'd broken up with my then girlfriend on 14 February 2014, Valentines Day - how ironic. However, I don't call this journey a quest for the 'revenge body'. You can't do something like this because of somebody else or for someone else. I quickly learnt that you have to do it for yourself.
"So I joined the gym. In fact, I joined Lifestyle Fitness in Manchester when it first opened a few years ago but, as I am sure many people can relate to, I had the membership but never went. Just the fact the direct debit was set up made me feel better."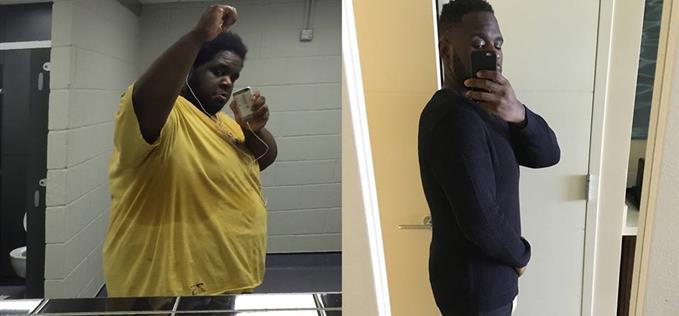 Before and after: Jason has lost more than double his current body weight.
"When I started at the gym I was massive: I couldn't walk very far or do very much, if the speed of the treadmill wasn't fast enough it wouldn't move. After ten minutes or so my back would seize up, my knees and ankles would start to hurt and I would be in complete agony. Every session I would do some cardio and eventually my cardio got longer and longer, the pace got faster, the incline got steeper. I thought to myself I want to do the Manchester 10k in 2015 - that was the big goal I worked towards. Last year I completed the 10k and raised £1000 for Cancer Research along the way.
"I feel fitness and diets are sometimes overcomplicated, feeding the perception that losing weight is too hard. Once you start to think you can't do it you're already defeated. The question I get the most is 'what did I do to lose weight?', my answer is always the same: "I just ate better and worked out."
"My workout routine was simple and it remains the same to this day. I split my sessions in two; half weights, half cardio. I don't follow any programme or have any special diet, I just stuck to the basics – eat better and workout. The gym has this stigma attached to it, that they are full of muscle men who intimidate new members or stare and make people feel uncomfortable and inferior. That's not been my experience at all, people have always been very encouraging. Complete strangers used to come up to me when I first started and told me to "stick with it."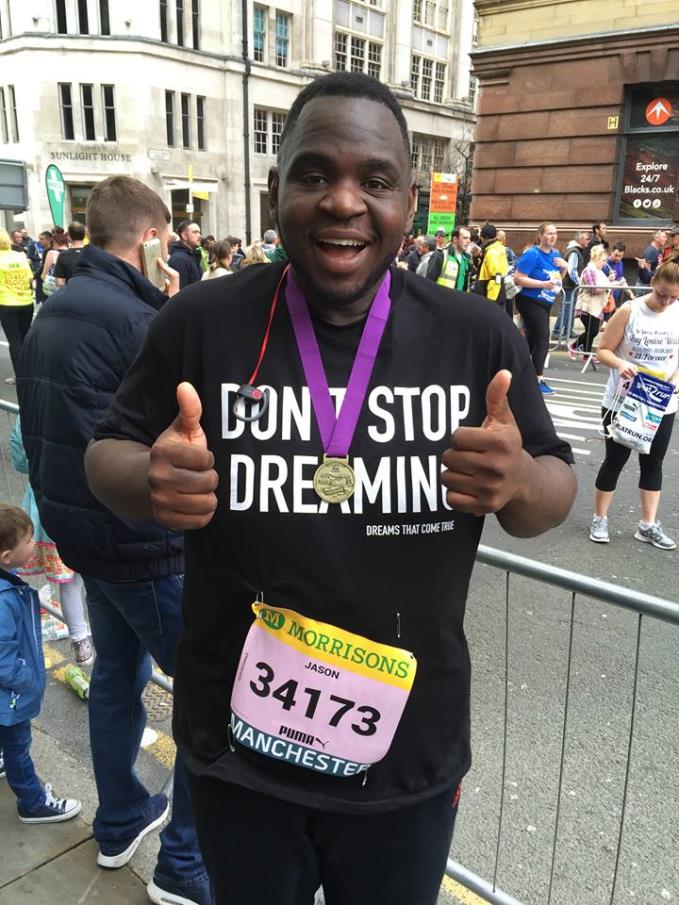 'When I started I couldn't walk very far... yet last year I completed the Manchester 10k Run'
"In the first year I lost fourteen stone and in the second year I lost a further eight stone. Today, my waist is now 36 inches, my neck 15.5 inches, my chest 40 inches and I weigh fourteen stone. But by far the biggest measure of my success is that I am now the happy, confident, outgoing man I always wanted to be.
"When I look back at where I have come from and where I am now, I feel proud and empowered. I'm proud of myself for making my wildest dream come true and empowered because I know there is nothing I can't achieve. Losing weight, as cliché as it sounds, has turned my life around. Everything is completely different now. I didn't realise how much such an unhealthy lifestyle affected me both physically and mentally. My weight is something that has caused me unhappiness for years and this is a journey that I wish I had started a long time ago, but nothing happens before its time.
"My problem was I looked at the bigger picture too often and I also fixated on the end goal. My mentality was 'I want to lose fifteen stone', not 'I want to lose two pounds this week.' I had the dream but I didn't have the vision. It was important for me to realise that losing weight is like anything in life: you don't achieve your dreams in one go and it's about small continuous improvements. Little by little you get there, you just have to keep going, no matter how hard it is keep going, when you're in pain keep going, when it hurts keep going, you can't stop. You have to remember why you started, you have to remind yourself why you're putting yourself through so much, that the work you put in today has a direct and absolute impact on the life you live tomorrow, it is always worth it in the end.
"Losing weight and the journey as a whole helped me to gain confidence and self-belief, it taught me to have pride and to love myself, it taught me patience and self-control, it taught me the power of never giving up, that life doesn't get easier, we get stronger. It's allowed me, for the first time in my life, to truly be happy in myself, which lead to me finding the woman of my dreams. However, without doubt, the biggest change in my life since losing weight is that I finally feel free."