OUR shopping habits are changing.
We buy quicker, we buy broader and if we're Charlie Miller, we buy our holiday reads on our mobile in the taxi en route to Flannels in Manchester to launch a clothing brand to the North West.
Today's cash strapped consumer looks at the world through different eyes. No longer will a top to toe Versace look do when Donatella is next door, rampaging H&M.
Charlie Miller is one of the longest standing top bods at British Grazia. After a ten year stint in luxury PR, Miller was hand-picked by founding Editor, Fiona McIntosh, and has since been a key member of the executive team leading Grazia to its prominent place on the newsstands.
"Thank goodness," said Miller, "that she thought I was right to come over to editorial, I'm forever grateful to her."
Needless to say, Miller knows her pleats from her petticoats and that's why she makes an interesting person to quiz about shopping.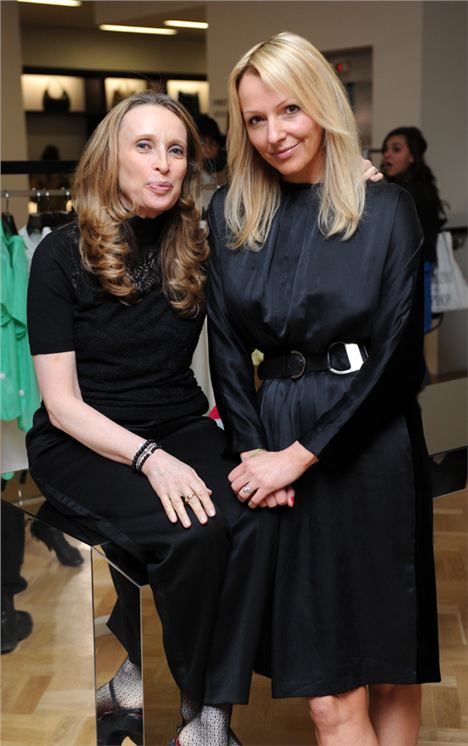 Joy Yaffe From Raoul And Charlie Miller
New brand, Raoul made its northern debut earlier this season and Confidential met editor-at-large of Harper's Bazaar, Kim Hersov, who had put her name to the Selfridges launch. Hersov dubbed Raoul an insider's brand that was about to make it mainstream. But why is the brand so highly acclaimed among the fashion elite?
"I was looking at a few handbags, maybe a couple of shoes," said Charlie of her first look at Raoul before ready-to-wear was launched, "there was a black leather bag with a studded bottom. This was before Wang. I loved it and ordered one for myself there and then."
Smart, ahead of the curve design is why this brand has such a following then? Apparently this isn't the only reason. "You're talking about getting a great bag for £200-£250," Charlie whispers, "it's unheard of. That's why we love it."
Today's cash strapped consumer looks at the world through different eyes. No longer will a top to toe Versace look do when Donatella is next door, rampaging H&M. We can't all live the designer dream, we have to add a bit of reality and that reality needs to be priced more accessibly.
That said, what's the point of great design at an affordable price when it doesn't go with anything you already have? Trends can kill an income. Seasons come and go and with them, so can half your wardrobe. Where some trends might come back around quicker than others I can bet you those flared jeans you bought last September will be sat in your wardrobe for a good while longer than anticipated.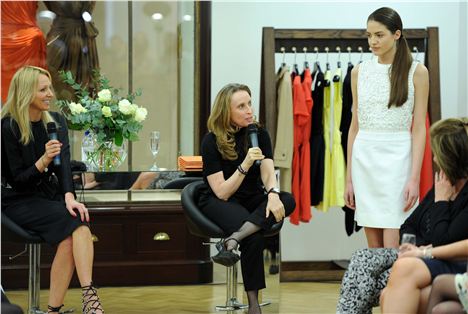 Joy Yaffe presents Raoul
Interestingly, Raoul offers a pick 'n' mix shopping experience or, as Charlie puts it, "a sprinkling of key trends," where separates are interchangeable and some are even un-zipable and offer two totally different looks for the price of one.
A tunic might represent that 60s look that's so 'bang on trend' but can also be interpreted as sci-fi minimalism straight out of the 90s. Nothing about the brand is too current, except how you buy it. Bold colour blocking is the dominant theme, with leather embossed tennis dresses and luxe chiffon polos each offering a slightly off piste sports feel. "If you look at what Stella McCartney is doing," said Miller, "these brands make me feel springy and a bit sporty." More importantly, they generally work with your existing wardrobe and will do for a while.
Taking the interview slightly off piste, I quizzed Miller on her thoughts about editorial and retail. The two seem to have jumped into bed with one another within the world of online. Sites such as my-wardrobe.com, the Flannels online store and even ASOS.com host major editorial formats that mix new media with retail.
"I think it is essential for these websites to editorialise some of their areas," said Miller, "it's not just about selling, you have to engage. You have to go above and beyond." The obvious answer from a journalist, perhaps, but does Miller envisage a day when we will flick through virtual magazines and buy from the onscreen ads there and then? "Yes," was her answer, "and I don't think it is that far off either."
Whether you shop online or at your local, you don't shop in the same way as you used to. It's a welcomed and long awaited change to see brands that understand this. Brands that don't demand the head-to-toe look, brands that offer value over elitism, whilst remaining every bit a special treat.
Jordan runs Manchester fashion blog, www.fashionrambler.com
Follow Jordan on Twitter @jordanjmcdowell