BRITISH TELEVISION has few style icons.
Not many have come close to Absolutely Fabulous' Patsy Stone, and from then on we've only really had Eastenders's Pat Butcher and her giant gold plated earrings for style reference.
Unlike Hollywood programmes, we're far more into cheap market stall dresses when it comes to the wardrobes on our soaps. We're famed for gritty realism, after all.
"I'd love to have my time at University again, I'd go even more mad. I'd have a hip-hop phase and a punk phase..."
That's until actress Zawe Ashton brought to life Violet 'Vod' Nordstrom: the surly, brilliantly bolshie and androgynous Manchester University student on Channel 4's sitcom Fresh Meat.
She's possibly one of the most stylish characters on our British screens of late – if you're into looking like you've stolen your clothes off the back of David Bowie. (That reminds me - Zawe is pronounced like Bowie)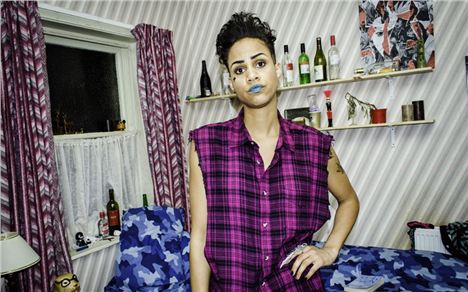 Zawe Ashton as Vod in Fresh Meat (Photo Credit: Channel 4)
"I was terrified," Ashton laughed recalling the process that transformed her into Vod, "I always had long hair."
Ashton credits Manchester make up artist Janet Horsfield for tailoring Vod's look to her own and finding reference images that resonated with her personally.
"I was scared as hell but I trusted her wholeheartedly and out of that came a collaboration that incorporated some of her experiences of growing up in Manchester - the punk and the new romantic scene. It was a groundbreaking collaboration as far as I'm concerned," she said.
Ashton is on her way back to Manchester to host 'Carefree Black Girls' (Thursday May 8), the first in a series of beauty debates in Selfridges Exchange. Along with journalist Bim Adewunmi she plans to share experiences about her own style journey (much like Vod she's ineffably cool) and the challenges faced being a mixed raced woman working on British television.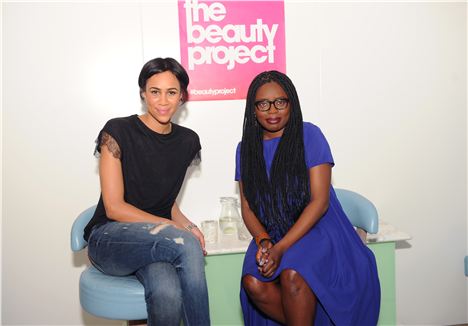 'Carefree Black Girls' Actress Zawe Ashton with Bim Adewunmi
It's a conversation she's excited to engage in.
"I started acting at a time where make up artists wouldn't have afro hair products or make up shades for my skin tone. And that's shameful – I wouldn't turn up for a job without knowing my lines so why would any self-respecting make up artist turn up without any idea of how to make up the actors? But there's definitely been progress – I'd never be asked to turn up with my hair and make up already done now," she explained.
Much like many mixed raced and black women, the British-Ugandan has found the journey to discovering your own make-up and hair rituals is a rocky road full of failed experiments. With most high street hair brands a no-go on afro hair, there's a tendency just to wing it.
Ashton knows this all too well, "I remember when Wash-n-Go first came out. I thought, shampoo and conditioner in one you've got to be kidding me? I won't be missing out on this new phenomenon."
The result?
"Straw doesn't even begin cover it. Straw doesn't even begin to describe the texture of my hair," she laughed.
We continue to laugh at her afro hair nightmare anecdotes.
"So, after that, I went to the bathroom and cut myself a fringe, my hair was spherical and at the front was, well, this rectangular shaped fringe. Obviously my parents were horrified when they saw all the hair on the floor.
But I was defiant not to be left out of what was mainstream, I wasn't going to be told no. But I've learnt from my mistakes."
Out of costume: Zawe Ashton (Image Credit Jo Irvine)
Chatting (and emphasising) with Ashton's hair traumas makes her talk at Selfridges an unmissable event. An eloquent speaker, she's brimming full with style epithets and confidence building mantras, which I'd assume are a direct result of all her style experiments.
"Never be crushed, never have your inner voice muted by what people expect of you," she recited off the top of her head.
"I'd love to have my time at university again, I'd go even more mad. I'd have a hip-hop phase, the punk phase."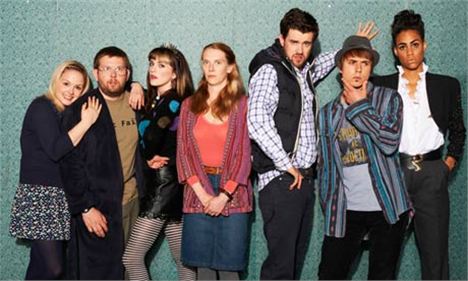 The Cast of Fresh Meat
After she shares more stories of being the only Blur-championing indie kid in school and not being undeterred to rock Doc Martens in inner city London. I wondered if she'd always been comfortable with her look. Like Vod.
"God no," she exclaimed. "I've always have this sense of forboding when it comes to my hair and beauty."
It's only begun to dwindle in the past year or so because I think as a black or mixed raced woman specifically, you'll have had that many more eventful experimentations with your look and figuring out what ritual works for you."
It's easy to see why Zawe Ashton has become a style crush for a myriad of teens with a fashion blog. She's alternative and as a result keeps championing for the girls who aren't the typical - both on screen and off.
"I have been on that journey of being mixed raced and alternative at the same time," she beamed. "I love being the vessel that Vod lives through, it's made me some kind of figurehead for carefree black beauty and it's such an honour."
Other talks will take place in Selfridges, Exchange Square within San Carlo's Farmacia del Dolce and tickets are priced at £15. Tickets can be purchased online (www.selfridges.com) or in store from the services lounge on the lower ground floor.
Follow @LOreal_B Twitter.