I AM still a boy, only occasionally needing to scrape the downy bum fluff off my chin.
The Freemasons has the look of a film set for some Hollywood-imagined country inn with more stag's heads than you can shake a fox's brush at and innumerable Dick Turpin meets Jorrocks country prints.
"So you fancy a half pint of my foaming ale, do you, sonny?" smirks the landlord across the pumps. My school pal Hoppers looks even more callow, so he has pushed me forward to get us served. Only the third pub I've ever managed it in and I am still struggling to actually like the forbidden fruit of malt and hops.
The bittersweet joys of under-age drinking long ago. The Freemasons at Wiswell and I have a history. When Ian Martin first turned it into a dining pub a decade ago it was a welcome refuge after some chef pals and I failed to fly out to Italy from fogbound Speke. I remember him serving us plates of game (still a speciality under the new regime) and rare Burgundies from Domaine Dujac and Etienne Sauzet at below merchant prices. Ian boasted one of the country's best and best value cellars – the cash was splashed on this, not on major renovation.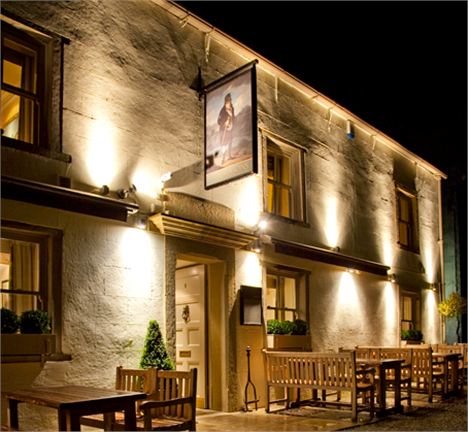 Freemasons at Wiswell
That happened in 2009, transforming this village inn outside Whalley into the super-sleek operation that has just become the 2015 Waitrose Good Food Guide's Number One Pub in the country. When you spot below it the likes of Heston Blumenthal's Hind's Head, The Hardwick, Abergavenny, East Yorkshire's Pipe and Glass, The Stagg Inn in Herefordshire, and Tom Kerridge's The Hand and Flowers, Michelin Star holders all, you realise what a long way it has come in a short time under chef/proprietor Steven Smith.
I've checked out my fellow Blackburnian's rise intermittently, each time bizarrely with unrelated ladies called Cort over lunch. Thank you, Juliet and Christine. It was always good, but I was never overwhelmed. A bit pricey, a bit fiddly, a chef trying too hard, always one ingredient too many on the designer plate, in surroundings where the Farrow and Ball was still too freshly applied.
Now it tops the GFG Top 50 Pubs List, the first pub ever to get a 7 out of 10 score, and significantly it also comes in at number 41 in the Top 50 Restaurants list, eight places above stellar Northcote down the road. Time to pay serious attention then. I'm glad I did.
Of course, the first chart should really read 'Restaurants In Buildings That Used To Be Proper Pubs'. Some like the gorgeous Nut Tree at Murcott in Oxfordshire do make the CAMRA Good Beer Guide and are happy to serve Old Ned in his usual corner despite its inexorable transformation into posh dining experience with original beams.
Freemasons bar
I'm not sure how pubby the Freemasons is. For al fresco tippling there are tables and benches outside with a sign requesting punters to take off their muddy boots upon entering. Promising. Inside, with no obvious loam-caked Brashers to trip over, the settles and wooden tables all seem to be primarily occupied by folk eating – some of them with pints ordered from a bar, but a bar where the backdrop of wine racks dominates the four beer pumps. The ale on offer is from a local brewery called Reedley Hallows. Surely that was the name of a Harry Potter film?
The Freemasons has the look of a film set for some Hollywood-imagined country inn with more stag's heads than you can shake a fox's brush at and innumerable Dick Turpin meets Jorrocks country prints. You could imagine the Pickwick Club getting exceedingly jolly in the formal upstairs private dining area.
It's simpler downstairs. The scrubbed wooden tables and wood-burning stoves don't yell fine dining, but the menus do. The absence of pub snacks is the giveaway plus the presence of a £65 'expect it to take four hours' tasting menu with optional £30 matching wine package. There is also a terrific value £15 three course menu, celebrating the Good Food Guide plaudit.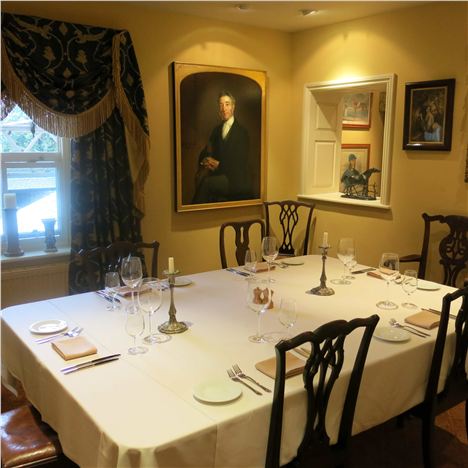 The formal dining room upstairs
We went for three courses a la carte and at start and finish were rewarded with some remarkable food. If the mains came in a fraction behind, it was only because of that over-elaboration I mentioned earlier. That probably wouldn't have been the case if we'd ordered the simply done fish of the day, the calves' liver with bacon mash or one of the 35-day aged Nidderdale steaks.
But Mr and Mrs Picky ordered (for him, pictured top) Loose Birds Chicken Poached breast studded with black garlic, chargrilled leeks, summer greens wild mushroom, sauce of foie gras and (for her) Autumn lamb, roast rump and kofta, BBQ lettuce, aubergine and miso, mint and yoghurt. The chicken dish cost £25, the lamb £23.95 and we shared an intense side of honey and thyme roast carrots (£3.95).
The only false note came with a kilner jar holding a small truffled chicken beignet on a bed of crunchy rice. Our waitress said to put it on the chicken dish. So I did – and almost undid recent dental work. Perhaps she just meant the beignet. The rest worked so beautifully, the poached fowl enhanced by earthy umami notes, in particular from the black garlic.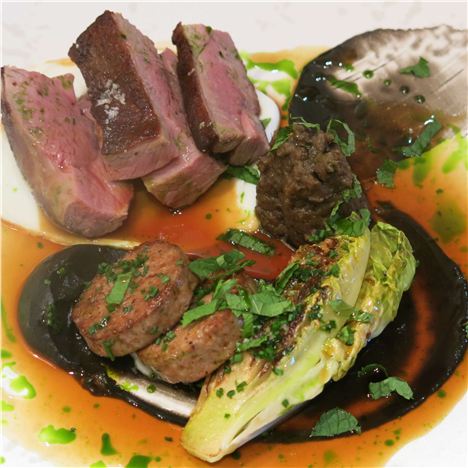 Rump and kofta of lamb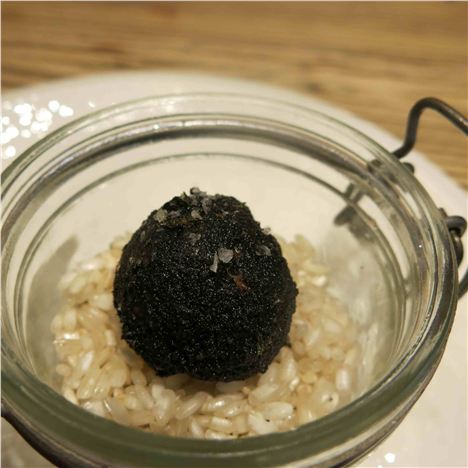 Perhaps I misunderstood...
Research informs me that black garlic, the result of gentle heating and some ageing, has 'twice the antioxidants of normal garlic, is low in fat, rich in natural sugars and leaves no smell or bad breath'. Not the only example at the Freemasons of a chef thinking outside the box. The lamb was a more straightforward take on a Levantine lamb spread. Was the miso with the aubergine a jarring note or another brave umami-led liaison?
For both starters, more Oriental influence meets elite British produce for a subtle homage to a Full English. Carroll's Heritage potatoes (the ruddy, nutty ones from Northumberland) have been cooked in a bacon dashi and are accompanied by squares of Iberico ham and ruffles of hen of the woods mushrooms. The Japanese call these maitake or 'dancing mushrooms' and laud their medicinal properties. I love their tangled chewiness, but the focal point of this dish was unleashing the yolk of a crispy, crumbed hen's egg over the ensemble. Glorious and £11.95.
My wife's starter was two quid dearer, understandably when it offered substantial breasts of 'First of the Season's Grouse'. Kimchee and blueberry added sour and sweet, while Yakitori livers, with the hints of ginger, soy and mirin, provided a delightfully contrasting soft texture.
Heritage potato starter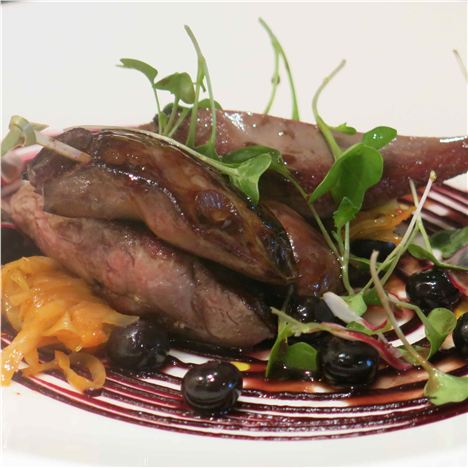 First of the season's grouse
Desserts were pretty astounding and here the elaboration really came off. I would have been more than happy with the perfect cone of Michael Cluizel 63% dark chocolate mousse with passion fruit, but I also got a cube of Pedro Ximenez poached pineapple and a blob of delicately aniseed sweet cicely ice cream (£9.95).
The blueberry cheesecake (£8.95) was made from super rich, French triple-crème Brillat Savarin. It came with toasted meringues and blobs of vanilla ice cream in a sort of formal dance on the plate.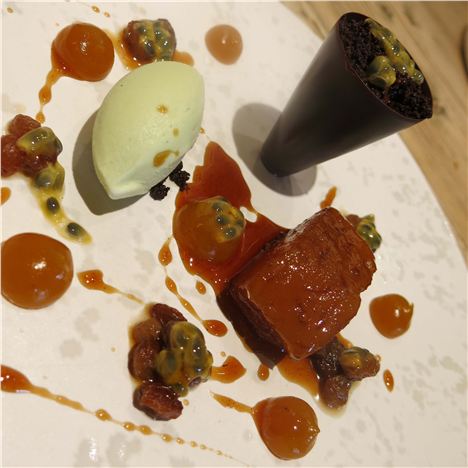 That tremendous chocolate dessert
The wine list is cannily compiled. You can drink some excellent stuff without breaking the bank. Chablis and sherry look particularly interesting, while £49.95 is a fair price for Billecart Salmon Brut Reserve. By the large glass, at around the £8 mark, we drank a subtly peachy, unoaked white Macon, Domaine Denuziller Macon Solutre and, with the mains, a Fleurie Manoir du Carra 2012 Beaujolais that was all mulberry and velvet.
It was a quite unexpectedly fabulous lunch, but was it in any shape or form a pub lunch? Who cares finally? Tell Old Ned to look elsewhere for his Ploughman's.
Quaint rural footnote for city-types:
Medieval Wiswell (pronounced wizzle) was probably the site of a Wise Woman's Well, hence the name. Today it is very much a well-to-do Lancashire commuter hideaway. The Freemasons is not immediately discernible, being set back on Vicarage Fold, a ginnel between two lanes. A conversion of three terraced cottages, one of which was once a Freemason's lodge apparently – this is celebrated on the menu cover by a painting of a man with his trouser leg rolled up, part of Masonic initiation rites. No special handshakes are required to get a booking.
ALL OUR SCORED FOOD REVIEWS ARE IMPARTIAL AND PAID FOR BY MANCHESTER CONFIDENTIAL. REVIEW VISITS ARE UNANNOUNCED AND COMPLETELY INDEPENDENT OF ANY COMMERCIAL RELATIONSHIP.
Freemasons at Wiswell 8 Vicarage Fold, Wiswell, Clitheroe BB7 9DF
01254 822218.
freemasonsatwiswell.com

Rating: 18/20
Food: 5/5 Not pub food as we know it – far more inspired.
Drink: 4.5/5 Hallowed be the beer – and so is the wine list.
Service: 4.5/5 Slick and unobtrusive.
Ambience: 4/5 Nothing like that pub in American Werewolf in London.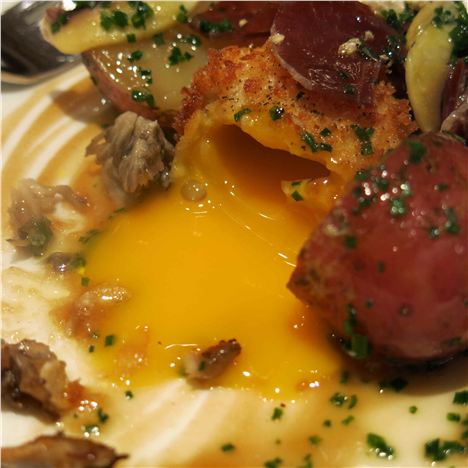 Sumptuous Collapse Of Crispy Egg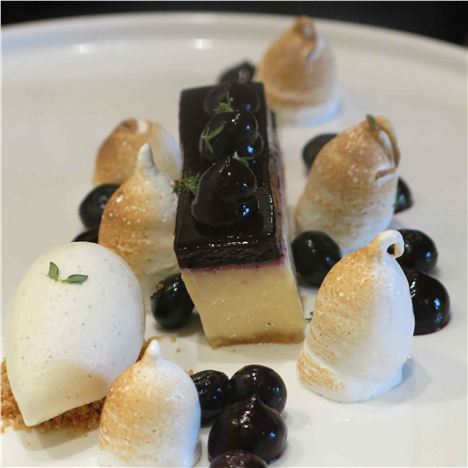 Blueberry cheesecake in dance formation