'QUIT your job. Start a fight. Prove you're alive' so declares that insubordinate rascal Tyler Durden in Chuck Palahniuk's cultish and anti-societal Fight Club. Except, in this instance, handing in your notice is not a prerequisite of participation.
No, the rules of this fight club are, well there are no set rules so to speak. Firstly, you have to be willing to jump in the ring in front of around 400 baying spectators and minor celebs (expect a Corro contingent).
Secondly, you have to be willing to commit and train. Some of these guys are training hard, very hard.
Thirdly, no crotch-shots, naturally.
Once the door was unshackled the instantaneous aroma of man signified that this was indeed, a 'propa' gym'.
Queue irritating American ad voice: So are you tired of punching the stapler? Why not punch people? Tired of pummelling the paperwork? Try pummelling the punch-bag. Bored of jabbing the keyboard? May as well jab someone in the face (desist).
Yes welcome to Formal Fight Club, the North West's premier 'White Collar Boxing' organisation conceived by Mancunian siblings Chris and Tracey Donnelly who between them possess quite the CV. Chris cut his teeth organising mammoth raves during the late-80s acid house movement and co-founded urban fashion label Gio Goi, while Tracey worked under Tony Wilson at the infamous Factory Records. The pair have taken the recreational world of competitive amateur boxing and coated it with a grand old splashing of glitz and razzmatazz.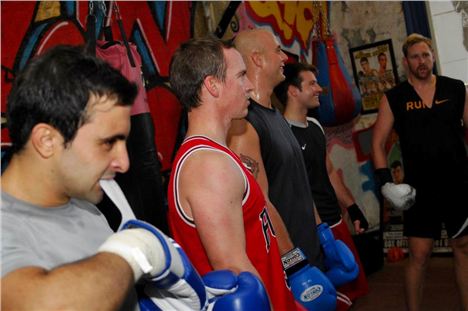 Launched in 2011, the Donnelly's have already staged three successful events, 'The Unusual Suspects' at the Midland, 'The Good, the Bad and the Ugly' and the most recent showcase 'Goodfellas' held at Piccadilly's Mercure Hotel last November. The upcoming spectacle 'The Untouchables' is coming to Oxford Road's Palace Hotel on Saturday 4 May, with all ringside seats already sold out (even at £125 a pop).
I jogged (got a taxi) on down to a group training session at the Collyhurst and Morton Amateur Boxing Club to 'glove-up' and find out why 'White Collar Boxing' was taking off.
So first things first, boxing is tough. Very tough. My only previous (and tenuous) encounter with the sport involved an inebriated Thai-boxing match on the tropical island of Koh Phi Phi. This short-lived affair ended with three episodes of violent vomiting, heckling from an American jock (because he'd gambled on my victory) and my opponent staggering to the pharmacist to buy an inhaler. He wasn't even asthmatic.
A certain amount of trepidation accompanied my ascent up the dilapidated staircase of the boxing club. Once the door was unshackled the instantaneous aroma of man signified that this was indeed, a 'propa' gym'. Complete with graffiti-strewn walls, split punching bags, fraying bill-board posters, shaven heads, swollen faces and the clap-clap of glove on pad, you could almost smell the testosterone dripping from the walls. It was what Tracey endearingly described as 'a properly old-school gym.'
I asked Tracey how the concept for the FFC had come about?
"Well Chris, was training at a boxing gym and he'd been doing that much training that he thought he'd like to have a go at competing in a white-collar event, but there was nothing that they fancied around here. So they said why don't we have a go at putting one on and the next thing I knew they'd drafted me in to organise it. We just started with the attitude of 'let's do it' and we did. The first time around we sold 400 seats at the Midland and it turned out to be a brilliant night. Everybody loved it."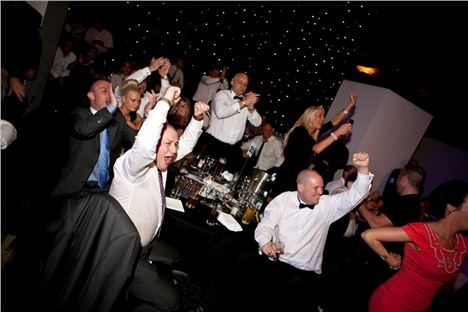 So do they expect 'The Untouchables' to sell-out?
"Yeah I do", said Tracey, "I think it's because we put on such a good show. Although some people do complain initially about the cost of the tickets (priced at £80, £100 and £125 for ringside), nobody has ever complained on the night because it's always such a good event. You get to mingle and have reception drinks on entry and then a three-course meal at the Palace.
"Then there's the event itself which is compered by Wingman from Capital Radio. After that we throw an after-party. The Palace actually has a nightclub below the hotel which they never use so we've managed to secure exclusive use of that."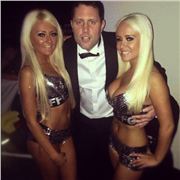 Wingman at Formal Fight ClubThe FFC contenders receive free coaching from former WBA Light-Middleweight champion, Tommy McDonough (the funny one) and former WBC Super Middleweight champion, Robin Reid (the more handsome one. Sorry Tommy). So how hard do they have to train?
"They can come as much as they want and train as hard as they want. A lot of the guys also train in their spare time away from these sessions. To be honest I've had guys who just haven't taken it seriously, been on the lash the night before and have been battered and embarrassed on the night of the event. You get out of it what you put in."
With Tommy and Robin barking out the orders, you'd be brave not to take it seriously.
We started the group session with some 'light' circuits to warm-up (there was nothing light about them). This 'light' warm-up would see co-organiser Chris Donnelly hobble out of action with a suspected groin injury. And this all before a punch was even thrown. Tracey would later tell me that 'he's gone to A&E, we think it's a hernia'. Warm-up indeed.
So how many people want to be involved?
"Well this time around we've had just over 40 sign-ups."
But with approximately 10 fights, meaning 20 fighters, what happens to the rest?
"Although we get 40 sign-ups, sometimes you do get 'messers', the ones that sign-up but then begin to think twice and back out. It's kind of organic to be honest, it just finds its own way. There will be things that happen that you have to deal with."
And what about injuries?
"I hate to say it, but a few of them will probably get injured in the lead-up (Chris acting as a prime example, he's later ruled out of May's event by doctors). We've had a lad break his hand in the last week alone" Tracey said dejectedly. You do get the impression that organising the fighters, not the spectacle itself, is the most taxing aspect for her.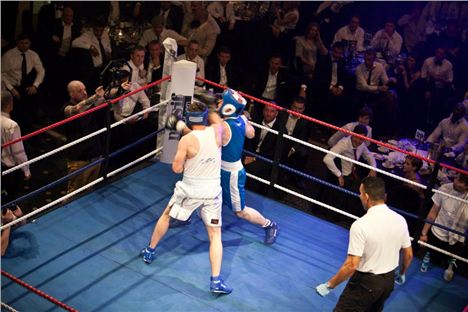 The boxers hail from a range of industries and from varying ends of the chain of command, from managing directors to care workers, land buyers to barbers.
John Atherton, 41, a plant hire desk manager from Bolton was by a way the most enthusiastic and committed combatant I came across, volunteering to complete double circuits to make up the numbers (as if they weren't hard enough). So what was John hoping to get out of FFC?
"Mostly fitness really, my wife found out about it just before the last event and I thought I fancied a bit of that. I'm training every Saturday as well to make sure I'm ready." John's attentions quickly turned to his entrance music and the insistence that no other fighter should have the same.
This posed an interesting question. Was participation more about the fitness or the glory? "I think it's a bit of both", Tracey explained.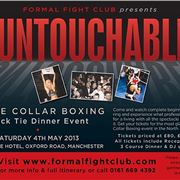 "I think a lot of people want to get fit but also have a goal at the end of it, something they're working towards. Another aspect of it is that when you're fighting you get all your friends, family and colleagues coming along to support you and it creates a really good atmosphere."
For the contenders, it would seem, the appeal of being the spectacle is as much a draw as the appeal of getting in shape. It's the promise of their name in lights. It's the crowd, ties, sequins, fireworks, chants, glitz and glam as well as the blood, sweat and tears. This is their six minutes of fame. This is Formal Fight Club.
For more information visit formalfightclub.com
Follow David on Twitter @David8Blake