THE MUSIC can make or break a spa experience. Just as you reach peak relaxation, body motionless in pampering bliss, Enya begins her new-age warbling over ambient pan pipes. The moment's ruined.
They've steered clear from doctor's surgery white and opted for a neon-glowing suite
There's no sign of Enya inside the bold, new Flint + Flint concept spa. Instead, they play soothing and far less irritating ambient house music during treatments, reminiscent of an Ibiza beach party at sunset. This is just one of the signs they do things differently here. This spa has cool.
Brand new to Harvey Nichols, Manchester, Flint + Flint have opened what they call a new 'concept clinic' and 'anti-spa'. Born out of the North West over a decade ago, the brand create medical dermatology products designed to invigorate and repair all types of skin. Treatments in the new clinic range from lunchtime express facials to intensive fat dissolving injections.
As clinical spas go, Flint + Flint is an extremely modern outfit. They've steered clear from doctor's surgery white and opted for a neon-glowing suite decked out in shades of grey and mirrors covered with highlighter pink graffiti: think of a funky LGBT funeral parlour. The idea is to create a more accessible feel than some of the sparser, more clinical salons elsewhere. The four treatment rooms are also decked out in grey hues, brightened with soft furnishings and fluffy towels, and the walls bear slogans such as 'Look. Don't Touch' and 'This Is Where The Magic Happens'. It's all very 'urban loft'. Very Instagrammable.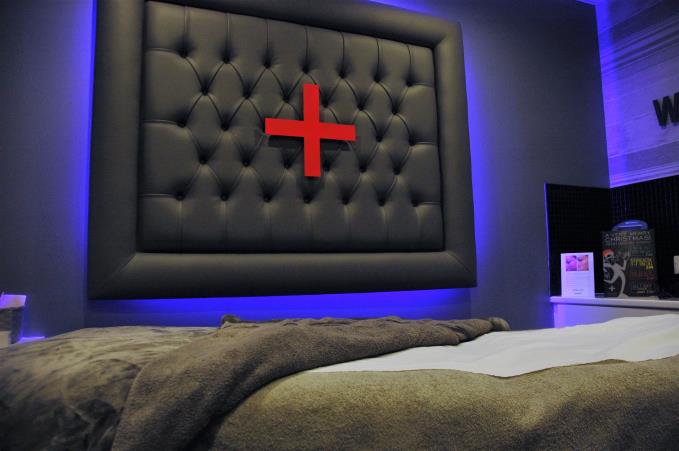 Flint + Flint
While Flint + Flint have gone for an edgier feel with their décor, the service here is as pleasant and personable as you expect when it comes to any high-end spa treatment (just without the throaty spa voices).
Therapist Dominique meets guests with a wide smile and a warm welcome in the waiting area, offering a cold glass of cucumber water while you fill out two pages of medical and lifestyle questions.
On this occasion, Body Confidential was invited to undergo a microdermabrasion treatment (£55 for one of six treatments); a deep mechanical exfoliation that helps to revive tired skin and remove dead skin cells. The four of us who underwent the treatment all had different levels of facial and beauty treatment experience. Some were a little startled by talk of 'medical grade crystals' and electric pulses, but we were assured that this particular facial was not as invasive as some of the other vaguely medical treatments available involving micro-needles, collagen and even plasma.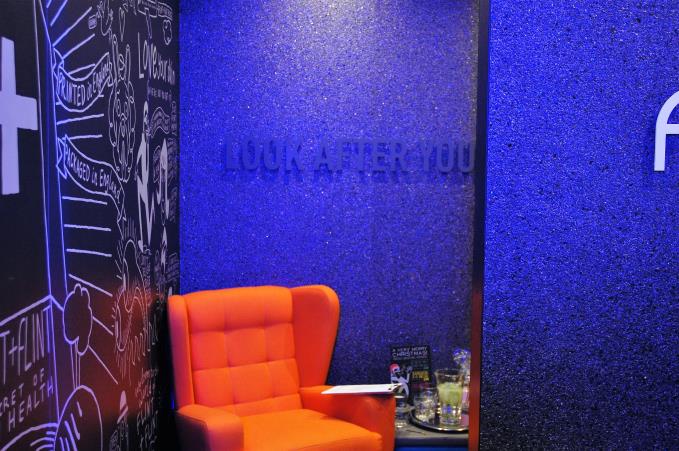 The Flint + Flint clinical spa waiting area
The first stage is to remove makeup and surface impurities with a double-cleanse using 12% Glycolic Cleanser. Then it's time for the microdermabrasion itself, which is performed using a hand piece passed slowly over the entire skin surface. Tiny vacuum pulses suck at each pore whilst simultaneously emitting a controlled flow of exfoliating crystals to remove the top layer of dead skin. At the same time, the underlying epidermis is stimulated into promoting new collagen – hey presto, naturally younger-looking skin.
In the name of balance, once the impurities have been removed, it's time to give back so the next stage involves a facial massage using Flint + Flint's best-selling vitamin C multi-mineral skin supplement serum. This contains a high concentration of purified active ingredients to energise, nourish, protect and repair in order to intensively hydrate skin and restore radiance. To intensify this part of the process, a hand-held Transderm device emits electronic pulses to ensure the serum penetrates the skin a little deeper.
After this, a cooling enzyme mask containing active ingredients is applied to the face – here's where the ambient house music really begins to kick in. This is the point where you can finally relax for a few minutes, letting the natural aromatherapy oils soothe you while simply get lost in your own alpha waves.
Softly and carefully, the mask is removed before you're treated to a facial massage with more super-powered serum, SPF moisturiser and a touch of eye and lip hero.
The result? Skin that exudes a dewy, model-off-duty radiance – the same radiance you get from eating exceedingly healthily and never having any fun. There's no need for makeup afterwards and your skin is soft to touch and to the eye. It seems that, 'anti-spa' or not, Flint + Flint offer real spa results.
Find Flint + Flint at Harvey Nichols, 21 New Cathedral Street, Manchester, M1 1AD. For more info on treatments see the website or call 0161 828 8856 to book.