THIS healthy eating lark is all very well, but what if you are a busy working parent trying to organise healthy meals for all the family? Being on a diet is hard enough without having to cook for your family at the same time.
However, it is possible to provide tasty, healthy food that caters for everyone without having to cook separate meals for adults and children or hiring a personal chef!
Here's a menu of a week's evening meals that are both healthy and can be enjoyed by all family members. Given the busy lives we all lead, I've also chosen meals that are quick to prepare...
---
Sunday - Roast lamb with roasted vegetables
I've started with Sunday as a roast is the classic Sunday meal that also provides leftovers for using later in the week. It does take a little longer to prepare but hopefully at the weekend you can spare some time. Although lamb is a red meat and often viewed as a less than healthy choice, remember it's too much red meat that is problematic. Eaten in moderation, it's a great source of protein, iron and B vitamins. Think Mediterranean: small portions of meat with lots of different vegetables. Lamb is also free-range and reared outdoors on grass.
Instead of sticking to the usual roast potatoes, improve the Glycaemic Index by adding other roots, such as sweet potatoes, carrots and parsnips. Throw a few onions in too and a couple of sprigs of fresh rosemary to add flavour.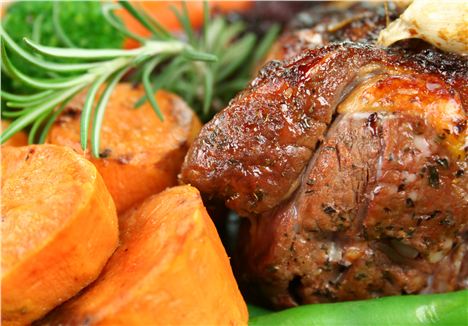 Roast Lamb
Make your own gravy from the juices from the meat, a little flour and a good quality vegetable stock, such as Marigold. Keep away from commercial gravy powders which tend to be full of nasties (read the label!).
Serve with two or three other vegetables such as broccoli, mashed swede, or cherry tomatoes roasted with garlic and a little olive oil; go for a mix of colours to improve the variety of nutrients you are getting.
Leftover lamb can be used in sandwiches and salads (try adding pomegranate too!) for packed lunches or in family meals later in the week (see below). Leftover vegetables can be made into soup and frozen in portions for quick meals.
---
Monday - Lentil bolognese with tacos and salad
It's worth including a couple of vegetarian meals during the week to avoid over-reliance on meat. Lentils are very versatile, a great source of protein and even hardened meat-eaters find them tasty.
The recipe I use is from a book called Cooking Without by Barbara Cousins and it's incredibly straightforward - you just put everything in a pan and cook it for about 30 minutes.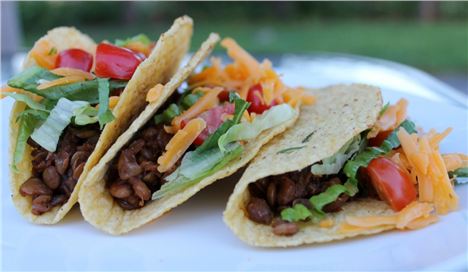 Lentil Bolognese Tacos
Serve with taco shells and lettuce cut into ribbons: everyone can assemble their own by putting some lettuce in the bottom of the taco and adding some of the bolognese – you could top with cheese or chopped onions or avocado too. Messy and delicious!
If you make double, you can freeze half for another day: use as a pasta sauce, the filling for a Shepherd's or Cottage pie or with a baked potato. 
---
Tuesday - Lamb curry
Made with left-over lamb from the Sunday roast plus aubergine and peas (frozen are fine, in fact frozen veg is often higher in nutrients than 'fresh' produce that has been transported over huge distances and left wilting on a supermarket shelf).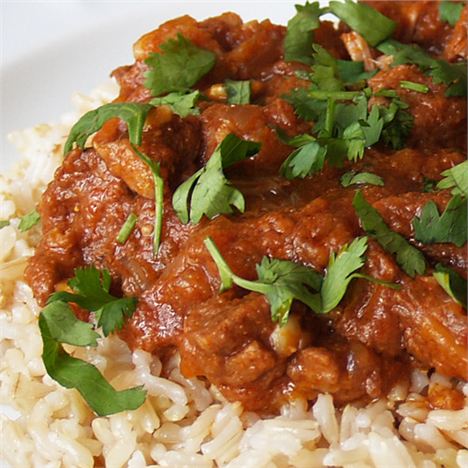 Lamb Curry
Serve with brown rice (yes, it takes longer to cook than white but if you start it off first, it'll be ready at the same time as the curry and it's a great source of B vitamins). You can make your own sauce from scratch or use a jar, as long as you check the list of ingredients. Choose one without added sugar (why on earth would you need sugar in a curry?) and only with ingredients that you would find in a kitchen (not in a lab). Organic brands are a good bet as a lot of the weird stuff is banned by organic regulations.
---
Wednesday - Grilled salmon
It's good to include fish a couple of times a week and it's very quick to cook but kids can sometimes be a bit suspicious of it. Salmon can be the acceptable face of oily fish; the best choices are organically farmed or wild salmon.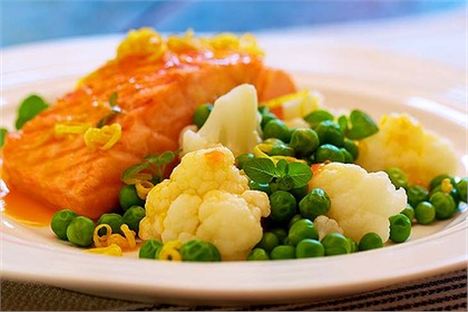 Salmon
Buy frozen fillets to keep handy for quick weekday meals. Oily fish is a source of the 'essential' omega 3 fats EPA and DHA. Serve with sweet potato mash, green beans and/or cauliflower.
---
Thursday - Chicken fajitas
Another family-friendly self-assembly meal. Choose free-range chicken (organic is even better if budget allows) and cook in strips with sliced red, orange and yellow peppers and red onion.
Spice with as much chilli as other family members will let you get away with plus a pinch of cinnamon and a squeeze of lime. Serve in wraps with guacamole or mashed avocado, some salad leaves and a little grated cheese or sour cream. This is great cold, too, so good for those nights when everyone is eating at different times.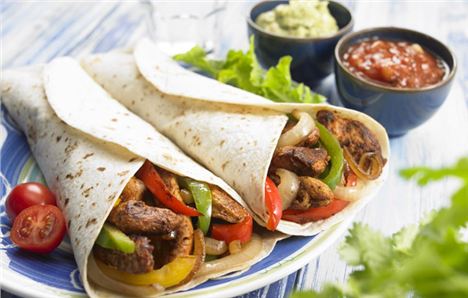 Chicken Fajitas

---
Friday - Prawn stir-fry
A variation of the traditional 'fish on Friday'. Choose fresh or frozen prawns (defrosted) and prepare a selection of vegetables for stir-frying: red peppers, spring onions, baby sweet corn, pak choi, mangetout, broccoli, etc. (or if you're really pushed for time, buy pre-prepared packs of vegetables for stir-fries – all supermarkets do them these days.)
Grate in a little fresh ginger and serve with noodles, topped with some chopped, fresh coriander. Add soy sauce or a squeeze of lemon juice to taste.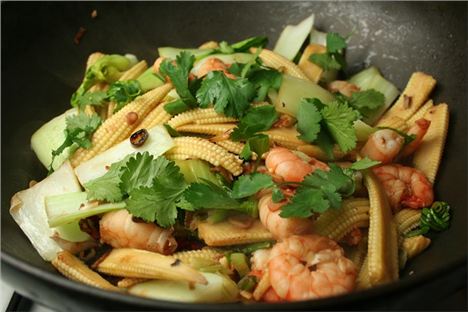 Prawn Stir Fry
---
Saturday - Vegetable lasagne
Another day when you're likely to have a little more time so a lasagne ticks the boxes both for being family-friendly and impressive enough to serve to friends, if you have guests.
There are plenty of recipes on-line for this: Delia does a good one using roasted vegetables here. Serve with a couple of interesting salads such as mixed baby leaves and grated raw beetroot and carrot tossed with olive oil, lemon juice and mustard seeds.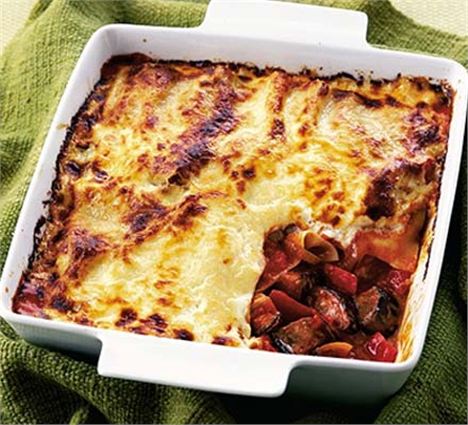 Vegetable Lasagne
The advice given here is not intended to replace medical advice. Always consult your GP if you are concerned about your health.
Clare Jones, BA(Hons), Dip ION, mBANT NTC & CNHC registered
Nutritional Therapy 07985 166606.

If you would like to make an appointment for a personal nutrition consultation with Clare, please contact her on the above number or visit Clare's website: www.clarejones-nutrition.co.uk
Follow Clare on Twitter @ClareJonesNutri and Facebook www.facebook.com/ClareJonesNutritionalTherapy