HIGH heels embellished with teddy bears and bunches of grapes? Quirky brand Irregular Choice just got even crazier… or maybe just plain weird?
NOW, I'm all for a pair of show-stopping heels to inject a bit of life into an otherwise boring LBD. However, do I really want to take to the dance floor at the age of 21 with plastic dolls and strawberries adorning my heels? Personally, at £225, I'll be giving it a miss.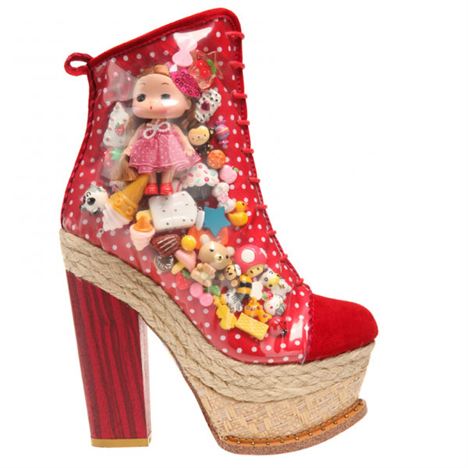 Visionary Viper shoes
Irregular Choice have always been renowned for their iconic, tongue-in-cheek style, yet the latest collection from Brighton designer Dan Sullivan is something more up Gaga's street than us regular girls.
Some may argue that it's fun, playful – and most definitely unique. But I'm not warming to the 'Visionary Viper boot' and its attempt to bring out the inner five-year-old in you. Retro? Yes. Kitsch? Maybe. I'd go as far to label them 'cute', very 90s, but I can't see many of us ladies sashaying through town in these bad boys.
Do check out the Irregular Choice website though. It's as mad as their shoes. More whacky styles in the gallery below....
Follow Rebecca on Twitter @Bexxie1306