WHEN SHAUN T, an American motivational speaker and creator of the world's top grossing workout franchise, Insanity, grabbed me by the arm, looked me in the face and told me to "keep going, homegirl," I kept on going with all my strength and might.
Not since workout tapes by Jane Fonda has there been a more popular figure in the fitness world.
It's an effect only a worldwide successful fitness guru with a rippling torso could have on my physical endurance.
Last weekend Manchester was given the UK's only opportunity to enjoy and endure an hour long workout from Shauntervention UK. As the show's first international debut outside the USA, the thirty-six-year-old also held a two hour Q+A session to share both the joys and woes of his fitness regimes.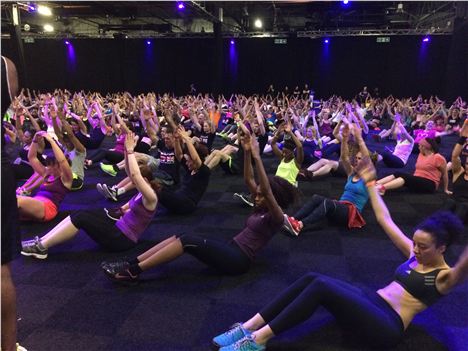 Shauntervention UK: L'Oréal Blackett digs deep with 700
Despite tickets setting fans back £60 for three hours (£120 if you wanted the VIP treatment and a T-shirt), seven hundred people turned up to experience the workout - hailed for transforming your body in just 60 days - live in action and with the man himself.
Synchronised, the pumped mass crowd squatted, 'zombie kicked' and jumped with full force in Trafford's EventCity. Under Shaun T's watchful eye we digged deep to generate enough energy to keep nearby Trafford Centre's sparkling lights going. Probably.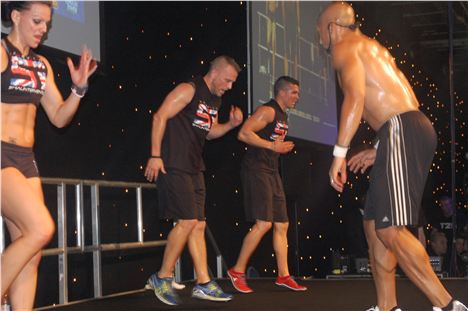 Pumped
With an ultra enthusiastic American pep talk, he gushed: "This is literally beyond anything I thought possible. Shauntervention is more than just a live workout — it's a state of mind. It's designed to fuel your mind and heart to inspire you to live each moment, find your true self and achieve your ambitions."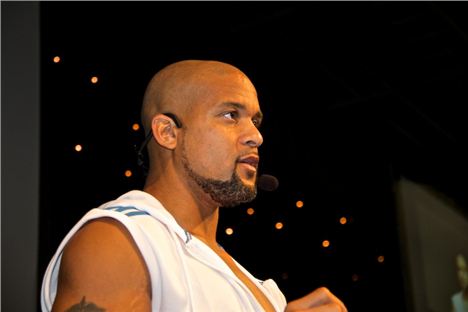 Fitness Guru and Motivational Speaker, Shaun T
Shaun T is hard not to like, even after he's pushed you to jump up and down as though, well, you are insane. 
The combination of the energy lifting music and Shaun T's charismatic motivational speeches made it easy to understand why so many have dug deep enough to stick to his gruelling cardio-heavy workouts from Insanity, Hip Hop Abs and his most recent offering, T25.
In the room, the herd mentality also helps. If your neighbour completes twenty sets of 'ski jumps' then the competitive air makes you want to complete it too. 
L'Oréal Blackett digs even deeper
Of course, the well documented 'before and after' results are inspiration alone. One session of Insanity can help you burn up to 1,000 calories and Shaun claims his regimes pack in a years worth of exercise in just 60 days - if you stick at it. 
Yet, it's also Shaun T's personality that has encouraged a biblically devoted lycra-wearing flock.
Some of the more passionate fans clambered to the stage to grab a kiss, with others shouting "I love you Shaun" from the crowd. The most devoted had travelled from as far as Russia and Hong Kong to take part in the weekend's show.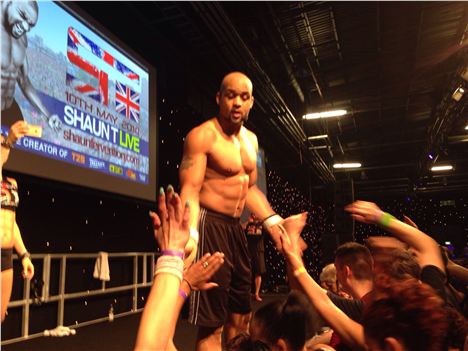 Fans flock to Shaun T
Not since workout tapes by Jane Fonda has there been a more popular figure in the fitness world.
At the Q+A testimonies poured through of Shaun T's life changing influence. One emotional attendee shared her remarkable weight loss of 25 kilograms (around three stone) and was on her way to gaining the covetable six pack. Others wanted to know what kept Shaun motivated to stay in shape (his weakness for cheese steak with extra cheese and powdered dougnuts), while one lady simply wanted to know who'd Shaun have play him in the movie of his life - Will Smith, naturally. 
Shaun T promised this wasn't to be the last time he would bring Shauntervention to the UK. In the meantime, Insanity DVDs are available, but without Shaun T's charm and postive preaching to spur me on, how will a 'homegirl' stay motivated? 
"The hardest thing to do is to press play," Shaun encouraged, "All you need to do is push the button, just never press pause."
Find out more about Shauntervention and Insanity on the website.
Follow LOreal_B on Twitter.