Where is it?
10 Hilton Street, Northern Quarter, Manchester, M1 1JF
Deep pulls in the student crowd during term time because we all know students can't resist a pair of denim cut-offs. 
History:
Deep is a newcomer to Manchester's Northern Quarter. The Middlesborough born brand began as a start-up business idea by two university graduates.
As shop manager Anthony said: "The two guys who own it did a business degree together and were also into their fashion so that's how it began. The first shop opened nine years ago in Middlesborough and was followed by a shop in Newcastle, York, Liverpool and now Manchester."
Unfortunately both the Liverpool and York based branches of Deep have since closed down. And while the overall lack of spending power on the high street could have contributed, there's also the possibility that the Deep dress sense is less appreciated in those cities.
Manchester, on the other hand, is lapping up Deep's new take on old clothes.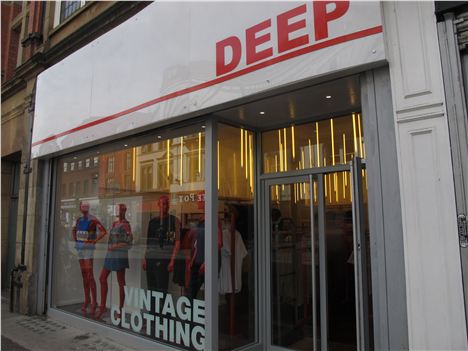 What does it sell?
Vintage clothing makes up the majority of the shop, but not as you know it.
Anthony said: "We alter everything to bring it up to date with fashion. All the men's shirts for example are taken in to make them a smaller size. We've got a few seamstresses based in Middlesborough doing all the alterations."
The remake and remodel ethos is also evident beyond the clothes. Visit Deep and you'll be surprised by how it breaks everything we've come to know vintage shops to be. Clean, tidy, organised and modern, you'll think you've walked into the wrong shop.
Anthony said: "A lot of people come in not realising we're a vintage shop because it doesn't feel typically like one. One of the owners is also really into interior design, so every shop has a different look and feel.
"Compared to other vintage shops, if someone wants a cord shirt, they can find a whole rail of cord shirts. Normally with vintage, you have to rummage through six rails to find the one thing you're looking for. Here it's all set out to save you the trouble of looking through. We do the hard work for you."
As well as reworked vintage, Deep also stocks its own name branded clothes, consisting of wardrobe basics such as plain t-shirts, all manufactured in the UK. Priced at £14, the men's oversized t-shirts that are baggy in the body but tight on the arms, are one of the most popular purchases in the shop. The fabric is incredibly soft and stretchy and they come in ten colours.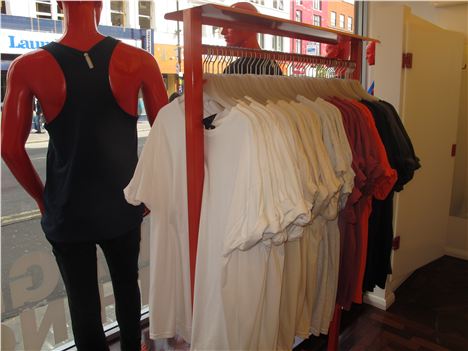 Baggy plain t-shirts at Deep, Manchester
Anthony said: "I think often people find it hard to get the most simple items of clothing at a reasonable price when they go shopping. You'll find these types of plain t-shirts at £40 not £14 in some high street shops. That's probably why they're our best seller here."
In womenswear, it's the other more experimental end of the spectrum that's proved to be a hit in Manchester. In particular, the reworked and customised men's shirts that are now women's off the shoulder dresses available in plaid and silk, priced £39.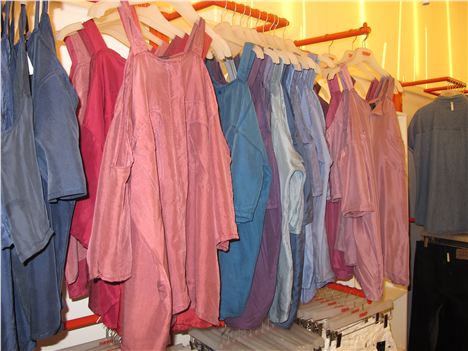 Off the shoulder dresses at Deep, Manchester
Who shops there?
It's a wonder why Manchester wasn't higher on the Deep city hit list given that Northern Quarter is the vintage go-to place for those living in, around or visiting the North West.
According to Anthony, it was simply a case of waiting for the right unit in the right location to become available. Situated near the junction of Hilton Street and Oldham Street, Deep pulls in the student crowd during term time because we all know students can't resist a pair of denim cut-offs. They're a student's wardrobe staple, alongside pyjama bottoms and Ugg boots, but while Deep doesn't sell either of those it does have every type of t-shirt to wear with the cut-offs. Winner.
Why go there?
With term time over, Deep is most likely not the only shop that's felt the dip. Students eh. When they're not eating kebabs, stealing traffic cones and getting wasted, they can mainly be found shopping in the NQ for vintage clothes to make them appear poor.
It'd be a real shame (and an ironic one at that) for a shop such as Deep to drown in the summer. People of Manchester, let's keep it afloat.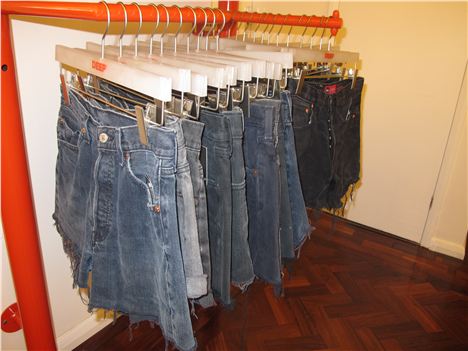 Student's favourite denim cut-offs at Deep, Manchester
Verdict:
If you like vintage clothes but aren't fussed for the smelly must, you'll definitely fall in love with Deep.
Truly, madly, deeply.
Visit deepvintageclothing.co.uk
Follow Lynda on Twitter @lyndamoyo