IF ever there was a real-life Bridget Jones, it's Claire Richards from Steps.
Sat, in a corner of Manchester's Malmaison hotel ahead of her autobiography signing at Selfridges, she laughs into her cup of coffee at the comparison.
'I'd buy a pack of cakes for four and eat the lot. From 2003 to 2007 I didn't do anything. I couldn't.'
"I suppose the book is a bit like that" she admits. "Everybody knows about me and the whole up and down weight thing. This is about how that started, the years I was in Steps, the years after Steps, how I met my husband. It really is All Of Me.
"I was really involved because it's my life. No one else could really tell it. I did have a ghost writer and we just sat down and I literally talked through everything from start to finish and she put it in some sort of order that would make sense. I seem to have a memory for stupid details. I can't remember my own kids' names sometimes. It would have been like War And Peace if it was left up to me.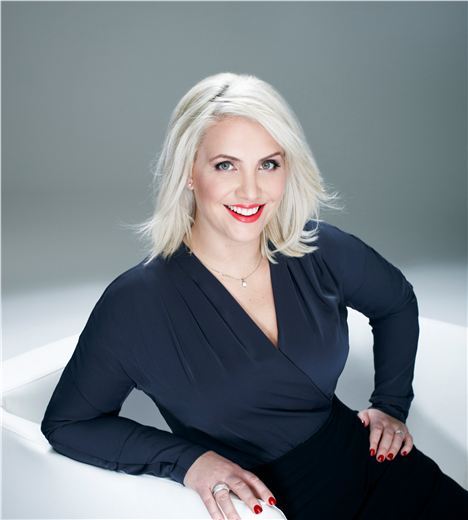 Claire Richards
Despite having a voice that could propel the other members of Steps straight back to stage school, the interest in Claire's physical image has been known to supersede her singing abilities. Little wonder then that the pressure to look like a pop star as well as sound like one, contributed to Claire's decision to step out of the spotlight soon after the band split in 2001.
'I was depressed' reads an extract from her autobiography All Of Me. 'I'd stay in bed until lunchtime, then lie on the sofa watching TV. I went into reverse dieting. I'd buy a pack of cakes for four and eat the lot. From 2003 to 2007 I didn't do anything. I couldn't.'
In more recent years however, Claire's taken control, not of her weight for once, but the issue of weight. After many a tabloid run-in, two fat-focused documentaries and a 'Fat Attack' fitness DVD, she's quite frankly bored of it.
"I got to the point last year where food and exercise was just every single thought. From the minute I got up to the time I went to bed and then even in my sleep, I was just worrying about what I should look like."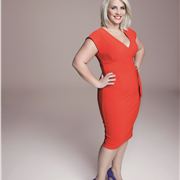 Claire's size 16 figureClaire would be the first to admit being slim doesn't come naturally to her. Fiddling with her dress, she looked up in horror at the mention of tabloid news reader comments about her recent Steps tour costumes.
"I'm not saying I won't ever lose weight again and I'm not saying I won't get bigger. What I am saying is that it's not going to hold me back anymore. It's not going to stop my husband, my kids or my family loving me. Somebody I've never met who lives at the top of Scotland and says 'Eurgh I can't stand that Claire from Steps, she's vile and really fat' shouldn't affect me."
Contrary to what she'd expected, the reference was to a comment suggesting Claire had 'fab Christina Hendricks curves' in her on-stage cinched waist pencil skirts and slinky low cut black catsuits.
"I suppose that's a good thing about us (Steps) now" said a somewhat relieved Claire. "There's something for everyone. Instead of wishing to be something I'm not it's now about making the best of what I am and encouraging others my shape and size that they can still look good and they can still wear nice dresses.
"When I put on weight the first time I wanted to wear the things I used to wear. I used to struggle with clothes shopping but I know where to go now. I can go in All Saints and buy a T-shirt because they're normally massive but then I also know I can't buy a pair of jeans in Topshop because I won't get them over my bum even if they're a bigger size. You have to go where you know something fits you."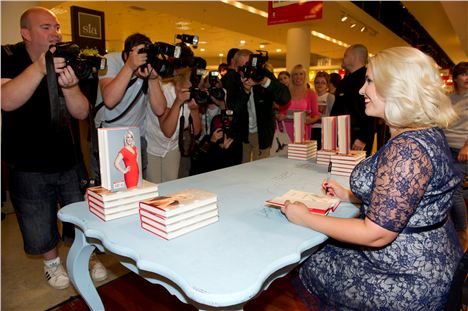 Claire Richards posing for photographs at Selfridges, Trafford Centre
Now, reportedly a size 16, Claire's wearing it well. She looks lovely, youthful, buoyant even, and the inability to pull off teeny-weeny-bikini outfits has left the mum-of-two undeterred this time around. She's all woman these days - physically and mentally.
"I was a little bit nervous about getting on stage in the outfits. I always used to have my midriff out. Now it's just boobs" she laughed. "I knew I was going to look a lot bigger than the other girls on stage but most of my outfits were shaped well. I didn't cover up and everything was quite fitted.
"The whole Steps reunion has blown us all away. It's very humbling because now we can look at it with different eyes to ten years ago. Back then we were all very young. You get caught up in this bubble. Now when I go to work with Steps, that's Steps, but when I come home there's a life outside of it. That's what you need to be able to put it all in perspective; go home, put your kids to bed, be normal and then go wow, I've just played to 15,000 people at the Manchester Arena. How many people can say that?"
To hazard a guess, not many.
However, unlike many other celebrities, there's something about Claire that makes us want to delve deeper. There's the glamour, but also the struggle, the pain, ups and downs.
"I think there are a lot of people out there like me, from one day to the next starting new diets.
"There's been quite a few for me. I once did a diet where all I was allowed to eat was chicken and fish. I had to cut out mushrooms, tomatoes, aubergines all yeast all wheat gluten sugar, only green vegetables. It was hideous. I lasted about three weeks and lost 11 pounds with no exercise, but then I completely fell off the wagon. I did a juice diet too once. That lasted one juice. I was starving and I couldn't be bothered to clean the machine.
"But did I think it was ridiculous at the time? No. Anyone who yoyo diets wants that quick fix. You want it to happen overnight and that's why you never stick to it. I don't know how I starved myself back then."
And so to now and the future, Claire's keen to set a healthy example to her kids, favouring a balanced diet over fast fixes. "I don't want my daughter to be looking at me thinking 'my mummy was always on a diet'" she said.
Old habits die hard however and the scars of her lifelong battle with food run deep. "I've done so many diets over the years there are certain things I just won't touch anymore. I won't drink fruit juice because one diet said it's full of sugar" she said. But back with the band and now making the most of her Oprah-like appeal, she's breaking the mould instead of breaking the mirror.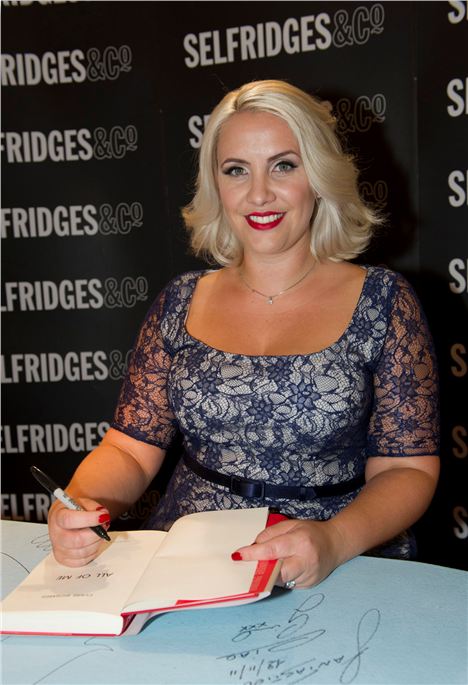 Claire signing copies of 'All Of Me' at Selfridges, Manchester
"When I look in the mirror these days, I still see all the things I wish weren't there. But now I guess I look at myself and think right how do I brush this up to make it look alright today. I rely on other things like my Spanx.
"I used to get really upset and think oh my God I look disgusting but I don't do that anymore. I've got a tummy, it may get smaller but it's never going to go back to the way it once was. You just have to accept it. I've got two beautiful kids as a result."
And with a twang of her Bridget Jones knickers, Claire's off to sign books.