From Levenshulme Market to Knutsford nooks and crannies, here at Body Confidential we're all about alternative Christmas shopping ideas this year.
Islington Mill, the multi-purpose events space in Salford, has a number of activities going on in the run up to Christmas, from festive themed markets to their good old Carbooty and even your own designed gift idea...
Christmas at Islington Mill: Thursday 28 Nov, 4pm to 9pm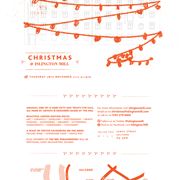 Islington Mill will be hosting its annual contemporary crafts fair on Thursday 28 November. The wealth of creative talent based at the mill will showcase their work and offer a range of unusual, one-of-a-kind gifts and treats.
Look for home accessories by Mr.PS, screen printed items from one69a, photography from Andrew Brooks and a plethora of goodies made by Tasha Whittle.
There will also be a selection of work including ceramics, jewellery and fashion accessories, art, photography and printmaking, which can be purchased and taken away on the night. Many of the products on sale will be one-off or limited edition pieces.
As well as the wide range of crafts available at the Christmas fair, there will also be a feast of festive favourites for visitors to enjoy with mulled wine, homemade soup and mince pies all on the menu, all to the soundtrack of the BBC Philharmonic who will be performing to complete the atmosphere. 
The free festivities begin at 4pm and continue until 9pm.
Carbooty: Sunday 8 December, 12pm to 5pm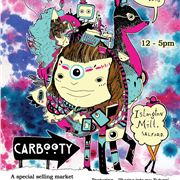 Back for its final sell of the year, this is the market for hoarders, collectors and makers, originally conceived in the gallery space of Islington Mill from Tasha Whittle's Lose/Gain Residency in April 2013. It has seen through the summer solstice and also became the first Northern Art Carbooty in August.
For this final event, Whittle's art installation and sale of the century 'Buying into my Future' is offering people the opportunity to become a patron of the next body of her work buy literally buying her 'stuff'. Each item bought will get a limited edition printed postcard and high five too. 
'Buying into my Future' art installation will be the most ultimate charity shop. The kind of place where you will be able to get a lot of different items such as artwork, prints and clothing for a very reasonable price.
Alongside Whittle will be a host of other hoarders, collectors and makers all selling their wares. The best thing about Carbooty is that 'Anything Goes' and in true Carbooty fashion, anything and everything must go.

If you wish to sell at Carbooty please email: carbootymcr@gmail.com
Visit carbootymcr.tumblr.com for more information

T-Shirt Printing: Saturday 7 December, 1pm to 4pm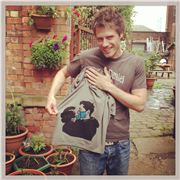 You might be thinking of buying someone you love a t-shirt for Christmas. But why not go one better than that and design and print them one instead?
This Islington Mill workshop (open to adults only) is your opportunity to use silk screens, water based inks and hand cut stencils to draw and screen print your own t-shirt or tote bag designs.
Included in the cost of the day is one t-shirt or tote bag and you will also have the opportunity to print further items during the session should you wish to do so.
Price is £17.50 per person or 2 places for £30. Visit one69a.com/blog/screen-printing to book your place