CHANCELLOR George Osborne will today unveil a new deal with Chinese investors to kickstart three key 'Northern Powerhouse' schemes in Manchester, Leeds and Sheffield with a total development cost of £1.2bn.
As a family business with its roots in the North of England, we are now very proud to bring our partners in China to the UK...
Xinjiang-based conglomerate, Hualing Industry and Trade Group, have pledged to invest £60m in three projects led by British firm the Scarborough Group.
The announcement comes during the Chancellor's latest trade mission to China, with Osborne aiming to make China the second-largest trading partner of Britain by 2025.
China is currently the UK's sixth largest trading partner with British exports totalling £25bn in 2013, according to figures from the Office for National Statistics.
Osborne said: "We are building an ever closer relationship with China – it's a partnership that is set to unleash growth and help regions like Xinjiang where we know investment can make a real difference, as well as unleash new growth back home, in places like our own Northern Powerhouse."
The three projects set to receive Hualing investment are Manchester's £730m Middlewood Locks scheme, Leeds' £400m Thorpe Park project and Sheffield's £40m Digital Campus.
It is estimated the schemes will create up to 18,000 jobs and 10,000 new homes across the North, reinforcing Osborne's Northern Powerhouse rhetoric.
Back in June, the McCabe family's Scarborough Group unveiled plans for the first phase of the Middlewood Locks scheme at the south western gateway to Manchester city centre.
The Middlewood masterplan includes a total of 2000 new homes and 750,000 sq ft of mixed-use space - including offices, restaurants and shops - over a 24 acre site bordering the Manchester Bolton & Bury Canal.
The first phase - designed by WCEC architects - will include the first 550 homes and should begin before 2016.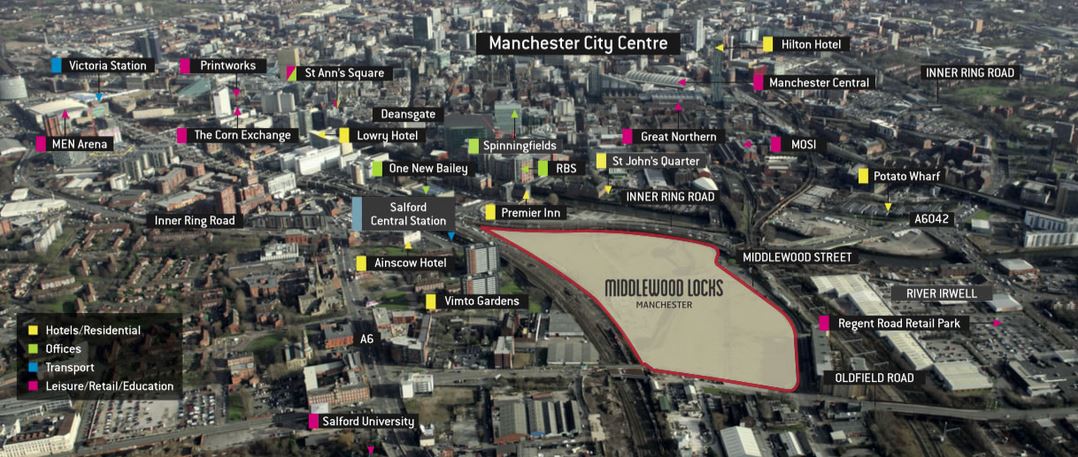 Middlewood Locks site
Lee Savage, development director of Scarborough, said: "The development is situated in what will be a new business destination for the city as well as a sought-after residential neighbourhood due to its proximity to Manchester city centre, MediaCity UK and the impact of other wider regeneration activities that are taking place in the Salford area."
Kevin McCabe, Chairman of the Scarborough Group said: "We are delighted to join the Chancellor on this historic visit, moreover, we appreciate the invaluable support of the UK Government in helping us to create closer global business links.
"For Scarborough, this is the latest chapter in a long history in China, spanning over thirteen years, during which time we have established strong relationships with local partners as the foundation for significant investments in China and the Far East.
"As a family business with its roots in the North of England, we are now very proud to bring our partners in China to the UK to invest in our great Northern Cities and to accelerate the development of our major projects in Manchester, Leeds and Sheffield.
Earlier this week, Osborne announced a £2bn deal with Chinese investors to fund the new £25bn Hinkley Point nuclear power plant.