MANCHESTER Artist Sian Elizabeth Doherty, AKA Fanny Gogh, likes to make things out of old knickers. We kid you not.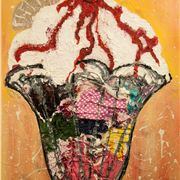 KnickerbokagloryFamed for her 'knickerbokaglory' collages, Fanny's list of famous underwear donators includes American comedian Rob Schneider, Radio 1 presenter Sara Cox, Waterloo Road actress Chelsea Healey and Shameless stars Ciaran Griffiths, Tina Malone and Rebecca Atkinson. She's even been tweeting Simon Cowell in a bid to get creative with a pair of his undies too. It's certainly bizarre concept, but an amusing one at that.
This week, Fanny will launch her latest exhibition at Generation Gallery. Corrie barmaid 'Eva' played by actress Catherine Tyldesley is one of many celebrities whose underwear will be featured. Every piece of artwork sold or auctioned, will go to The British Heart Foundation. 
The opening night is on Thursday 13 September and is invitation only. Call the gallery on 0161 247 7870 to be added to the guest list.