ONE of favourite mottos (yet one I rarely share) is 'they come for the breasts and stay for the brains'. In my quest to become a well-rounded woman, I chase both a good cleavage and one day a developed business acumen - but that's just me.
"Imagine you're on a private jet and it's just you and your guy – and, of course, the pilot - what are you wearing?"
The 'motto' creeps into my head as I gear up to meet founder of Britain's leading lingerie brand, Ultimo, and one of the UK's top female entrepreneurs, Michelle Mone OBE. We meet in Manchester's House Of Fraser before she unveils the 17-year-old brand's new concession on the shop floor. It's one of twelve new outlets Mone has rolled out in the UK.
Ultimo has reached a new strength recently.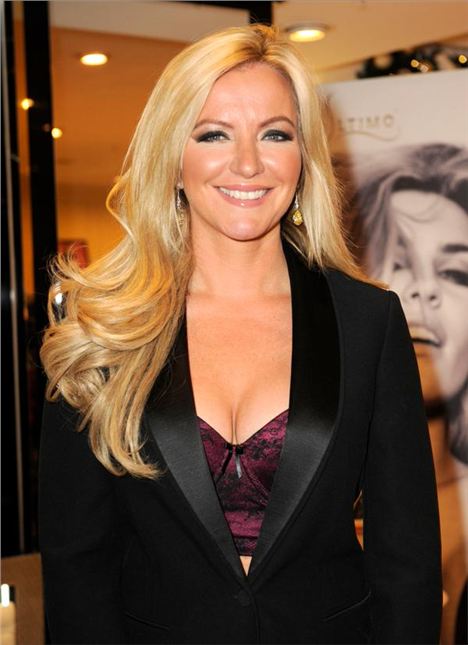 Michelle Mone
Michelle Mone is perched on a chaise lounge as we meet. She jumps up and greets me with her pleasant Scottish accent.
While the entrepreneur is warm, the 43-year-old is certainly formidable; she's perfectly preened from her blonde tresses down to her shoes and on this day she's rocking a power suit with nothing but one of her bras underneath - a brilliant touch which I commend her on.
"Are you sure?" says Mone as she browses through press shots on her phone. 
I'd soon learn that every decision, from her outfits, business and designs are painstakenly mulled over before unveiling to the public.
The lingerie tycoon is also a little OCD. 
"L'Oréal, I don't stop. I have about four hours sleep a night," she says with a familiarity I quickly warm to.
"I can't just stare at blank walls. I've not watched a film in ten years. I'm constantly working but I wouldn't have it any other way. I like to be in control, to fix things."
She gestures to a napkin on the table, "You see that? Even that's bothering me."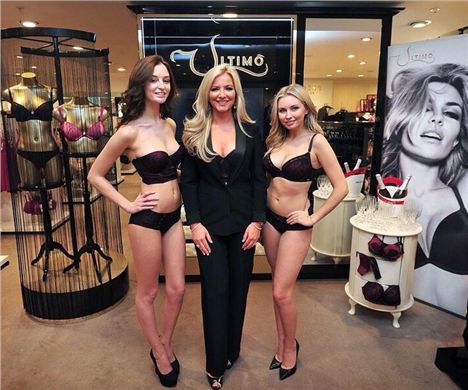 Ultimo unveils in House of Fraser Manchester
Mone's new found sense of control comes after what she describes as two years of hell. She's been through a well publicised divorce with former husband Michael Mone (over an alledge affair with one of her designers) who founded the company MJM International which owned Ultimo. 
Now, she says, she's not taking any... umm ... let's say rubbish.
"I went through two years of hell but now I'm in the zone. I lost just under eight stone, I'm travelling across LA, New York and I'm a motivational speaker. I have six book deals and I am planning to tell all. I'm so confident and I'm unstoppable right now.
She adds passionately: "I'll tell you what, once a woman finds her confidence, when she's in that zone, it's dangerous. Don't get me wrong - I'm not a feminist or anything - but once a female finds her confidence she's unstoppable."
Abbey Clancy in Ultimo
Mone's achievements in past and recent years are impressive. She has one of those hardship-to-success stories people write books about (six books actually). Her life has had its turmoils, heartbreaks but importantly she's come out on top.
So what's next?
"I have a five year plan. I want to be a global brand. I want UTAN (Mone's fake tan range) to grow to take number one spot above the other leading tanning brand. It's all or nothing."
We chat some more, before taking breaks to scroll through our Twitter feeds and take a few selfies together. Mone and her team have picked me out one of the bras from the black label collection. It's the Hailie plunge bra and it pushes my pair up underneath my nose.
So who do Ultimo make bras for? Just for women, or for their men to look at?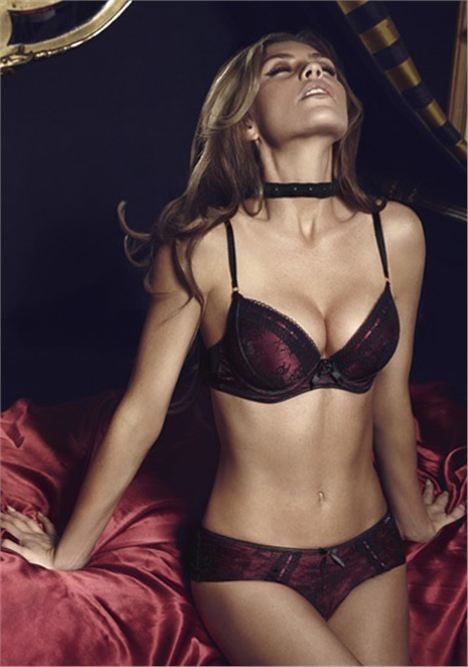 The Hailie Plunge bra
Well, we are in the sex industry," said Mone.
"Just without the buzzy things that need batteries. It has to be classy and sophisticated but it's still about sex."
"Imagine you're on a private jet and it's just you and your guy – and, of course the pilot -what are you wearing?" she says setting me a scene. 
Something sexy, preferably.
"That's the black label. And that's the scene I set for the design team. You walk out wearing the best of best fabrics, sexy but flattering."
We're not just about creating massive boobs either," she added. "It's about breast styling: do you want your boobs to kiss and meet? Do they need a lift?"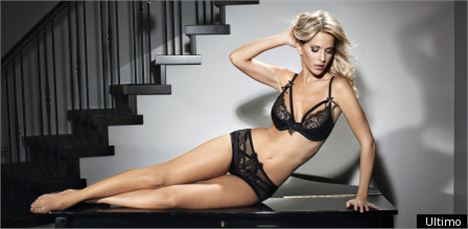 Black Label
Where else could Michelle potentially take Ultimo?
The week we spoke Kim Kardashian had attempted to 'Break The Internet' with her oiled up, naked giant behind on the cover of Paper magazine. In what's considered the 'year of the rear', was padded knickers the next step for Ultimo?
"I spend as much time as I can in gym, why would I want a big bum?" exclaimed Mone with comical disgust.
"She didn't have to do it. I saw the image, it was awful. She's a beautiful girl with all the money in the world. Why and on earth would she give them everything?"
A no on the padded knickers then.
I left Mone with a new bra and a pep in my step. We came to talk about the breasts, but I could have happily picked that woman's brain for hours.
Find Ultimo in House of Fraser, Deansgate, Manchester. 
Follow @LOreal_B on Twitter.