BLACK Friday - the one-day sale rush - is set to sweep Manchester's high street and superstores on Friday 28 November.
WARNING: the lure of heavily discounted goods has been known to turn shoppers into covetous, elbow-wielding, panic-buying zombies. 
Visa Europe has forecast that £360,000 will be spent every minute, or £6,000 every second, on its cards on Black Friday 
Originating in America, Black Friday allows shoppers to purchase items at heavily discounted prices online and in store. Ironically, it follows after Thanksgiving - a day for being thankful for what you already have. 
Still, Black Friday has been known to cause pandemonium in shopping aisles and Manchester and the rest of the UK is bracing itself for this year's madness.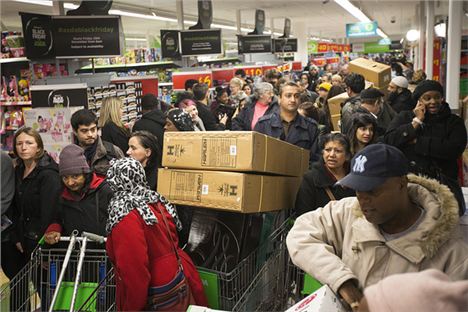 An Asda copes with Black Friday
In recent years sale shopping has continued beyond the Friday. 'Cyber Monday' (Monday 1 December) will allow those searching for bargains to continue the search online.
The coming weekend is expected 'to be the biggest shopping weekend of the year'.
According to The Telegraph, a report by Visa Europe has forecast that £360,000 will be spent every minute, or £6,000 every second, on its cards on Black Friday. The paper also claims the day will see 8.5m online transactions, up 22% on last year, with shopping peaking between 7pm and 8pm.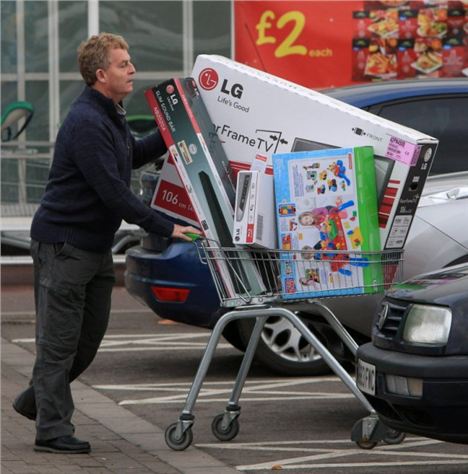 Black Friday
One of the most coveted items, Apple products, tend not to offer huge discounts.
According to MACWORLD: "Last year, Apple offered savings of £31 on the iPad Air, and the iPad mini was reduced by £15, so you're not looking at anything major but it's well worth waiting if you want to save your pennies."
Confirmed UK stores participating in Black Friday include: Asda, John Lewis, Very.com and Currys. Manchester Arndale and the intu Trafford Centre are offering major sales throughout their shopping centres.
intu Trafford Centre has released a run-down of its stores offering discounts (see here). Below we've compiled the best online and on the high street.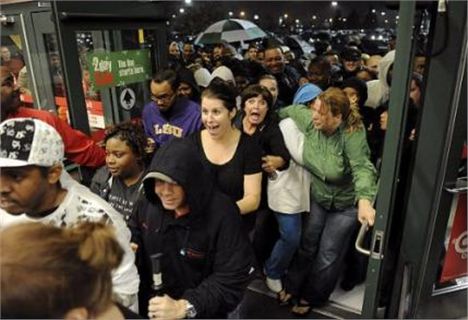 Black Friday 
BLACK FRIDAY - BEST HIGH STREET:
- John Lewis stores will open from 8am. There's offers available across hundreds of electrical products including; tablets, laptops, televisions, small and large electrical appliances.
- Asda - expect big electrical discounts. Most of the items on sale will remain a secret until Thursday 27 November. Shop from 7am.
- Boots is offering more reward points for every pound. We say stock up on those all-important Christmas gift sets. 
- Marks and Spencer is expected to capitalise in a big way over the weekend. Last year it was offering 20% off womenswear, menswear and lingerie.
- GAP - (28 and 29 Nov) 40% off full priced items. 
- Tesco - the sales start one minute after midnight online. The store is keeping its sale items under wraps but we'd pay a visit to the supermarket to get children's Christmas presents sorted. 
CYBER MONDAY - BEST ONLINE:
- Amazon.com - the leader in Black Friday online shopping has started its sales earlier this year. Its electricals, including LCD TVs and digital cameras with be heavily discounted. Best for those all important Christmas presents. The sales will run all weekend and on December 1.
- Very.com - best for discounted dresses and winter wear. It is also offering deals across electricals.
- Boohoo.com - the Manchester based brand did extremely well in last year's sales. We're expecting discounts of up to 25% across its menswear, womenswear and accessories. 
- Argos - the store has a special clock counting down deals on the hour. 
- American Apparel - the store is readying itself for big Cyber Monday sales. If you've always wanted to buy one its popular waist clinching leggings but were put off by the price tag, now is the time. 
Follow @LOreal_B on Twitter