"YOGA? I always think that's exercise without any effort," my friend said to me when I told her about the new class I'd signed up for.
"It's actually a special kind of yoga that is done in hammocks," I informed her.
"That sounds even lazier " she replied.
There were also a lot of new poses to try like Superman, the Monkey, Mosquito and despite the fact I've always been Team Jacob rather than Edward, I was particularly fond of doing the Vampire.
Perhaps she was right. Admittedly when I'd received an email about the new fitness craze heading over to our shores from America, the working-out part hadn't been the biggest lure. Nor was I enticed by the rumours that the sessions could make you taller, as well as look younger. No, I was more excited about the fact that I was going to be able to fulfil a childhood dream.
 'We are proud to be the first club in Manchester to offer AntiGravity Yoga classes because it fits perfectly into our philosophy of being your playground in the heart of the city! We strongly believe in the concept of having fun with regular physical activity and what is better than a class where you can literally fly above the floor while doing Yoga and aerial acrobatics.'
I was going to be able to fly. It said so in black and white. Literally. In the absence of Jim being around to Fix It, this seemed like the next best thing. "Where do I sign?" I asked.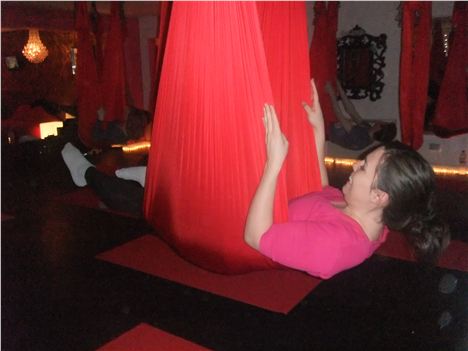 I was excited when D-day dawned, which in itself was an unfamiliar feeling for me to have when in relation to exercising, though was slightly unnerved on arriving at the Bodybarre Studio in the Northern Quarter to see rows of red, silk material hanging ominously from the ceiling resembling a bizarre, but stylish, torture den.
We were 'fitted' for our hammocks by Karen, our instructor and founder of Bodybarre (I did have a moment's panic wondering if it would be like a shopping trip in Thailand when a sales assistant told me I was too big for anything in the store, but fortunately it just involved ensuring that the hammocks were set at the right height) before she demonstrated the easiest way to get in to them.  In no time at all the whole class were bobbing happily like over-grown babies in those doorway bouncer thingies. So far, so easy.
A couple more instructions and a bit of re-jigging followed, until we were sitting enveloped by the silk in hanging pouches for a few moments of meditation and relaxation. Still easy. I started wondering if my friend had been right.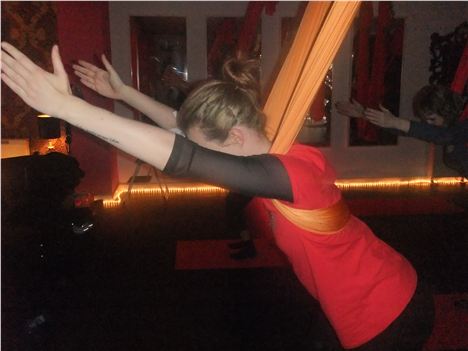 She wasn't. As soon as we emerged like butterflies from our 'cocoons', the hard work began. I suppose that considering AntiGravity Yoga was developed by Christopher Harrison, a former dancer, gymnast and founder of an acrobatic performance troupe, I shouldn't really have expected less.
"Trust me, trust yourself and trust your hammock. Remember it is strong enough to hold a baby elephant," Karen said as she enthusiastically led us through a series of poses. "Most importantly, have fun."
And that I did. Admittedly at times it was incredibly frustrating. As I struggled to jump through the hammock in the cardio section of the programme, I could imagine how it had felt for Baby being unable to do the lifts. Not having Johnny Castle around to help, I had to persist on my own, but it meant that it felt extra satisfying when I did manage to complete the move, albeit inelegantly and getting my feet caught in the process.
On the other hand, some of the traditional yoga positions were easier than usual. I've never been that great at the downward dog for example, but having the hammock as a support meant I was soon happily dogging like nobody's business. And as the closest I get to a head stand these days is bending over to do up my shoes, I loved how simple performing an inversion became when doing it aided by a silk swing.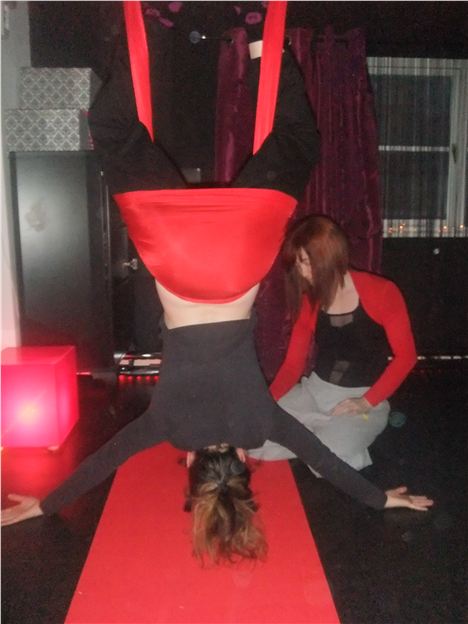 There were also a lot of new poses to try like Superman, the Monkey, Mosquito and despite the fact I've always been Team Jacob rather than Edward, I was particularly fond of doing the Vampire.
Plus there was the move that I'd been waiting for, the main reason for going. We leant over our hammocks, went on our tip-toes and released..."Look Mum I'm flying!" All that was missing was the unnaturally blue-eyed Westlife boys, dressed in white, singing about doing it without wings.
All too soon the hour was up. It had zoomed in. I left feeling elated.
The next day that feeling had been replaced with one of pain. All my muscles hurt. My friend had been mistaken. 'No effort', my (sore) arse. It proved that it had been a good workout though, and when I got ID-ed in Tescos buying a bottle of wine that evening it seemed that it had also made me look younger. Perhaps I was taller as well? I asked the concierge of my building what he reckoned. He said I was just as short as ever. Ah well, two out of three ain't bad.
I can't wait to go back. Inow know what the Irish lads mean when they sing, 'You've found that special thing...you're flying without wings.'
For details on AntiGravity Yoga and for other classes held at Bodybarre Studios contact karen@bodybarre.co.uk or see www.bodybarre.co.uk 
Follow Stacey on Twitter @StaceBerry
Official AntiGravity photos by Cornel Simons, Fotocad.