IT'S two years and a teeny bit since Altrincham Market reopened to the public. In that time Altrincham has gone from being branded a 'ghost town' by The Sun to a bustling foodie mecca. I visited over the last couple of weekends and was astonished by just how busy it was (I'm an old Alty Girl myself so have a frame of reference here). The market's reopening (bar a fire) has coincided with an upswing in Altrincham's fortunes, so it is tempting to give all the credit to Jenny Thompson and Nick Johnson of Market Operations for not only revitalizing the market, but the whole town.
It would be a shame if everything Market House has done in encouraging independent food businesses actually brought more chains Altrincham's way
Food-wise at least, there is a lot of evidence that that is the case. Here is a by no means exhaustive list of all the recent or coming new openings in the Altrincham area: Porta, a tapas on Greenwood Street; The Con Club, an impressive looking bar, restaurant and micro-brewery in the old (you guessed it) Conservative Club; Fox, a 'high-concept' eatery in Hale Barns; an outpost of the Northern Quarter's Sugar Junction, Apres wine bar; Rocket & Orange, a family-friendly café next to Stamford Park that is a roaring success; new cocktail bar Aurous, and the latest iteration of the Bistrot Pierre chain. Add to that the upcoming Eat:Kaizen; Sushi-Kimchi, another sushi spot in the Oxford Road Café and the very well thought of Sugo Pasta Kitchen and it seems like you could eat at a different spot every day for a month.
And here are some of the things those restaurants have replaced: a dry cleaners, a book shop, a social club, a Co-op and a clothes shop. Even the old Post Office is now a café called The Old Post Office. But this isn't a story about bemoaning the ills of gentrification and how it sucks the local colour out of a place. For one thing, places have to be underfunded in the first place in order to become gentrified, and then there has to be some local colour to lose. During the 00s Altrincham was neither poor nor characterful.
It's certainly true that things were looking bad for Altrincham just a few years ago – with a retail vacancy rate of over 30% and a prevalence of pound shops, the change has been as astonishing as it has rapid. There was once even talk of Mary Portas parachuting in to give the town centre an injection of much-needed oomph, though in the end she decided to go elsewhere (more precisely, Stockport). Maybe it worked out for the best, Mary. Still change was needed and change the Market has brought.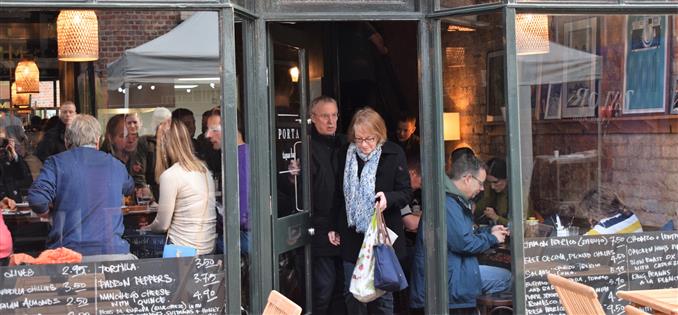 Porta is packed just days after opening

Altrincham high street where retail vacancies recently hit 30%
In a way, the Market House itself wasn't all just canny business sense, though the partners behind Market Operations, Jenny Thompson and Nick Johnson, surely have plenty of that. It was fortunate to arrive at the same time that eating out has become the nation's favourite leisure pastime. The current restaurant boom in Altrincham and Manchester (and more generally) surely has a lot to thank social media for. My instagram feed is clogged with those distinctive splattered plates from Tender Cow and #baconbuttyporn. Now that many people share what they are eating whilst in the very act of eating it, it's not enough that the food be good but that the place you eat has social cachet – and the Market House has that in spades.
In order to understand how Market House has achieved this elusive 'atmosphere' it is instructive to look at how it has succeeded where other markets have not gone quite as stratospheric. Ashton Market, for instance, tried to keep its old-style market and smuggle in a few trendy joints, and visitors to the market have not noticeably increased. The success of Altrincham Market is that once it had decided to go for a trendier, younger audience, it did so wholeheartedly. No half measures. Everything is organic, artisanal, beautifully made, and yes, plenty of those things are on the expensive side. Some of the original market shoppers stayed away, but economics is at heart a numbers game, and the numbers are up - way, way up.
For the most part, this change has gone down well. Though some of the old market traders have gone (mostly the ones selling bags and grandma pants) the ones that have stayed seem to appreciate the increase in footfall the transformation has brought.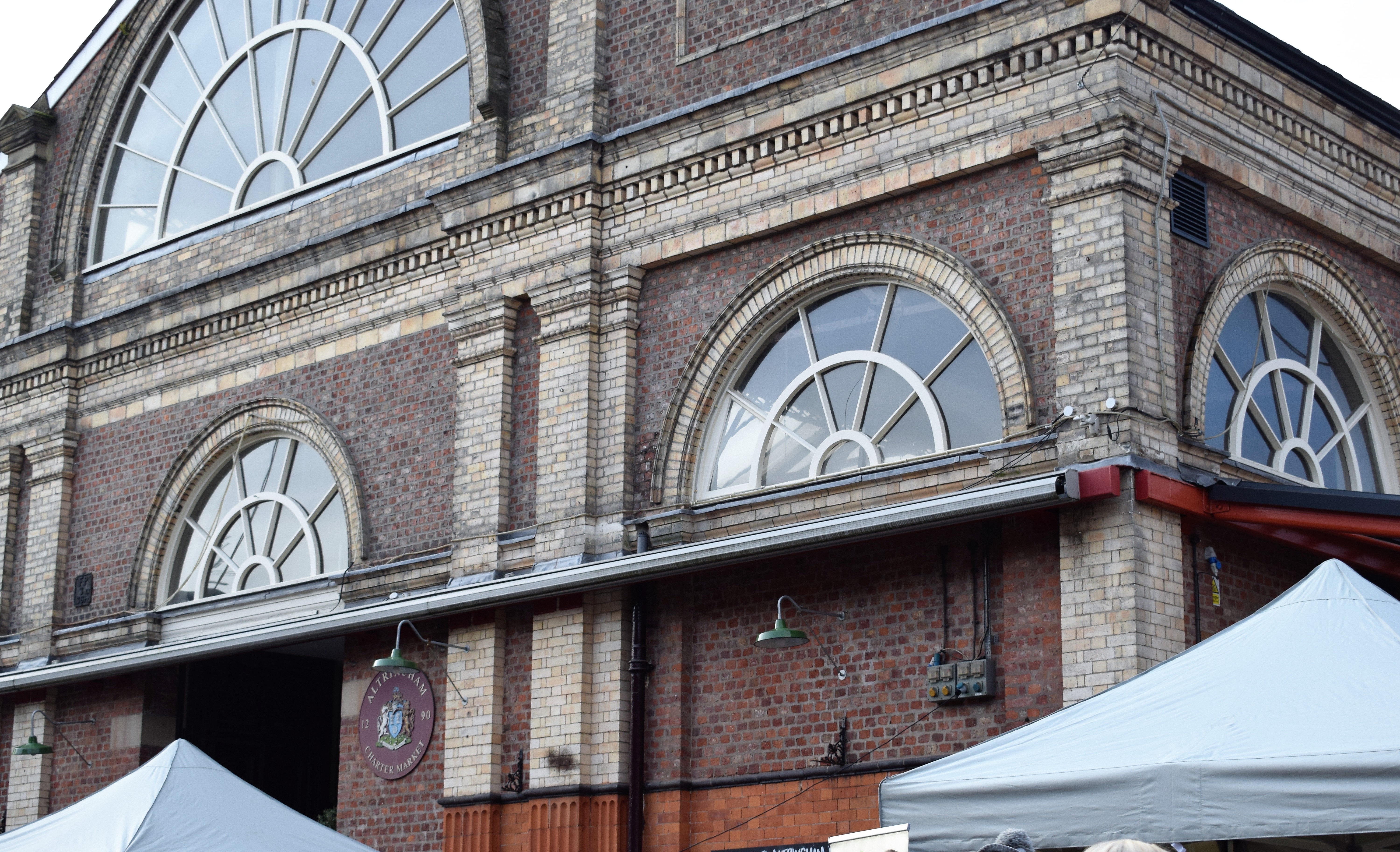 The modernised Altrincham Market has re-energized the town and kick-started a foodie renaissance
To understand how this is happening in the wider context, in 2011 the Localism act transferred more decision-making powers to local communities and individuals. Since then, steering groups and advisory boards have formed, including Altrincham Forward, which is in charge of the BID (Business Improvement District) plan, and the second is the Neighbourhood Business Plan, formulated by the Altrincham Town Centre Neighbourhood Forum. The two are independent though they describe themselves as 'complementary' to one another. Both are, essentially, seeking to attract more people and business to the town. If this sounds like a multiplication of quangos, it's good to remember that these are volunteer groups that act separately from Trafford Council (though the council has responsibilities for approving and implementing some aspects of the plans) and so look at things in a different way. Their plans have made use of extensive consultation with the public and though not everything the public asked for can be delivered, they are certainly going to try.
One interesting project that both groups claim an interest in is the transformation of the old hospital (right next to the market) into a 'wellbeing centre'. This will essentially be made up of the physio department that used to be located in the old hospital, several GP practices (if they can be found) and a community centre, plus, the library, which is currently located across from the tram stop, will move up here. The centre is slated to be finished in 2018.
During consultation for what to do with the old hospital site, it was suggested by some that it ought to be turned into residential units (the old jazz it up and turn it into expensive flats routine) and though this may sound self-serving at first, it is true that when people live in town centres, security and the night-time economy improve.
The call for more town-centre living might well be answered by the proposed Altair Development, which has been described as 'iconic' by some (most notably the developers themselves), and 'office block' by others. The £70m development is due to start construction on a site near Tesco in February and the artist's mock-ups show a modern-looking plaza designed to attract 'premium brands', like a mini version of Manchester's Spinningfields. And though no doubt the chains that once disdained Altrincham will be keen to get a foothold here, this is a very different proposition from the Market House, which is perceived as authentic, atmospheric, independent. You can say good things about Spinningfields but those are not the first words that spring to mind.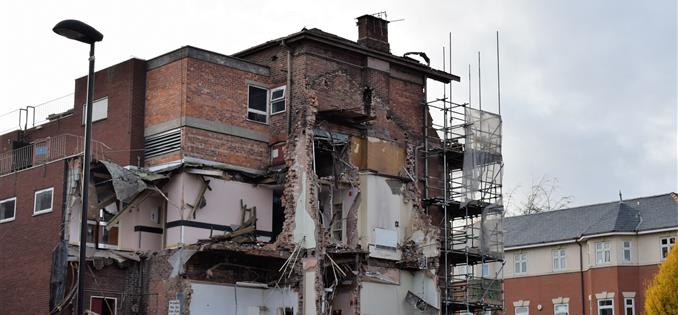 Regeneration of the old hospital site is underway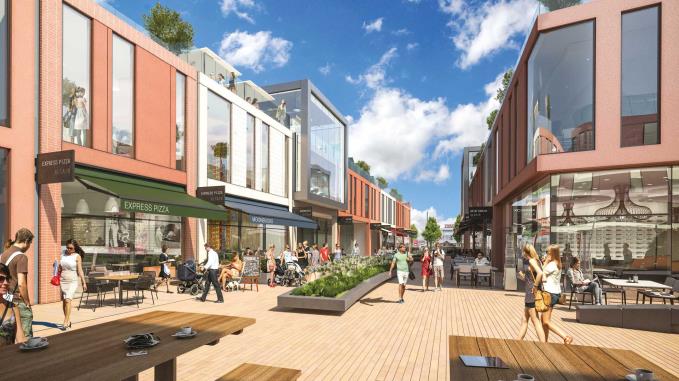 Altair Phase Two includes plans for new restaurants, coffee shops, bars and retail stores next to the interchange
The trouble is that trying to attract chain stores was part of Altrincham's plan throughout the bad old days when the opening of a mini Debenhams was thought to be a great cause for excitement, but, however much the council tried to tart up George Street, it still had an air of shabby desperation about it. The success of Market House shows that the residents of Altrincham weren't desperate for another mid-market clothes shop but something more independent, and dare I say it, trendy. It seems that in this case, letting the council take a back seat and other groups (what are these days known as 'stakeholders') with a bit more imagination and flair take the lead has paid off.
So if things are going well then what's the worry? For all appearances, Altrincham is a boomtown, but it's worth noting that its vacancy rate is still 14.3% - certainly a vast improvement on its worst figures but still not as good as Urmston or Sale. In fact, only Stretford is worse in the Trafford area. Though these new groups that have taken some of the thinking and planning away from the council have had success, it would easy to be lulled by the large crowds into thinking every problem is solved. There is still a way to go.
Perhaps the most interesting question is not how Altrincham has succeeded, but why it was failing in the first place. It's the hub town of the richest area of Greater Manchester (last year the average detached property in Bowden sold for over £1 million, according to Right Move). The usual tactic was to blame the Trafford Centre, as well as the usual online shopping etc. And while it's true that these things were a factor, other towns were not suffering as badly and didn't even the natural pool of wealth Altrincham had to draw from. Something was really going wrong and I propose it was the councils' urge to look for mid-market chains at the expense of local independents that was the root cause of the problem. Yes that's an old argument, but the success of the Market seems to have proved its validity.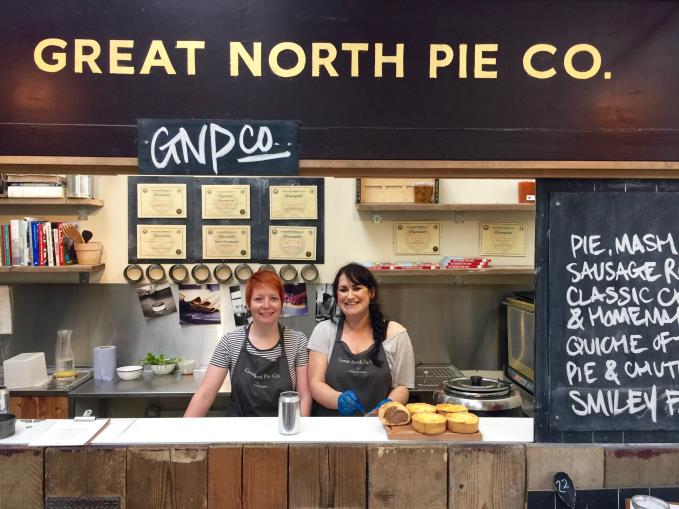 Great North Pie Co. do a roaring trade (and cracking nosh) in Market House
So, back to where we began, with the food. It used to be that one of the only reasonable restaurants in Altrincham worth visiting was a French bistro-style joint known as Francs. That closed down in October 2016 after 24 years, citing the new hospital development and increased competition as the reason for its closure. In an awkward symmetry, the most recent opening is Bistrot Pierre – a French bistro-style joint. The first was a properly independent business, the second a chain (a small chain but a chain nevertheless). It would be a shame if everything that the Market House has done in encouraging independent food businesses actually brought more chains Altrincham's way, when the last few years have shown that that is not what Alty needs.
It used to be that markets were bywords for finding things cheaply. That is just not the case anymore – the focus now is on local, high-end produce that is worth paying the extra for, and that shopping and eating are not just chores but fun, family experiences. I'm sure some would say it is naïve to expect aesthetics to be top of the list when it comes to urban planning, and certainly we can't except Altrincham to suddenly turn into a beautified hipster town just so it will look good in the background of people's photos. Yet, the success of Market House shows that looks matter. It's no coincidence that the rash of new restaurants ape its style to some extent – lots of natural wood, brickwork and industrial fittings in the current hipster mold.
The flipside of this message being, amazing figurehead though the Market has been, there has been a lot of work and input behind the scenes too, and this work needs to continue. Altrincham can't take its success for granted. Just as the Market views itself differently from the market of times past, the rest of Altrincham must too – not as a one-horse Trafford Centre or half-arsed Spinningfields or even a northern Ludlow, but just itself.
Rediscovering that identity is still a work in progress. All those articles proclaiming 'X is the new Altrincham' need to wait for Altrincham to become the new Altrincham. Slowly but surely.
Powered by Wakelet