THERE is no problem a proper cuppa won't solve. End of the day tea is the national drink here in the UK and if you don't drink it then you're just plain weird.
Loose-leaf tea is the latest trend for those wishing to go the extra mile and really explore tea and its culture and Manchester has not skipped the trend. Proper Tea at Manchester Cathedral is the new kid on the scene.
"It's not a case of if you're in tea club, don't talk about tea club"
Fronted by Yvette Fielding of Most Haunted and Blue Peter fame, Proper Tea is offering Mancunians a choice of over 100 tea blends from an expert in-house team. "I have been a tea fanatic for some time and wanted to give my hometown a truly unique offering" said Fielding. "I hope the cosy yet contemporary atmosphere we've created at the Cathedral will appeal to the tea lovers of the North West and beyond."
"I've always wanted to open a tea shop since I was a little girl and Gary made my dream come true. I used to play with cups and saucers as a child and now that I'm older and have visited teashops I always saw ways to do it differently. Now that my dream has come true I have to pinch myself, even more so than when I did Blue Peter and Most Haunted as it's so different to anything I've ever done before."
Facing the Manchester Cathedral, Proper Tea is ideally placed for those coming to visit the city and the cathedral - handy given the upcoming Christmas festivities. With room for only 54 until the summer weather arrives, this latest shop is also to be the flagship store for the Proper Tea loose-leaf tea brand. The brand will begin rolling out early next year.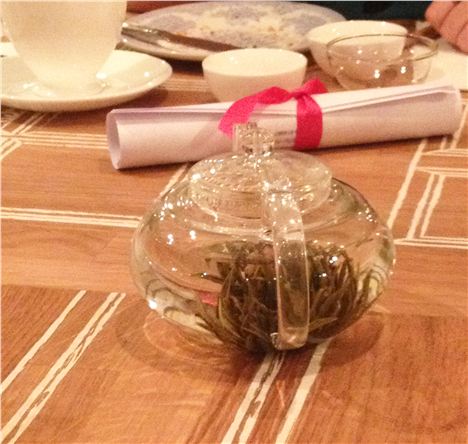 Proper Tea in full bloom
But what about those of us that don't really like, or know or understand loose-leaf tea?
"It's not a case of if you're in tea club, don't talk about tea club" said Gary McClarnan, an avid tea drinker himself and business partner with Yvette Fielding.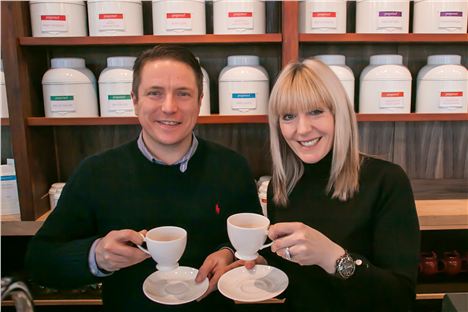 Yvette and business partner Gary McClarnan
McClarnan already owns Teacup in the Northern Quarter and what he doesn't know about tea isn't worth knowing. He's a fanatic who is happy to impart his knowledge. He even suggests the best teas to survive the Christmas and New Year.
"If it's for overeating and help with digestion then the best bet is to avoid caffeine as this agitates the digestive system. A blend with liqourice is the best bet," said McClarnan.
For those of us already suffering with the dreaded cold and flu mint and menthol is the remedy.
"Peppermint or spearmint clears the system and dried mint is excellent for revitalising the body. Equally ginger, grated with your standard home cheese grater and then frozen, blended with honey and lemon is good for well-being."
And for those of us that have overdone it and are looking for an alternative to paracetamol and Lucozade then Gary recommends raiding your spice rack for one simple ingredient.
"Tumeric is excellent for hangovers."
It seems there's nothing a proper cup of tea won't solve.
Proper Tea is open now. Reservations can be made for parties of six or more by calling 0161 832 3220.