Sleuth is a sideways glance at the city every week, it's the truth, but Sleuth's truth. He's several people all at once. Sleuth sometimes even gets serious @mcrsleuth
BEAT THE QUEUES: COMMUTE ON THE BARGE
Sleuth loved this piece of news this week: 'Following year long negotiations Peel Land and Property Group, announced it had awarded Manchester Water Taxis (Waxis) a licence to operate two boats on the canal starting later this year'. The Editor-at-Large is doing a bigger story this weekend on this subject but Sleuth thinks Steve Cadwell, the Waxis' owner, has delivered a masterstroke here. Given all the traffic nightmares created by needless city centre traffic bashing measures the idea of running Water Taxis along the Bridgewater Canal to the intu Trafford Centre via Old Trafford and Hotel Football as well as a service to Sale might just be a winner.
Steve has a vision 'to offer an alternative form of transport to provide passengers with a relaxed, stress free journey that's not only enjoyable but also reliable.' There'll be wifi and breakfast on board for those Sale commuters and a ticket price of under a fiver. Jeez, thinks Sleuth, he might move to Sale to enjoy that hour's leisurely working cruise into Manchester. Not that Sleuth has any explanation for this publicity picture sent by Cadwell.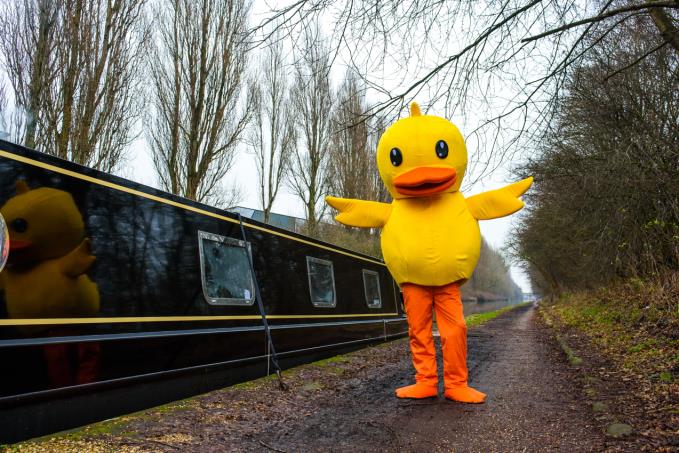 A typical Sale commuter
PORTLAND STREET CLOSURE IS WORKING WELL
Sleuth has been watching with great fascination the way the closure of Portland Street in the city centre is proceeding. These are the main ways, he's concluded, in which the works have improved Manchester's infrastructure:
1) They haven't
2) They slow bus traffic to a standstill
3) They slow car transport to a standstill
4) They encourage cyclists to break the law
5) They make pedestrians choke on exhaust fumes
6) They destroy businesses
Still as Councillor Kate Chappell who's in charge of the transport for the city council told us in November: "This is not a crisis. There's some extremely difficult planned works that we always knew were going to be difficult to manage."
Well that's all right then.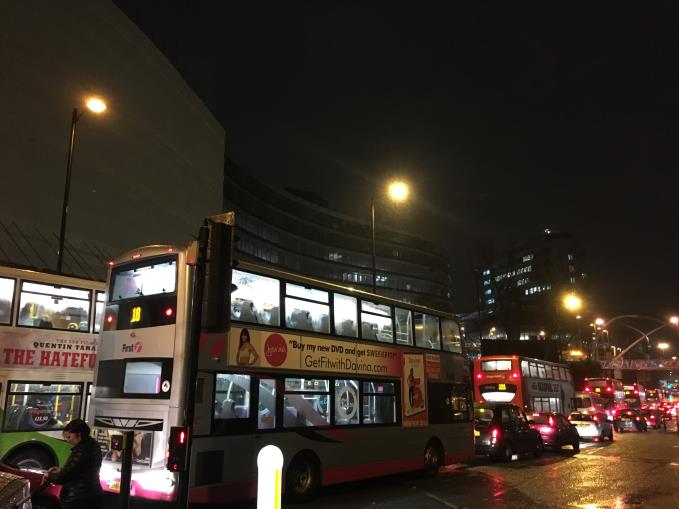 How to run a city transport system part one
SLEUTH'S SWEETEST MOMENT OF THE WEEK
This had to be the charming story in the Daily Express, that fine heap of steaming Fleet Street vomit, about Andrew Nutter taking Karen Danczuk to Almost Famous in Manchester. In a classic example of double-think the paper headlined with: 'New Romance? Karen Danczuk enjoys a night out with celebrity chef Andrew Nutter'. It concluded with 'Andrew played down their meeting and referred to Karen as his "friend"'. Nobody in Manchester was surprised in the least. Sleuth doesn't know why people repeat these stories and give the numpty press extra publicity...what?...oh right.
SLEUTH'S MOST DESPERATE PR OF THE MONTH
Thank you to Rococo Communications for this appeal to all the half-arsed semi-talented attention seekers out there. However Sleuth would like to remind Rococo of his instant recognition factor across the city and his very reasonable rates.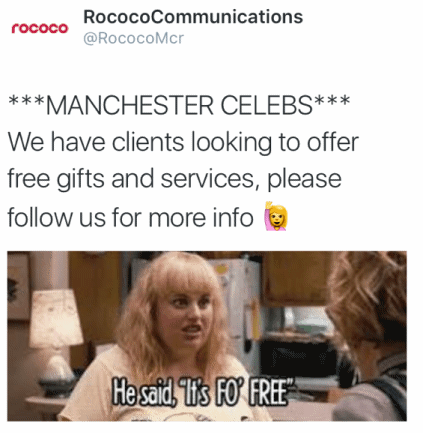 Lonely and in PR
SLEUTH'S MOST MADE-IN-BRITAIN SENTENCE OF THE WEEK
Sleuth was having lunch with the publisher of Manchester Books Limited, Margaret Hope, and she was paying. The bill came and there was a large sigh of satisfaction and achievement. "It's not a proper meal unless the wine costs more than the food," she said. A nation applauded. Sleuth's already printing the t-shirts.
EAST MANCHESTER ORGASMS
Sleuth went to Clayton in East Manchester this week which unlike, say West Didsbury, is not a suburb known for its excellence in food and drink. He was dragged there by the reviews of Le Delicatezze Di Bruno which has occasionally topped the lists of Tripadvisor's Manchester restaurants and has never left the top five. Sleuth loves Tripadvisor because its reviewers are totally trustworthy, free from the discipline of a professional writer who really cares about his/her craft. Despite being opposite a closed commercial building and signs offering knock-down prices on tyres Sleuth was aroused by Bruno's signboard. This was good because his lunch guest was Meg Ryan and the last time he'd seen her was in Katz's Delicatessen.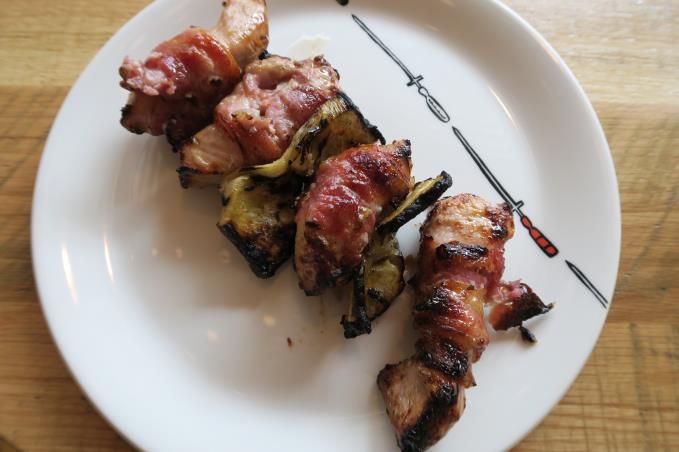 Wow - food as pleasure
DON'T MESS WITH THE BOSS OF MARKETING MANCHESTER
Sleuth was delighted to meet Sheona Southern, the new managing director of Marketing Manchester, the city's promotional agency. She was great company although slightly alarmed Sleuth when she said: "I had a commission in the armed forces at one time and I can still put together a machine gun blindfolded." Sleuth thinks that skill might come in handy while negotiating budgets with Sir Howard Bernstein.
MR BACK PICCADILLY: THE NEW SLEUTH CORRESPONDENT
Sleuth is proud to introduce Mr Back Piccadilly who on his Twitter profile states: 'I live below the cardboard, just below the stairs'. This week *Mr Back Piccadilly whose catchphrase is 'Yes you can have a selfie with me!' was telling Sleuth about his recent TV exploits. "I was so lucky. I was asked to star in Take Me In, the popular TV show hosted by Paddy TwoMoreGuinnesses, in which desperate people find somewhere or somebody to shelter with. It was amazing - like everything I do. Really cool - also like everything I do. The chicks loved me, although, not even Dot, the crack-addict in the alley nextdoor, fell for my devilish charms and would 'Take Me In'. Still we managed to do a video spoof of myself that I know everybody wants to see again and again. Until next time folks and remember you can always find me in Mother Macs pub on Back Piccadilly where every time I'm in my mere presence increases sales by 10p."
(*Mr Back Piccadilly's likeness to any other Manchester Twitter personality is entirely coincidental)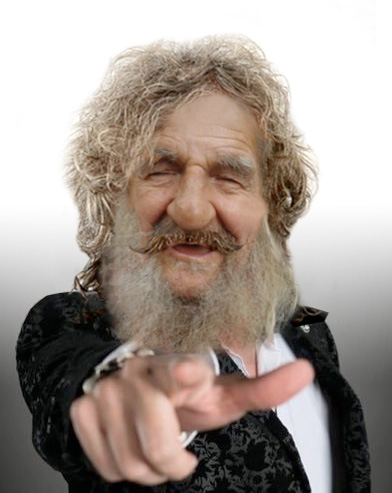 Introducing Mr Back Piccadilly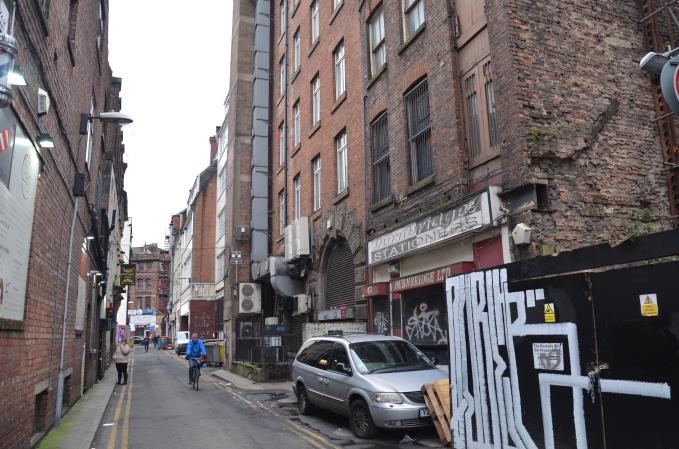 Mr Back Piccadilly lives below the cardboard, just below the stairs