JANUARY.
SUP Yoga is a 'yoga-fitness fusion' class involving practicing a yoga routine on a paddleboard while floating on water
By far the most sanctimonious month of the year.
Right now some of us will be envisioning what our 'new year, new me' selves will actually accomplish in 2016. Others will be wondering what their 'New Me' body will look like this coming year. Will the 'New Me' be able to contort into a pretzel and finally master yoga? Or maybe 'New Me' will be able to sprint like Jessica Ennis and develop similarly taut hamstring muscles?
To transform into our shiny new selves we'll need help.
While an estimated one in five of us will join a gym this month, fitness classes have been proven to help increase success rates further. They're also fun, break up the monotony of the gym (because let's face it, tedious is another word for treadmill) and the comradery experienced in classes can help encourage and build self-esteem.
Below we've compiled (and road-tested) some of the best fitness classes to attempt in Manchester this year.
HOT YOGA
Where to train in Manchester: The Yoga Lounge, The Great Northern Development, 253 Deansgate Mews, Manchester
"'How hot can it be?' - my thoughts before trying my first hot yoga class at The Yoga Lounge. It started off at a nice temperature, but gradually my friend and I got so hot - approximately 105 degrees celsius hot - that sweat was pouring from every orifice. There are all types of levels in the class, so it's not daunting when you see someone balancing on one leg with the other wrapped around their body. Towards the end of the class we started to struggle with the heat. That said, while we found it to be really challenging it was extremely satisfying. I felt completely refreshed. I imagine the more you go, the more you get out of it. The classes are quite pricey, we paid £10 each for a drop in session, but there are special offers for monthly and yearly memberships. We'll definitely be giving hot yoga another go, maybe at the end of every month to detox."- Helen Downing
Watch the Sale Sharks attempt Hot Yoga at The Yoga Lounge
TRAMPOLINE EXERCISE CLASSES
Where to train in Manchester: Jump Nation, Trafford Park, Textilose Rd, M17 1WA
"It's hard not to envy children and all their kid-approved activities. 'Head Over Heels' adventure course looks like a bloody riot, and let's be honest, our inner child would love one more go down the slide in the park. When Europe's largest trampolining arena opened at Trafford Park both adults and children took to Jump Nation like frogs to lilypads. Trampolining is said to 'increase your muscles' strength and fitness' and Jump Nation also claim that their classes are a great way to keep weight down. It was the only workout I've ever done where I've had a grin instead of a grimace plastered on my face throughout.
"The instructor demonstrated each exercise sequence which included everything from star jumps, to squats and tuck jumping as high as you can. As an avid gym goer this workout felt like a relief. You jump from a painful squat and you can't help but laugh, all while keeping your heart rate up – but be warned, you will sweat. It was a full body workout and we used the sides of the trampolines to plank and do some ab work." - Alana Sherrard
Jump Nation
WATT BIKE SPINNING SESSIONS
Where to train in Manchester: The Spin Factory, 60 New Bailey Street, Salford, M3 5FS
"There is no hiding place.
"Everyone in the class can see.
"The instructor of the class can see.
"I can see.
"At the Spin Factory Wattbike Pro Spin session, your performance is constantly shared on the wide screen monitor at the front of the class. All class members have their cadence, heart rate and power output relayed from the Wattbike up to the screen and every pedal stroke you churn out is reflected for all to see. After you get over the fact that your fitness level is being shown and potentially judged, your competitive spirit kicks in and come the end of a session (either 30 mins or 45 mins) you find that you have worked harder and longer than you usually would hiding in the back of your usual fitness class
"Expect to sweat, expect to leave with jelly legs but also expect to leave with feedback from the Wattbike on your pedal stroke, the performance of right vs left leg and a much deeper understanding of your fitness and your bike performance. If you want to take your fitness to the next level then Pro Spin is for you."- David Boyd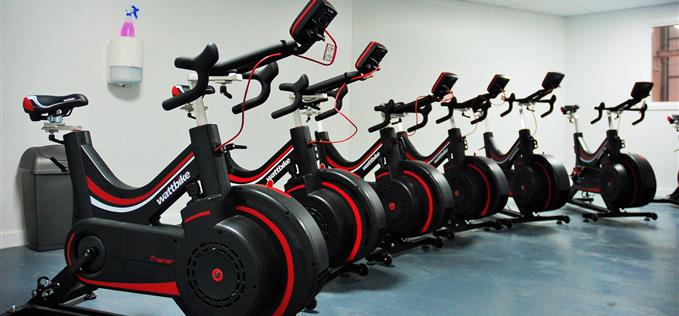 The Spin Factory
ANTIGRAVITY YOGA/ PILATES
Where to train in Manchester: Bodybarre Studio, 35-37 Thomas Street, M4 1NA
Body Confidential reviewed aerial or 'antigravity' yoga more than four years ago now. Writer Stacey Berry likened the anti-gravity room filled with bright red hammocks to a 'bizarre, yet stylish, torture den' and beamed at the thought of 'learning how to fly'. Today Aerial Yoga classes at the Northern Quarter BarreCorre are still a little bizarre but also a fun and effective fitness exercise. While you learn to dangle from silk hammocks, the class still utilizes aspects of traditional yoga, Pilates, calisthenics, dance and gymnastics. Aerial Yoga is said to 'increase one's overall health and physical agility while having fun and creating beauty'. It also improves flexibility, balance and blood flow, while the practice decompresses your spine and joints, making you more mobile. It also looks like a load of nutty fun.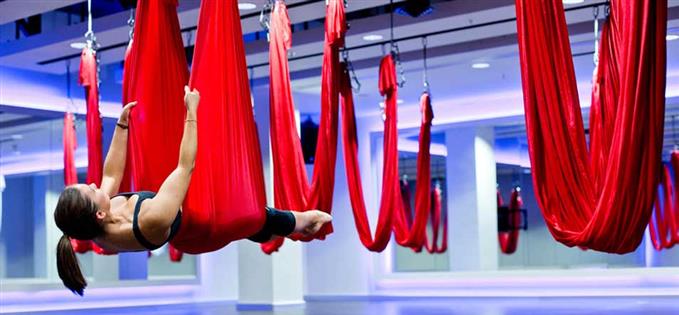 Aerial Yoga
CROSSFIT
Where to train in Manchester: Q DOS Fitness, Longstone Road, Wythenshawe, M22 5LT
Crossfit has a reputation of being an extreme fitness craze, involving lots of protein shake guzzling and lots of primitive screaming when lifting heavy apparatus. And sure, as exercise classes go, Crossfit is certainly an arse-kicker. Originally designed for police academies, tactical operations teams, special military units, martial arts and professional athletes, it is a punishing high intensity class; consisting of a gruelling combination of body conditioning, gymnastics and weight training designed to 'prepare you for the unknown'. Intimidating as it sounds, the results are worth it and most find they're much stronger than they had previously thought. In one month training, I developed a stronger core (almost washboard abs), after 100 or so squats, my glutes lifted and my noodle arms found they could lift weights without collapsing. It's worth putting your body to the test.
Crossfit Q Dos Gyms
SEEN ON SCREEN DANCE FITNESS
Where to train in Manchester: Studio 25, 25 Church Street, M4 1PE
"There's a moment, just before Beyoncé (entertainer, dancer, vocalist, all-round diva extroadinaire) begins to perform, where she is standing before her audience, hair blowing in the wind machine, with a hand on hip; she hasn't muttered a single note but the audience stands at her mercy. It's this, they say, that can't be taught: owning a room. Still, it's the sass and attitude of Beyoncé and all divas that have gone before that dance troupe Seen On Screen are trying to bottle and sell to women and men everywhere. And it's immensely fun. Seen On Screen classes take all the enjoyment of Zumba and add all the skill of a professional dance class and teach sexy dance routines to popular songs. With their help, shaking your booty could mean shaking off a few pounds." - L'Oréal Blackett
SUP YOGA
Where to train in Manchester: Helly Hansen Watersports Centre
We have to admit we're yet to try this one, but it's certainly one of the more intriguing exercise classes around. As if standard Yoga wasn't tricky enough, SUP Yoga (stand up paddleboarding) is a 'Yoga-fitness fusion' involving practicing a yoga routine on a paddleboard while floating on water. Courses are available at Helly Hansen Watersports Centre, and are said to create a 'more engaged core, improve technique, aid stress relief, increase strength and flexibility', while also improving balance and cardiovascular conditioning.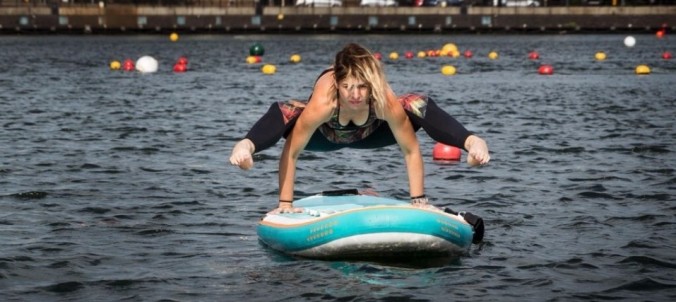 SUP yoga
BARRECORE
Where to train in Manchester: Barrecore Alderley Edge, 35A London Road, Alderley Edge, SK9 7JT
Ignore the tutus, the tights and the elegant prancing on theatre stages, as ballet dancers are some of the strongest and toughest athletes around - they have the quad muscles to prove it. Barrecore classes have taken some of the most effective training techniques from dance classes and created a tough yet feminine workout class. Barrecore classes are held in a fitness studio in Alderley Edge, and each 60-minute workout targets the major muscle groups and improves posture and alignment no matter what your fitness level. The results are said to 'safely reshape the entire body'.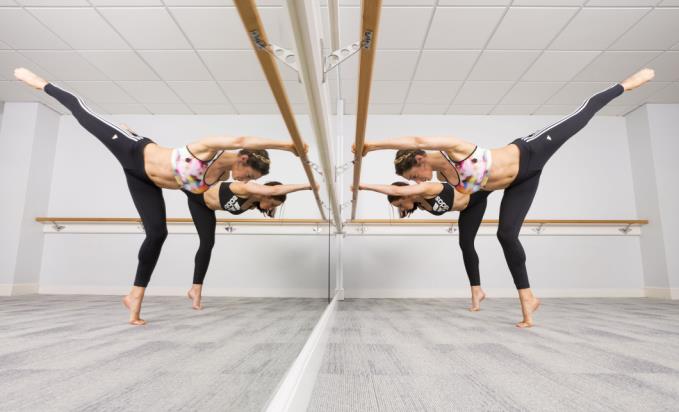 Barrecore