THE largest phase of Bruntwood's £750m redevelopment of the former BBC site on Oxford Road, branded Circle Square, has been given the green light by the council.
The 2.3m sq ft neighbourhood will be built over five phases and is due to complete in 2023
Having gained first stage (Phase 1A) approval to build 716 serviced apartments across two blocks of twelve and seventeen storeys in January, Bruntwood and joint venture partner Select Property will now push on with the next phase (Phase 1B) which includes:
- 411 PRS apartments in one part 17 storey, part 36 storey tower
- 266 PRS apartments within one 17 storey tower
- 105,000 sq ft of retail, bar, cafe and restaurant space
- 306,000 sq ft of office space within one 18 and one 14 storey office block
- a ten storey 1028 space multi-storey car park
- The Green - a new 94m x 43m outdoor green space featuring a 20,000 sq ft pavilion
- The Ribbon - running around the perimeter of The Green, will feature various food and drink units, terracing and seating.
- Medlock Place – a 'green street' closer to the river featuring independent shops with an 'urban high street vibe'.
Construction of the Phase 1A is due to be completed in September 2017, while work on the latest phase will begin early next year. You can read the full Phase 1B planning statement here.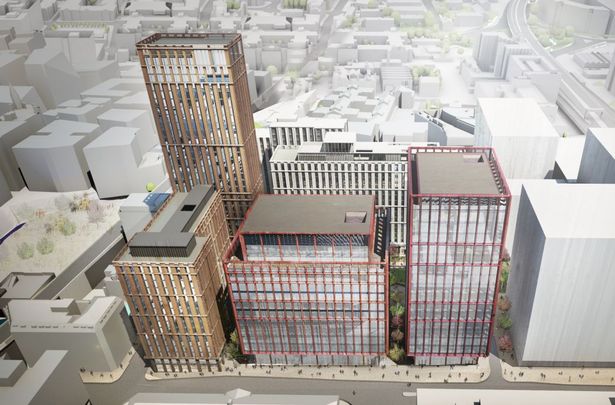 Circle Square - somewhere in that lot is The Green
Chris Oglesby, CEO at Bruntwood added: "Our vision was to design a city centre space that will be enjoyed by a rich and diverse set of people and businesses, and we are hugely excited to see how this enhances the innovation district that is Corridor Manchester, as well as the city as a whole.

"Its potential cannot be underestimated. We have the best transport links in the country and will be sitting among world leading centres of knowledge, science, technology, business, art, music and dance – we believe Circle Square will bring together the kind of people that will achieve extraordinary things in the future."
The next phase of development, Phase 1C, includes a hotel and further 115,000 sq ft of serviced apartments, while phases 2 and 3 total 826,000 sq ft of office space.
The entire 2.3m sq ft neighbourhood is due to complete in 2023. See the maps and plans below: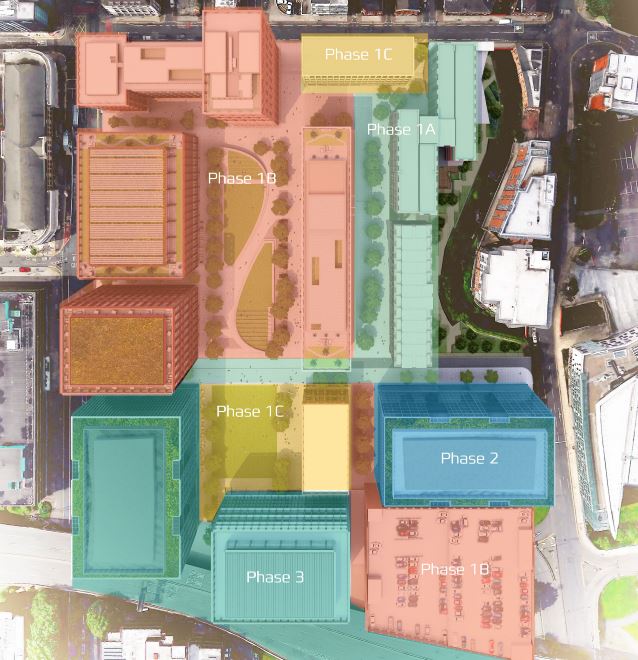 Oxford Road (left), Mancunian Way (bottom), Charles Street (top) and Princess Street (right)