Confidential's received this notice of a huge Simpson Haugh-designed development in the south of the city centre, the area between Deansgate Station, Chester Road and the Mancunian Way. We'll be writing our own article in the next few days in reaction. But in the meantime we thought you might want to take a look.
The standout detail in every way is the proposal for a 64 storey tower which would create the second tallest building in the UK - just nine floors lower than the 309m (1013ft) Shard in London, excluding the spire of the latter building.
A MAJOR planning application for a high quality residential led scheme on the Owen Street site in central Manchester is due to be submitted to Manchester City Council by CQ Investments Limited, part of the Renaker Build group of companies, in February 2016.
The height of the four residential towers range from 38 storeys to 64 storeys
The ambitious scheme proposed for the 1.5 hectare (15,571 sq metre) site forms part of the Great Jackson Street area in Manchester city centre and comprises more than 1400 one, two and three-bed apartments in four residential buildings.
The provision of high quality amenities for residents include a full leisure suite comprising an indoor tennis court, swimming pool and spa, gymnasium, studios, health and beauty treatment facilities, cinema screen, residents' rooftop café bar with terrace and private garden, entertaining and home office/business facilities.
Three levels of basement parking with a dedicated vehicular pick-up/drop off zone is being provided.
The proposals include a significant and high quality public square which extends to 9,000 sq metres and skirts the River Medlock. Flexible retail/entertainment facilities to the square combined with the provision of new ground floor bar/restaurant and retail spaces will deliver a new and attractive destination in the heart of Manchester.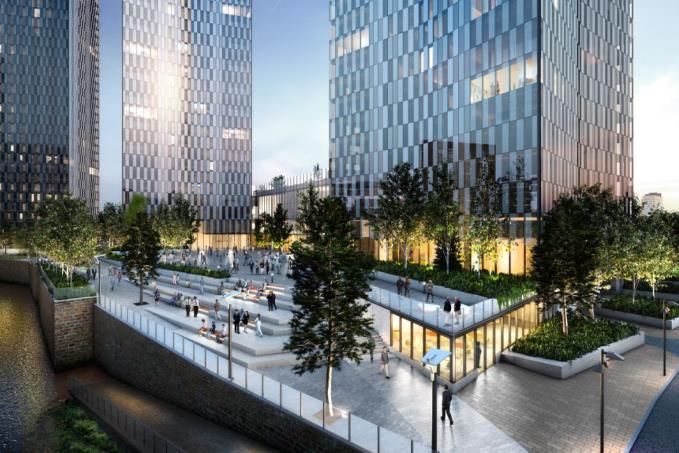 The proposal at ground level
The height of the four residential towers range from 38 storeys to 64 storeys.
The scheme adheres to the principles of Manchester City Council's adopted Development Framework for the Great Jackson Street area.
If planning permission for the scheme is granted by the City Council, CQ Investments intends to start construction immediately in the third quarter of 2016 with a build period for the entire scheme anticipated to span four-and-a-half years with the entire scheme operational in 2020.
A spokesperson for CQ Investments said:
"Our proposals provide a fantastic opportunity to develop a series of landmark buildings set within a high quality public space creating a new community and attractive destination in the City Centre.
"The arrangement, range and specification of accommodation planned combined with the amenity and service provision will deliver highly desirable and important new homes to Manchester."
The scheme has been designed by architects Simpson Haugh & Partners and the planning application by CQ Investments Ltd is being coordinated by the planning team at Deloitte Real Estate.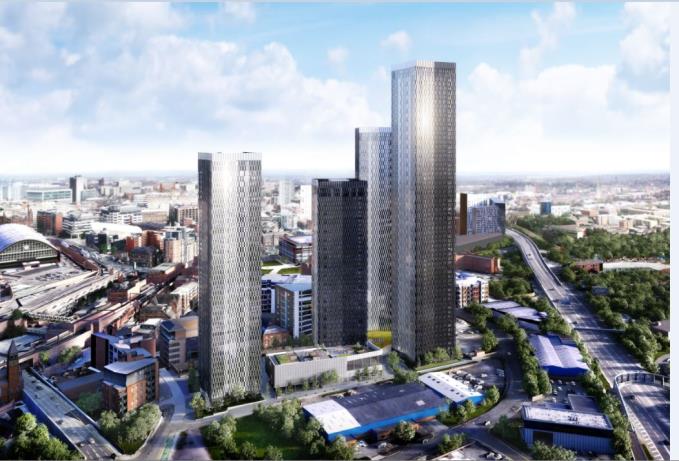 The soaring towers from SimpsonHaugh architects