MANCHESTER's skyline is in flux. Cranes pepper the skyline as new schemes sprout from the ground like turnips. Glass turnips.
And just as well, Manchester City Council recently announced their ambition to build a minimum 25,000 new homes over the next ten years – almost 10,000 more than expressed in their 2012 Core Strategy.
In which case, these five new city centre developments - which will provide over 2000 new homes – should break the back of phase one nicely.
Now, if only all those lovely new empty apartments weren't being snapped up by secretive offshore companies, you never know, you might even be able to buy one.
ST JOHN'S PLACE
Plans to build a skyscraper just four feet shy of Manchester's tallest, Beetham Tower, have just been approved by Manchester City Council.
Occupying the site of the Albert Shed warehouse and Globe & Simpson building on Quay Street, Water Street and New Quay Street, the 52-storey tower will be the focal point of four buildings at St John's Place, including another eighteen storey residential tower, an eight storey aparthotel and a four storey residential and retail block.
Reaching 168.4m (552.5ft), St John's Place forms the loftiest element of Allied London's wider 13 acre St John's Quarter scheme, which also includes the £110m Factory arts centre, Trinity Islands 'vertical village', and the luxury Manchester Grande hotel.
Nadler Hotels have already been confirmed for the lower ten floors of the Simpson Haugh-designed tower, creating 110 beds, alongside a further 200 beds and 387 apartments across the total St John's Place scheme - due to complete in 2018.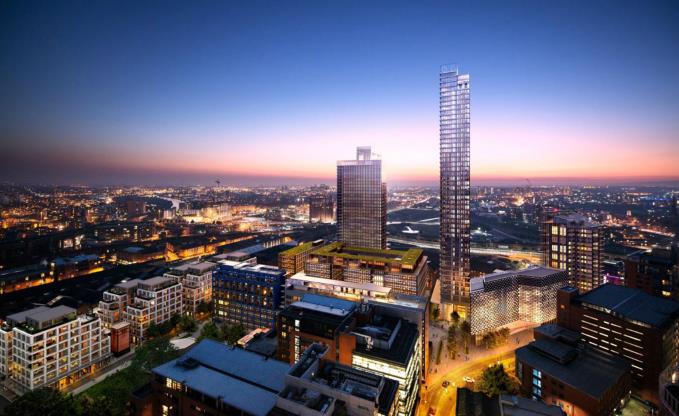 ---
CASTLEFIELD TOWERS
Earlier this month Renaker's Castlefield Developments submitted a planning application for two new residential towers of 21 and twelve storeys on the former Quay Bar/Cantina site in Castlefield Basin.
The site has remained vacant since the demolition of the Roger Stephenson-designed bar – shortlisted for the 1998 Stirling Prize - in 2007.
Plans for the OMI-designed scheme at 2-4 Chester Road comprises a total of 188 one, two and three-bed apartments with resident swimming pool, gym, landscaped terrace and 166 basement parking spaces.
A planning statement prepared by Deloitte says the development will transform an 'unsightly, underutilised, brownfield site that currently detracts from the character and appearance of the Castlefield Conservation Area'.
Should the scheme gain council permission, it will sit opposite Renaker's approved skyscraper cluster on Owen Street, which include's four glazed towers of 37, 44, 50 and 64 storeys.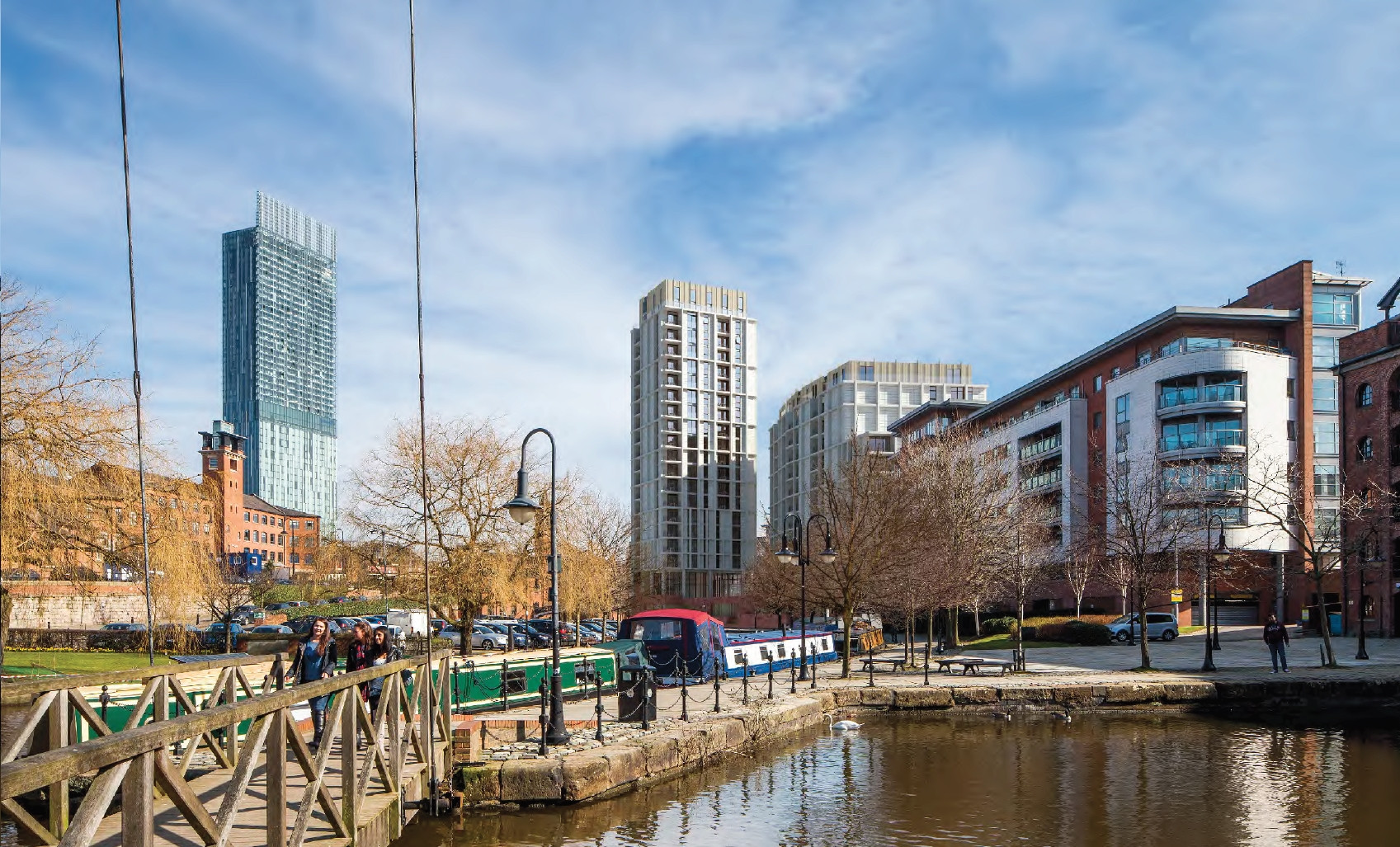 ---
NO.1 CASTLEFIELD
Plans for a further 420 new homes in the south west corner of Castlefield have been submitted by DeTrafford Estates.
The scheme - at the corner of Trentham Street and Ellesmere Street (opposite In Situ architectural salvage on Chester Road) - comprises five six-storey, red brick blocks, a sixteen storey glass tower to the rear and 148 underground parking spaces.
Designed by Manchester-based Ollier Smurthwaite Architects, the scheme will provide 'private balconies and communal roof gardens with broad passageways formed between the blocks', as well as top floor duplex penthouses and roof garden houses.
Work is expected to begin next year, subject to planning.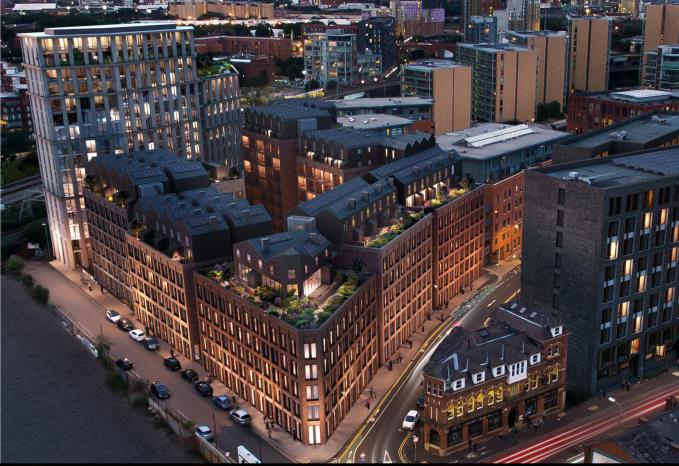 ---
SALFORD CENTRAL/NEW BAILEY
Earlier this month Salford City Council approved plans lodged by the English City Fund (ECf) for five new residential towers on the banks of the River Irwell.
The AHR-designed towers – ranging from 31 to 100 metres high – will comprise of a total 843 new one, two and three bed apartments across the 111,015 square metre plot, bounded by Spinningfields and St John's to the west, New Bailey to the north east and Middlewood Locks to the south west.
The scheme also includes plans for a 637-space ten-level car park, as well as landscaped courtyards and the riverside 'Pocket Park' – which could include a potential future footbridge over the Irwell onto Water Street.
The new towers form part of ECf's wider £650m, 44-acre Salford Central regeneration masterplan – the largest ever planning application undertaken by the city – which has also seen the development of Vimto Gardens, Timekeeper's Square and One New Bailey.
ECf is a joint venture between the Home and Communities Agency, Muse Developments and Legal & General.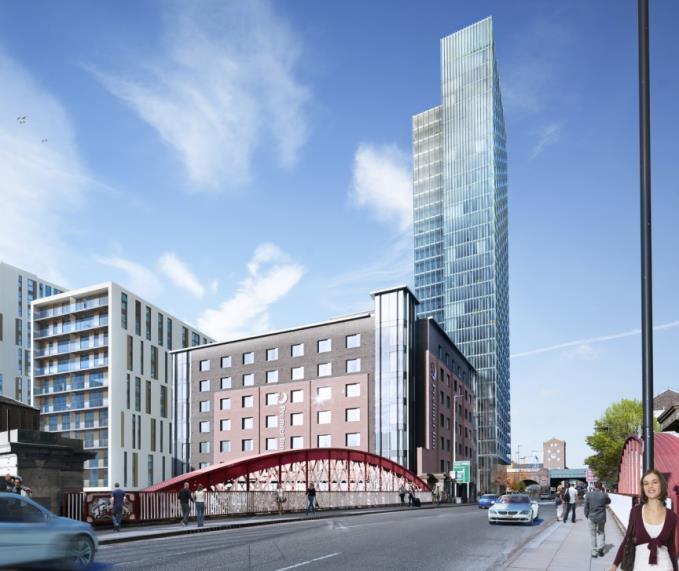 ---
CRUSADER WORKS
Manchester City Council have approved plans by Capital & Centric to renovate a cluster of former textile mills and factories behind Piccadilly Station.
The listed buildings - located between Chapeltown Street and Baird Street – will be converted into 126 new apartments, whilst a new ten-storey block will add 75 more.
The old mills and factories border the area earmarked for the proposed new High Speed Two (HS2) terminal at Piccadilly.
"We're excited by the prospect of HS2 and we wanted to be involved in developing this part of the city," said C&C Director, Adam Higgins. "We like reusing and repurposing buildings, and opportunities like this don't come around often."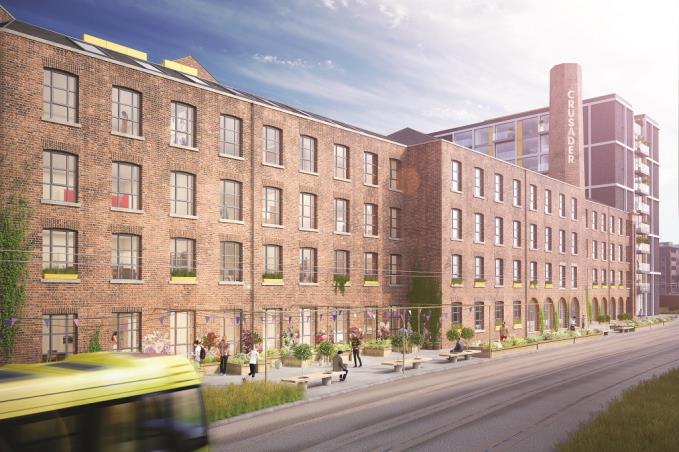 Ever wondered what Manchester's skyline will look like by 2022? We have. Here's the result.
Powered by Wakelet