WHAT with The Whitworth scooping gold prize for England's 'Large Visitor Attraction of the Year' and Manchester Art Gallery boasting over 25,000 pieces - also commanding the likes of Anthony Gormley suspended in the lobby - it's easy to forget there's more to Manchester's art scene beyond the big guns.
Following our roundup of the city's best galleries, and ahead of the increasingly popular annual Buy Art Fair next month, we decided to delve further into this hotbed of local talent and find some of the local artists giving Damien Hirst and the like a run for their millions.
One to watch according to Buy Art Fair's Thom Hetherington, Giovanelli is currently exhibiting at Salford's International 3 with solo show Prima Donna. Exploring notions of how a picture 'should' be looked at, Giovanelli subverts traditional portraiture by focusing in on a specific part: a beard, a chignon, a collar undone at the neck. Strangely intimate, these unconventional compositions draw attention to details we may otherwise overlook. More here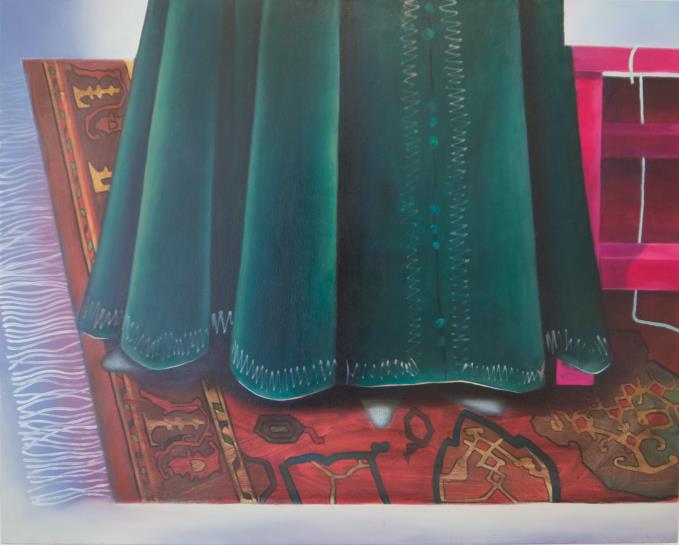 Underglow (image credit: louisegiovanelli.com)
---
Highland cattle seem to be all the rage at the moment - you'll see them on homewares from cushions to cups - but it's unlikely you'll have seen any quite like Rob Oxley's. In a wildlife sphere that some consider a bit passé, Oxley has decided to 'find my own voice in a genre which is all technique and little imagination'. His unique style is characterised by zig-zag edges, bold dripping paint and the occasional use of psychedelic.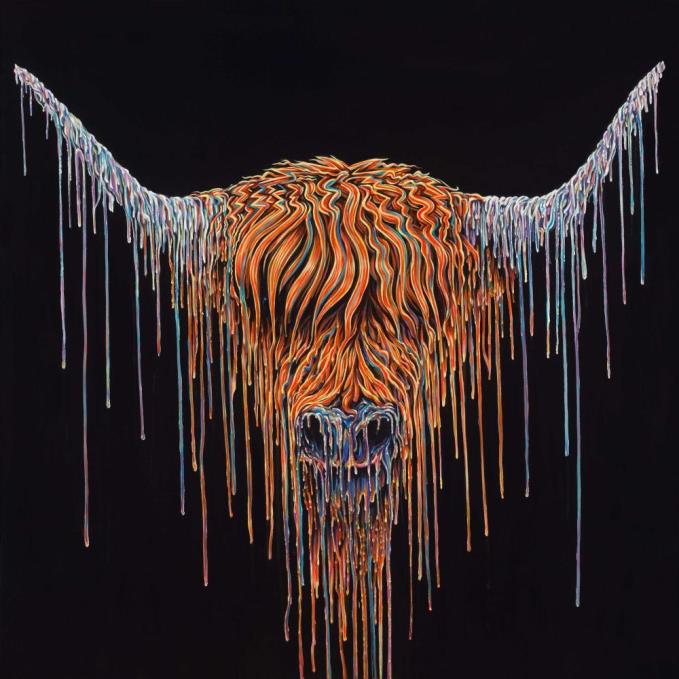 Highlander (image credit: castlegalleries.com)
---
Fast gaining attention for his brutal expressionism, with one of his large-scale pieces hanging pride of place in King Street's new £1m new restaurant Grafene, Rayer-Smith aims to create a raw human energy in his abstracted canvases by working 'intuitively and obsessively' and avoiding repetition. The result is a fresh contemporary aesthetic that reveals more with every inspection. More here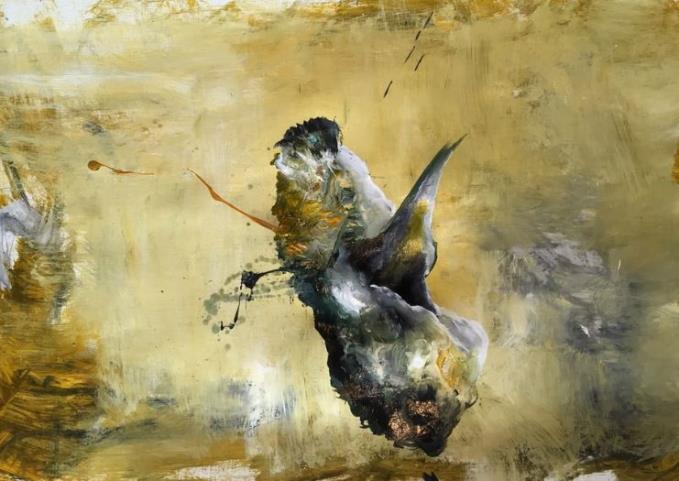 Icon (image credit: ianrayersmith.com)
---
Taking inspiration from sources as wide-ranging as Pre-Raphaelites and the pop culture of Andy Warhol, Acheson's paintings are vivid depictions of popular street culture. After presenting a lively northern commentary at Artzu last year with his solo Taste of Honey exhibition, Acheson's most recent works - inspired by mannequins in a shop window - contrast staged dummies with the window reflections of outside hustle and bustle. More here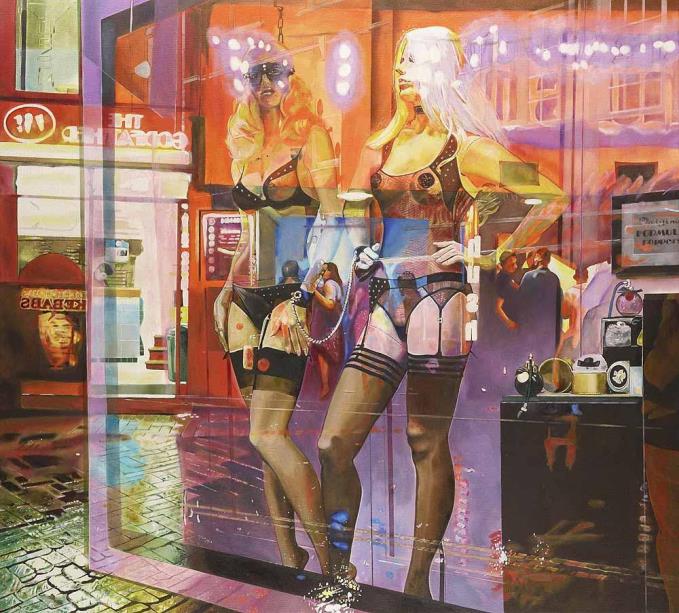 The Thrill Of It All (image credit: castlegalleries.com)
---
Producing around just twelve paintings a year, Entwistle clearly prides quality over quantity. The result is stunningly evocative landscapes that are regularly displayed alongside the likes of L.S. Lowry and Harold Riley. Whilst his output includes oil and watercolour, it's arguably Entwistle's use of tempera that distinguish him most; his paintings of the Central Library and Midland Hotel are two of only three tempera paintings ever completed of Manchester. A method that pre-dates oil and mixes a binder with pure pigment, tempera requires a year to cure but produces incredibly rich colours. More here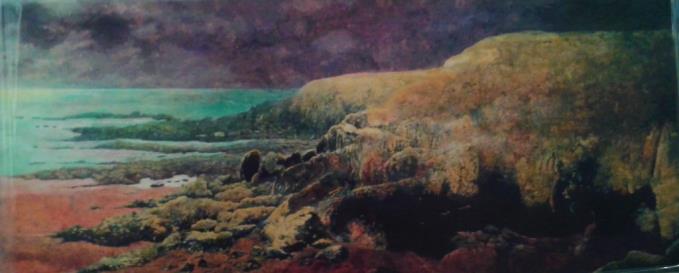 Whistling Sands (image credit: contemporarysix.co.uk)
---
Hancock may be the owner of PAPER gallery in Mirabel Studios but he's also an incredibly talented artist himself. Painting from staged tableaux or from miniature still-life sets, Hancock's primary interest lies in escapist communities that engage with both physical and digital worlds: manifesting in themes like cosplay and anime, exquisitely executed in tiny iridescent brushstrokes. More here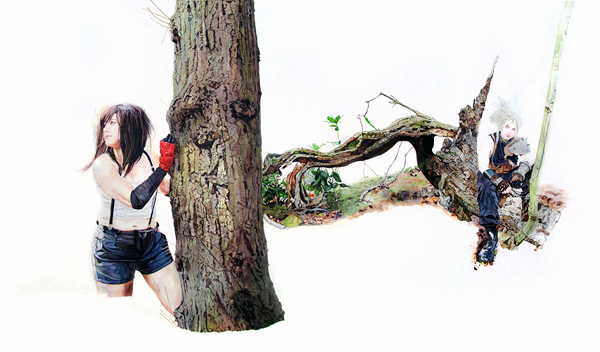 Advent Children I (image credit: mirabelstudios.co.uk)
---
Cowley describes himself as 'probably the only surrealist full time digital photo collager in the country' and attempted to enter the Guinness World Records with his 240 square metre Rebuilding Manchester collage. He's also spoken of his contempt for the Manchester Art Society, which he brands as 'closed' and with little support for local artists like him; examples being Castlefield Gallery refusing to exhibit his work, despite his £15K Arts Council Grant, and the refurbished Whitworth no longer helping publicise local talent. Outspoken yes - perhaps with good reason - but, having developed his techniques over fifteen years, also an incredibly nifty and patient collager. More here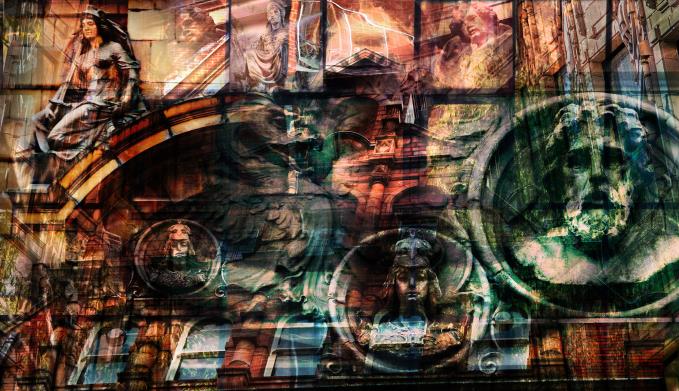 Rebuilding Manchester detail (image credit: mcrcollage.co.uk)
---
Lauran Sagar is a mixed media storyteller, who weaves mediums like glass and metals into snapshots of the local community. Alongside Sharon Campbell, she won the National Lottery Good Causes award for the Chandelier of Lost Earrings, a mass participation artwork made from over 3000 earrings donated by people who had lost the other. Standing at 2.5 metres high, the sculpture was first displayed at St Mary's Hospital before touring the country. Sagar is currently calling for cloth to be used in a textile palace. More here
Chandelier of Lost Earrings (image credit: G Brokate)
---
Confronting and compelling at once, Chadderton's apocalyptic cityscapes depict Manchester landmarks in the context of decay. In one scene, rubble-stewn streets front an eroding Printworks whilst another portrays rusted buses and a collapsed Urbis. Inspired by dystopian films like Bladerunner, these ghostly wastelands are made the more alarming by Chadderton's super-realistic use of fusing painting with photography. More here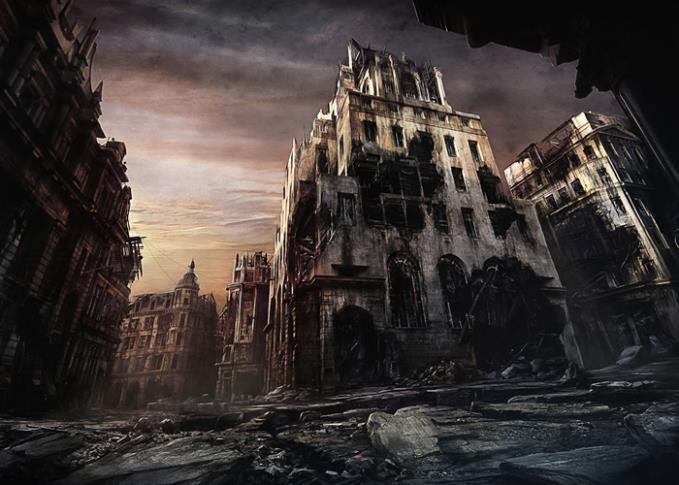 King Street (image credit: jrmedia.co.uk)
---
Wallace's 'properly-painted' pictures invite viewers into a fantasy world of carnival fairgrounds, medieval harlequins and winged angels crashing from the sun. Sorcerers wield their magic, painted narcissists their mirrors and sinister horsemen clatter through fragmented otherworldly milieu; all brought to life with a jewel-like palette and astonishing attention to detail. More here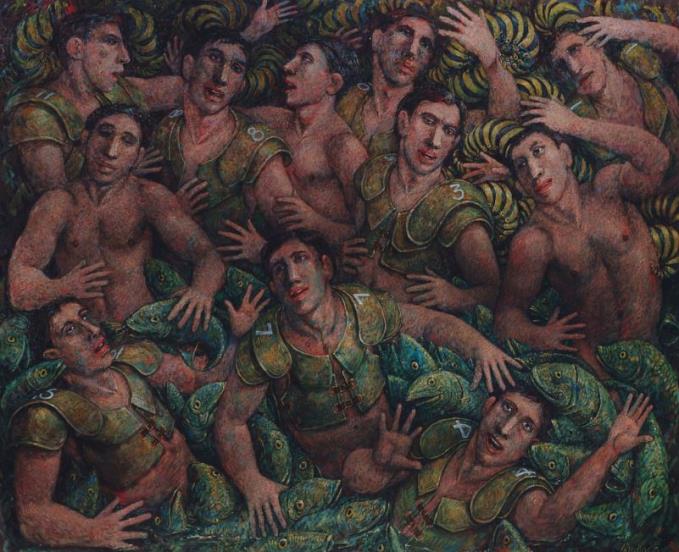 Battle for Earth, Sea and Air (image credit: www.richardwallace.org)
---