Neil Sowerby started his Welsh fine dining odyssey at Tyddyn Llan. Next up, beyond Lake Bala en route to Aberystwyth, he tastes more Michelin-starred food, courtesy of Gareth Ward at Ynyshir Hall, and becomes a twitcher.
HAIL Gareth, Wizard of Wales. No, not the Bale boyo, pretty nifty though he is. This Gareth, a Geordie built more like a rugby prop, is producing, exquisite world class food among the bird-thronged saltmarshes of the Dyfi Estuary, just south of unpronounceable Machynlleth.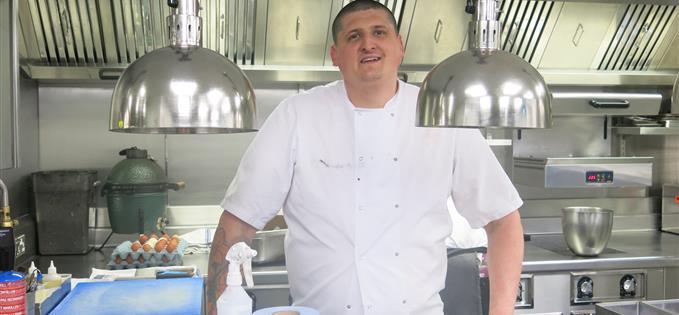 Gareth Ward is aiming for the stars with some remarkable cooking, swrved in style, below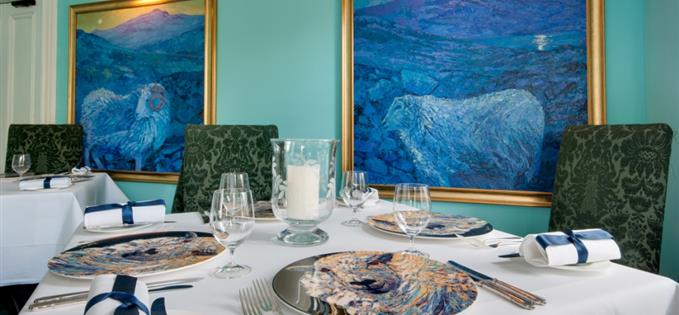 It's a world away from Restaurant Sat Bains in Nottingham, where as sous chef Gareth Ward helped capture its second Michelin star. Within a year of taking over the kitchens at Ynyshir Hall (pronounced unuss-heer) in 2014 he restored its own lost star and was named Chef to Watch by the Good Food Guide, which placed the hotel restaurant in its Top 50. Ynyshir also holds 4 AA rosettes and is a Relais & Chateaux member.
Our revelatory four hour dinner marathon (Gareth only does tasting menus, of which more later) didn't seem a minute too long. So far, so stellar, but the food was only part of a remarkable stay at Queen Victoria's former retreat in a remote corner of Powys teeming with interest.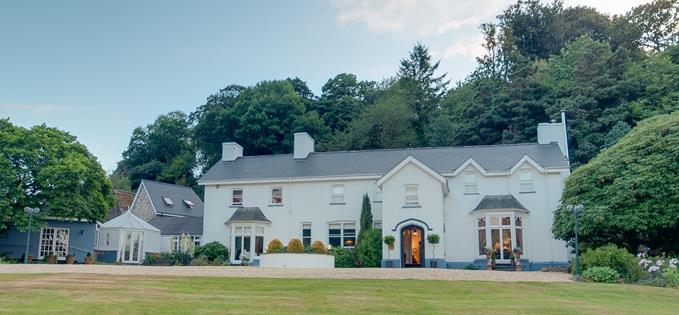 Ynyshir Manor offers a luxury hideaway for the famous
My only previous visit to the area had been to the Centre for Alternative Technology back in the day when solar panels and the like were viewed as the playthings of hippie cranks. It's still there in Llwyngwern Quarry spreading its eco-message to a more receptive generation; we passed by and lunched in lively Machynlleth at the Wynnstay Hotel, a bastion of the Slow Food Movement. We wanted to check out its award-winning pizzeria using Welsh-sourced ingredients but it shuts lunchtimes early in the week, so settled for a helping of robust faggots in the main dining room.
The A487 to Aberystwyth skirts the reedy basin of the Dyfi (or River Dovey). Along the road you'll find the Dyfi Osprey Project, which has established a breeding colony here. Further along, turn left up the charmingly named Artists Valley, where apparently beavers have been introduced into the River Einion. The idyllic wooded valley was once home to another endangered species, the Seventies hirsute rock god. Robert Plant, ex Led Zeppelin, had a UK home up here and was a regular diner at Ynyshir Hall. Back on the main road is a reminder of the industrial past – the huge restored water wheel of the Dyfi Furnace, once used for smelting iron ore (free).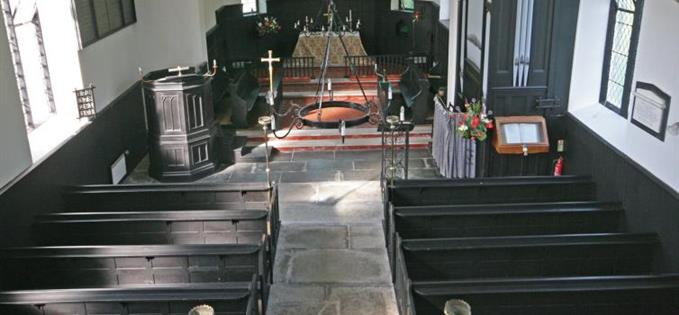 St MIchael's blackened on the orders of RS Thomas now has a 'shrine' to the controversial poet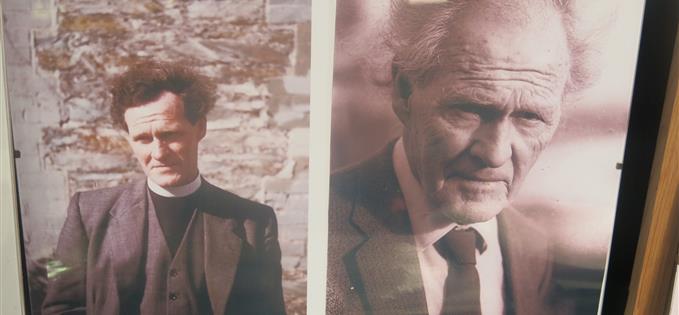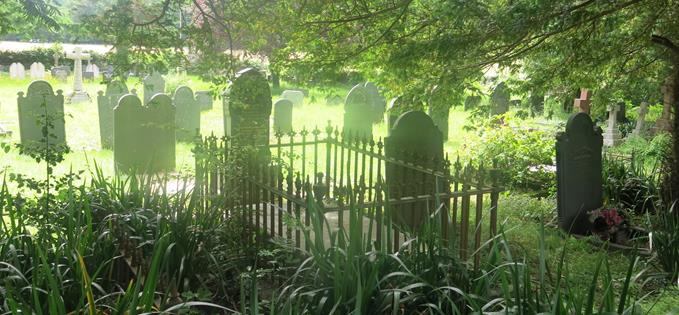 A more niche visitor attraction is St Michael's Church at Eglwsfach village, next to the turn-off to Ynyshir Hall. Its redoubtably austere vicar between 1955 and 1967 was the poet RS Thomas, who upset his parishioners by ditching all brass and plaques and painting the pews and woodwork matt black. We found it quite striking, although a clutch of pictures and his donated cassock in the corner hardly makes it a contender to knock the other Thomas, Dylan, off his tourist magnet perch. But Rowan Williams was one guest at a festival in his honour there last year.
A fervent advocate of Welsh nationalism who only learnt the language in middle age, RS wrote his great verse in English. I love the work. It's harder to love the man, but he is responsible for the wonderful Yynyshir RSPB reserve, created in 1966. A keen birdwatcher in the area, he persuaded the Hall's owner, William Herbert Mappin, of jewellers fame, before his death to sell 550 acres of the estate to the RSPB.
Godwits; below the coastal railway across the estuary is ignored by resident ducks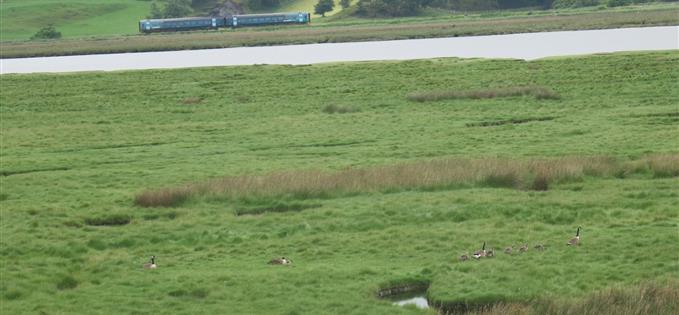 Result, one of the UK's finest reserves with seven hides across a variety of terrains. We explored its saltmarsh dunes and oak woods in search of godwits, redstarts and flycatchers and were beguiled by the abundance of butterflies and wildflowers. So beguiled we signed up to join the RSPB. Next purchase, proper binoculars.
A plan to get up at 4am and take in the dawn chorus out there was abandoned, though. Blame the epic tasting menu and the sheer luxurious cosseting of our lodging. We had been upgraded to one of the two new garden suites, which bring Ynyshir Hall's room total up to 10 (the Michelin-starred restaurant boasts only 25 covers, testament to the boutique intent).
All the hugely comfortable hotel's bedrooms are named after artists. Richard Gere stayed in Vermeer when he was filming First Knight locally. Long-time owner Rob Reen is an artist himself. Following his wife and co-owner Joan's death this year he has stepped away, but his vivid pictures of sheep are everywhere from the lavender-walled dining room to our three-room Chagall suite, which costs from £670 B&B.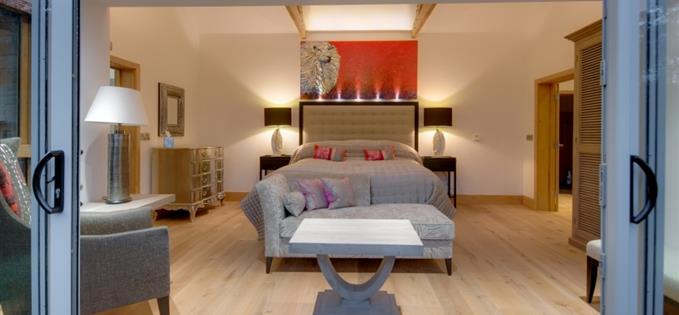 Our Chagall pad's bedroom and below, the view out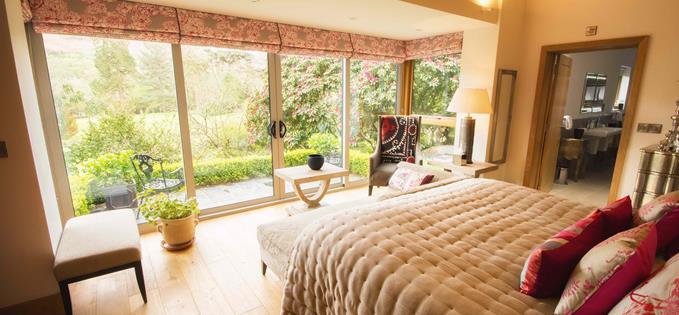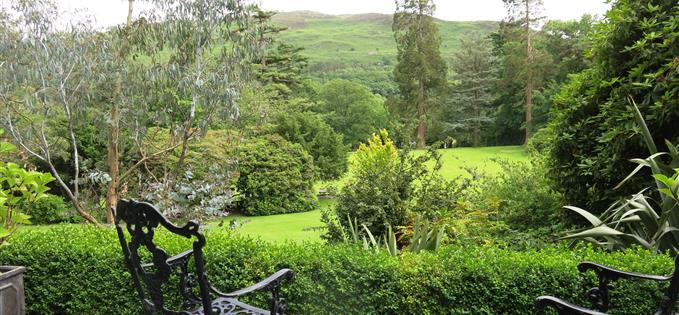 The room's fireplace was built from stone from the grounds, which are still home to trees planted by Queen Victoria when she owned the estate. From our private terrace the immaculate lawns swept down to woodland, while the Cambrian Mountains soared in the distance.
The Villeroy & Boch bathroom was a vast territory in its own right. I particularly loved the 'waterfall' tap on the freestanding tub. We didn't try the Holistic Wellness Centre – we were too busy out tracking egrets – but it looks a class apart from the bulk of hotel spa options.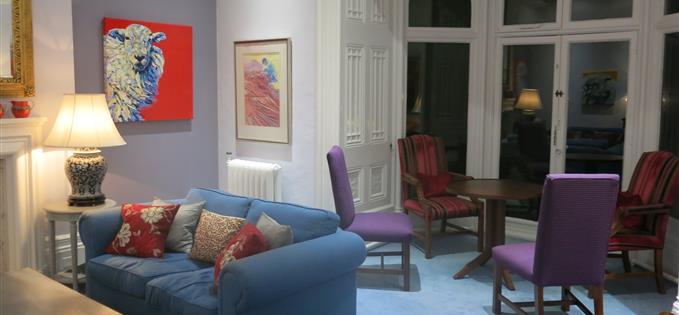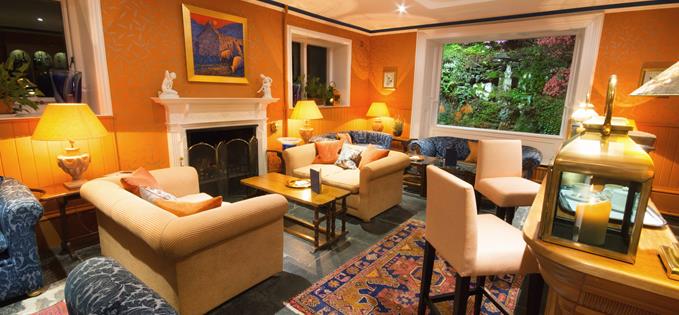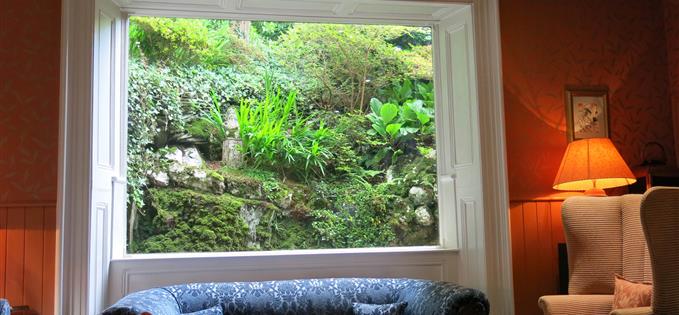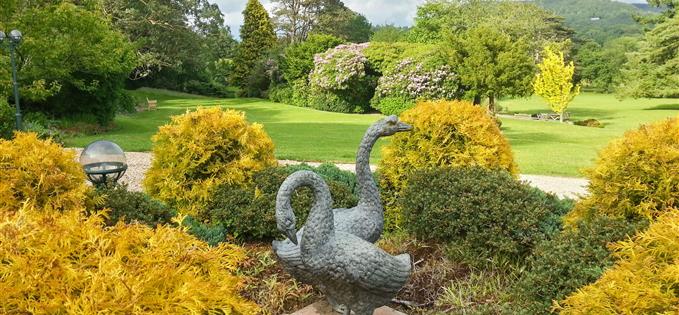 And so to the main event: the food. Ever since Joan and Rob took over the hotel a quarter of a century ago Ynyshir has been a fine dining destination as gifted chefs came and went (ditto that Michelin). Briefly it was sold to the Von Essen Group and when they went under the Reens, who had stayed on managing it for them, found new backers.
The subsequent appointment of Ward looks a master step. Great British Menu, Saturday Kitchen may come one day, but he tells us the last three years have been spent getting things just right in the kitchen and dining room". he has succeeded triumphantly.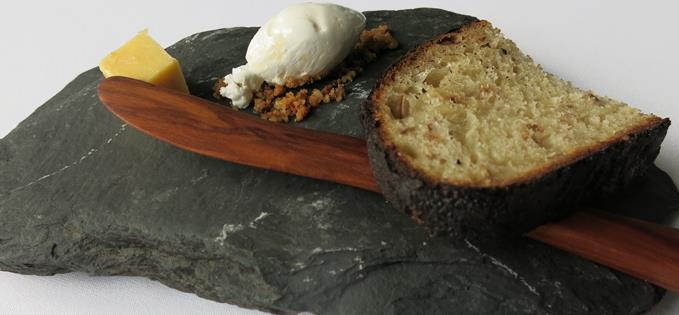 There were elements of our epic meal I found hard to get my head round at the time – notably the fourth of four interpretations of Welsh Wagyu beef – a pure fat beef fudge that echoed the dripping that accompanied the darkest crustiest, most delicious bread I may ever have had a couple of hours before. Later it made sense that it made a bridge into the trio of desserts.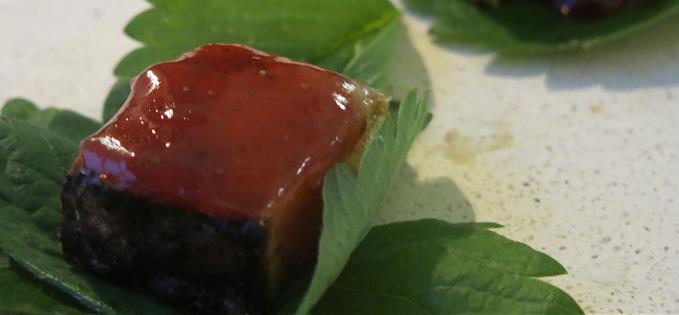 Wagyu fudge; below, the deconstructed Tiramisu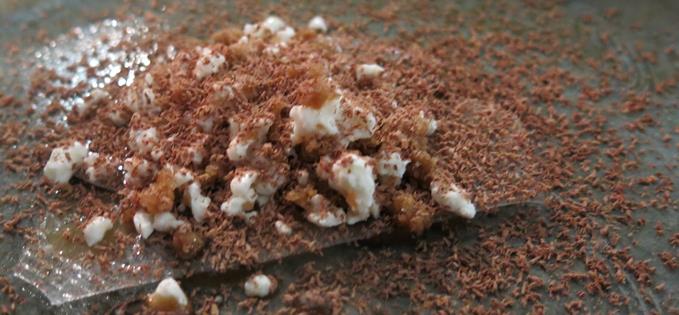 Ward is a lucky chef to have such a natural larder all around him. One of his chef team, who all took turns to come in and serve us, explained their constant, pickling, preserving, bottling of all they can forage. This perhaps explains the repeated use of wild garlic, just out of season – a minor complaint. I felt the same about like his riff of crunchy grains, but all was redeemed in the deconstructed 'Tiramisu' that closed the meal, where granola played an essential role in a great splatter of coffee cake puree, vanilla mayo, chilli Crémant gel, coffee, mascarpone granita and a grating of intense 100 per cent chocolate.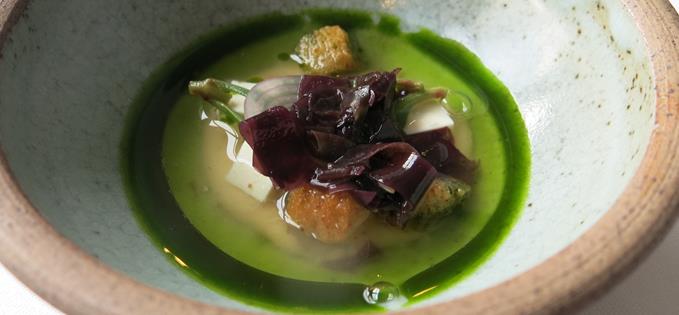 Not French onion soup
As remarkable as the opening course, the signature 'Not French onion soup', Japanese dashi stock flavoured with onion oil, diced tofu, pickled shallots, sea vegetables, onion and miso purée and brown butter croûtons. After that a procession of fascinations with hardly a dull moment, matched by some cannily chosen wines.
Pity we missed the dawn chorus, but I'm sure you'll understand. We'll be back one day with those binoculars, hopefully to celebrate a second Michelin star.
Factfile
Ynyshir Hall, Eglwysfach, Machynlleth, Powys SY20 8TA. 01654 781209: Rooms range from £250 B&B (booking online early) to two Garden Suites £670. Dining at 'Gareth ward at Ynyshir Hall' is exclusively via tasting menu. Beside the five course mini tasting menu at £55 (residents only) there is a choice of two full 11 course tasting menus at £89 a head. There is also a bookable 16+ course 'Chef's Table' experience costing £120. Special Michelin break: one night bed and breakfast in a superior room and a Michelin eight course dinner from £380 based on two sharing.