I have been rather naughty over the past twelve months. I was leading the good life…lots of food, lots of booze. I was happy. I was also living in denial that my occasional 30 minutes of Zumba Wii was more than enough to eradicate the mahoosive amounts of calories I was consuming. My ever-tightening trousers were telling me a different story.
I was intimidated as it's been a while since I took a spin class, but I put on my best poker face and strolled into the studio with faux confidence
So when I saw that Manchester Confidential is advertising a free day pass for the Y Club in the Castlefield Hotel, I committed myself to going sooner rather than later.
When I arrived, I was greeted warmly by the staff, and the lovely Kate took me on a tour. I was half expecting a glorified hotel workout room with a few pieces of equipment and a small room for classes. I have to admit, I was impressed by the size of the facility inside.
As well as the use of all state-of-the-art cardio equipment, free weights, circuit training and swimming, the free day pass includes a range of classes: Yoga, pilates, zumba, body pump, aerobics, spin, boot camp training, Thai boxing, boxfit, wrestling and judo. I opted for spin class.
I was intimidated as it's been a while since I took a spin class, but I put on my best poker face and strolled into the studio with faux confidence. Although everyone there was in far better shape than me, they didn't cast repulsed stares in my direction. Good start, I thought.

As I hopped on the bike, I noticed our instructor, Rich, getting ready for class. He had the kind of legs that are the perfect medium between the skinny legs you find on a long distance runner and the uber-beefy haunches on weight lifters. In other words, he's fit.
He launched us into class and steadily increased the intensity and before I knew it, sweat was dripping off my face onto the floor. I felt like such a bad ass.
Although it's not included in the free day pass, I thought it would be a good idea to have a personal training session to make sure I was using the shiny new equipment properly. And lo and behold, hunky Rich was to be my trainer.
He took a health evaluation survey to understand where I was physically, then weighed me, took my blood pressure and administered the dreaded BMI test. The results were shocking, and I'm far too embarrassed to tell you my body fat percentage here, but it was a wake-up call.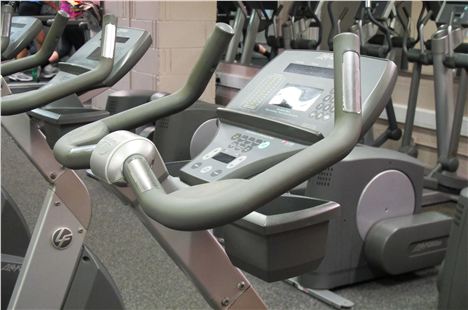 We then went to train on cardio and weights, and he instinctively knew when I was capable of doing more. He got me to put in the extra effort without barking at me like a rabid dog. But I'll never forgive him for the medicine ball crunches.
I was thrilled to see a Pamper Package was available at the Castlefield Spa. Again, this is not part of the day pass but I deserve to give myself a Scooby Snack, dammit. I went for a half hour facial and a half hour massage, although there are other luxury treatments on offer.
It was glorious. Jacqui used various potions to remove dirt, oil and dead skin from my face, neck and lips. Finally, after applying a face mask, her angelic voice asked, "Would you like a scalp massage while that dries?" Yes please.
Facial complete, I flipped over for my hot stone massage, and Jacqui warned that the stones can be quite hot. Now, if you're a wussy, these may indeed be too hot...but I found it bearable and they magically melted the tension in my muscles away. Just as I was about to dissolve into the table from my state of total relaxation, my time was up.
My Pamper Package included an a la carte meal in the hotel dining room. The menu consisted of standard fare with sandwiches, stuffed jacket potatoes and salads. I showed a new-found self-control and chose the Greek salad. I was impressed to see the generous portion, and how fresh the ingredients were, and promptly gobbled it down.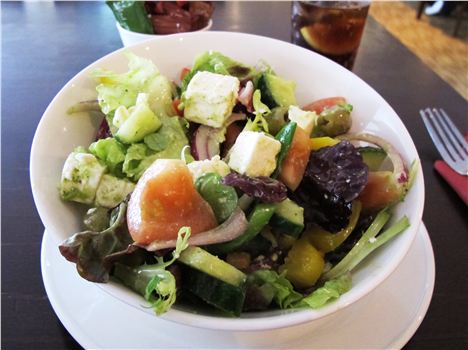 Having been sweated, buffed and tenderized, I bounced out of the building almost drunk on the endorphins coursing through my veins. I'm going back to the Y Club for a new, better me. Yes, I thought, I'll drink to that.
What can I say, old habits die hard.
To get a free day pass for the Y Club simply fill out your details below
A session with a personal trainer is at an additional cost, please call the Y Club on 0161 837 3535 for more information.
Pamper packages at the Castlefield Spa start from £42. To find out more, visit the Castlefield Spa website.