NIPPLES. We've all got them. But what is it about nipples that affronts the conservative mindset of the masses?
...we've become so desensitised to nudity that bare nipples shouldn't really stimulate so much attention
We live in a super-charged sexual age where we can make profit out of selling breasts: both silicone and in print. Yet we couldn't possibly let a nipple attached to a female breast frolic freely in our social media feeds.
Breasts pushed up in bras too tight, or covered suggestively in art-nude shots is more than acceptable, yet add a nipple into the equation and WOAH we've protruded a few inches too far.
#Freethenipple is all about women liberating their nipples: pierced, round, oval, brown and pink without them being censored on social media platforms.
Naomi Campbell, Rihanna, Miley Cyrus, and Cara Delevigne all flouted the 'no nipple' rule and had their Instagram accounts suspended in the process. Instagram's CEO Kevin Systrom blamed Apple and their App Store age restrictions, urging users to keep it PG13.
On social media the only nipples excluded from the nudity rule are: nipples that happen to be in the mouths of babies, scarred nipples from masectomies or stone cold nipples literally made of stone.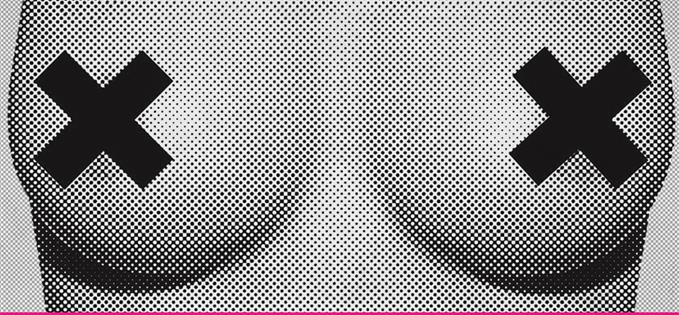 #FreetheNipple
The crux of the matter is this: women's nipples are sexualised, and aroused nipples means sexually aroused women. This way of thinking is problematic for more reasons than one. The first is that your mum has nipples, and (let's hope) you don't think of them in a sexual way. However the woman wearing a non-lined lace bra coupled with a white shirt whose turgid nipples decide to turn up after she gets caught in the rain will find everyone is unashamedly staring.
But women have always had nipples, and when we see nipples tastefully depicted in old-school paintings we don't feel the need to throw the naked lady a towel for her modesty. Society's attitude to the nipples of its women is the decider here. According to Instagram, breasts are not inappropriate for 12-year-olds, but a woman's nipples are.
However, if you're the owner of a penis then the nipples can stay (not in the same picture, I might hastily add). There's one rule for men and another for women. Let's look at this objectively, a man's nipples can be aroused in the same way as a woman's and they can similarly be stimulated sexually ( yes, I'm referring to yours). A man has breast tissue and in some cases, more breast tissue than a woman, but their nipples are free to stand proud and alert, whereas a woman needs to cover hers up with pasties. Double standards applied to shared anatomy: a debate that extends past the usual genital banter.
Some would argue that we've become so desensitised to nudity that bare nipples shouldn't really stimulate so much attention. Playboy recently announced that from March 2016, they will stop publishing nude images. As CEO Scott Flanders concedes, 'you're now one click away from every sex act imaginable for free. And so it's just passé at this juncture.'
Flanders is right. With a woman's weekend attire including plunging necklines and mesh, more nipples are on show than you'd see in a gym changing room, why should we censor something on social media when we can't censor a woman walking down the street minus a bra, in a translucent tank top? Nipples are the norm.
Can getting your nipples out really be a thing of empowerment? Instagram's tireless anti-nipple rule is causing dissent in the ranks of its users. A creative use of Photoshop, replacing your nipples with the nipples of the nearest guy reveals how arbitrary the distinction is. Yes, we want to protect the young users of social media, and to prevent Instagram being overrun with 'models' aspiring to become tomorrow's porn stars but most 12 year olds, male or female, know what nipples look like. All they need to do is to look down.
Maybe it's time for Instagram to tweak its rules, and stop acting like tits.
Follow @MissAmeerkat on Twitter