ENJOY Brittany's playgrounds all summer with new direct flights from Manchester to both Rennes and Nantes. Perfect for a city break or a week's family holiday in one of France's most glorious destinations.
There's over 2,700km of coastline – that's four times more than Cornwall! Much of its is unspoilt and includes the 3km long Plage du Sillon in Saint-Malo – named recently as one of the country's three most beautiful beaches.
Add to this a wealth of locally sourced food from local markets – oysters, smoked trout, fish rillettes, organic gingerbread, dashed with traditional Breton cider – and abundant, affordable accommodation from camping to characterful auberges and hotels.
Britanny's cities have a fascination all of their own. Capital Rennes was recently voted "Best French City for the Quality of Life", recognising the charm of its historical grand squares, glorious gardens, and lovely cobbled streets, home to traditional 'crêperies', lively bars, and small designer and fine food boutiques.
The Place des Lices Saturday morning farmer's market is among France's finest, and the city is at the forefront of the 'Bistrologie' trend – a savvy blend of French bistro cuisine and oenology, featuring fresh local produces. And for a real treat, book a table at one of the Michelin-starred restaurants in town. There's great culture and music, too.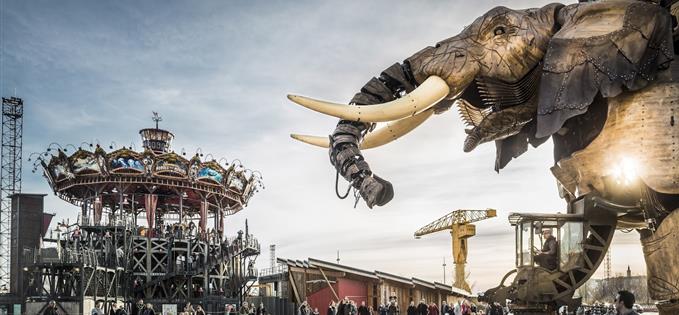 Meanwhile Nantes has shed its industrial reputation to become one of the most dynamic and inventive cities in France with a wealth of modern architecture. An impressive array of artistic events are rolled out over the year – the 'musical madness' of the "Folle Journée" classical musical festivals, the giants created by the street theatre company "Royal de Luxe", the Estuaire (a permanent open-air collection of modern art), or the "Machines de l'ïle" (amazing mechanical animals, see above).
Both cities are well under two hours' flight time from Manchester, using the new Flybe services. With return flights every Saturday from late May to the end of September 2016, the Manchester-Rennes route is perfect for a summer escape. And with up to seven flights a week each way in peak times, the service to Nantes, which is open all year, offers plenty of short break options. Flybe Rennes flights are from £40.99 per flight per person; while Nantes is £51.99 per flight per person.
For full tourist details on the region visit this link.
Powered by