WHEN two sisters from Liverpool were out on the town and found themselves short of the vital tools to sufficiently pamper themselves in the ladies, they had a brainwave.
Plans are in place to roll out 3,000 machines across the UK in the next three years.
Feeling there was a gap in the market, young entrepreneurs Kayleigh and Talia Baccino came up with the idea of selling must-have handbag essentials from toilet vending machines –Trendy Vend was born.
They call it a 'one stop pamper shop on the go,' and the idea is that whether it be an unplanned after work drinks session that turns into a night out, or you've just lost half your bags contents along the route, fate is on your side.
Vending from public toilets is hardly a new thing. We've have mints, condoms and tampons in there for years, but the Baccino's have made a big effort to move away from the unglamorous put-a-pound-in-and-twist metal boxes we're used to.
Trendy Vend is huge, displays the products in the flesh, and has a built in 19" HD LCD screen showing 'Trendy TV' – a channel advertising the latest products on the high street.
There's two versions of Trendy Vend; for him, in the gents, and for her, in the ladies.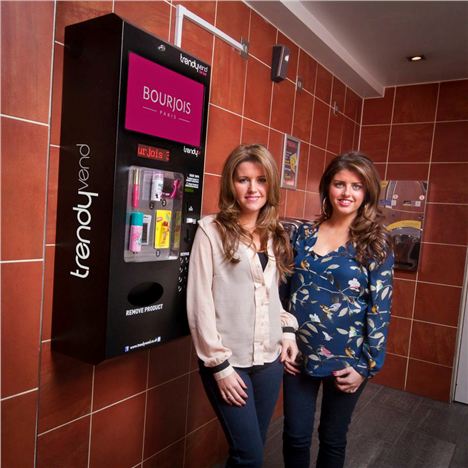 The Baccino sisters with their Trendy Vend
The female version stocks items such as; Compede (£4), Nivea invisible mini deodorant (£2), Bourjois 3D Lip Gloss (£5), Carmex Lip Care (£3) and a Hair Pack with dry shampoo, clips and a comb (£3).
The male version stocks items like Wrigley's five gum (£2), Nivia for men deodorant (£2), Diesel aftershave (£3), a hair styling kit with comb and V05 hold gel (£3), and Rennie handy packs (£3).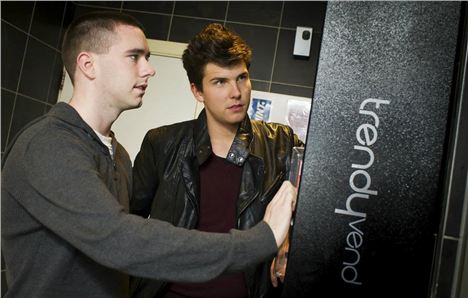 Trendy Vend for men
Trendy Vend can be found in bars all over the UK, and in has seven location in Manchester already; Baa Bar Deansgate and Sackville Street, Lammars, Jacksons Retro Bar, The Green, Bohemia Bar and Grill, and Venus.
Graduates of Liverpool John Moores' enterprise programme, the Baccino sisters are former winners at the Morgan Foundation Entrepreneur Awards, and have also just sold a stake in the business. New plans are now in place to roll out 3,000 machines across the UK in the next three years.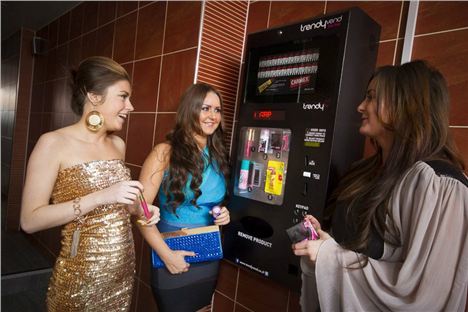 Trendy Vend for women
What do you think of Trendy Vend? Let us know in the rants section below.