IT would appear hotel guests have started to feel guilty about pilfering mini toiletries and as a trade off, are leaving behind books. But not just any old books.
7,000 copies of E.L. James' 'Fifty Shades' books have been recovered from Travelodge hotel rooms across the country.
Cleaners at Travelodge, the budget hotel chain, have been noticing a literary pattern among the 21,786 books left behind in 36,500 Travelodge hotel rooms in the last twelve months.   
Fifty Shades Of Grey was the top book left behind, suggesting we're a nation 'escaping reality to delve into a fantasy world of eroticism' according to Travelodge. Or perhaps just a load of simpletons.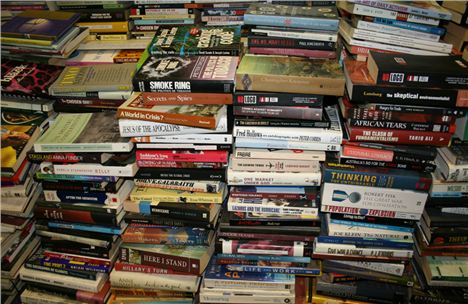 Outside the top three, which were all trilogies, the only book to enter the top ten was The Help by Kathryn Stockett taking tenth place.
Previous number ones have included Katie Price's autobiography 'Pushed to the Limit', however no celebrities or chick lit made the list this time. Or maybe people like to save those absolute classics for a future re-read...
This year's full list of books left behind reads like this:
1. Fifty Shades of Grey (E.L. James)
2. The Girl With The Dragon Tattoo (Stieg Larsson)
3. The Girl Who Kicked The Hornets' Nest (Stieg Larsson)
4. Fifty Shades Freed (E.L. James)
5. The Hunger Games (Suzanne Collins)
6. The Girl Who Played With Fire (Stieg Larsson)
7. Fifty Shades Darker (E.L. James)
8. Catching Fire (Suzanne Collins)
9. Mockingjay (Suzanne Collins)
10. The Help (Kathryn Stockett)
11. One Day (David Nicholls)
12. A Tiny Bit Marvellous (Dawn French)
13. Steve Jobs: The Exclusive Biography (Steve Jobs)
14. Diary Of A Wimpy Kid (Jeff Kinney)
15. The Brightest Star In The Sky (Marian Keyes)
16. The Fry Chronicles (Stephen Fry)
17. Room (Emma Donoghue)
18. StrengthsFinder 2.0 (Tom Rath)
19. The Confession (John Grisham)
20. Tinker Tailor Soldier Spy (John Le Carre)
Other Interesting Facts About Books Left Behind...
- 7,000 copies of E.L. James' 'Fifty Shades' books have been recovered from Travelodge hotel rooms across the country since its release earlier this year
- A sports book was found in all 57 London hotels during the Olympics 
- Hotel staff in Newcastle found the most cookery books left behind in their hotels    
- Staff at Scarborough Travelodge found a bag of Karma Sutra books which belonged to an elderly couple staying for a week
- Hotel staff in Essex, Newcastle and Liverpool recovered the most copies of 'The Dukan Diet'  
- Hotels in Central London, Birmingham and Scotland had the most business books left behind
- Travelodge hotels in London , Edinburgh , Cornwall and Cardiff had the most copies of English Phrase books left behind     
- The staff at Leamington Spa Travelodge found a suitcase of Mills & Boon books which belonged to a middle aged couple 
- The hotel manager at Peterborough Travelodge found a briefcase of superhero comics – which were left behind by a CEO who stays at the hotel regularly.       
- Hotels in London , Manchester , Birmingham , Edinburgh and Liverpool had the most e-readers left behind
- All books left behind at Travelodge hotels that are not claimed within three months are donated to Cancer Research UK charity shops across the UK .