A WOMAN with the gumption to appear on national television and display her unshaven armpits to the world, is one who instantly commands respect.
When 28-year-old Emer O'Toole did just that recently on This Morning, she pushed forward a dialogue which has being simmering ever since the second wave feminists of the seventies fuelled a short lived trend to refuse to remove their body hair.
The pressure to conform is undeniable. Women are inundated with the message that only smooth, lithe, honeyed limbs are acceptable.
In the modern age, the majority of females accept hair removal in a docile fashion. It is viewed as an integral part of grooming as, say, combing your hair and brushing your teeth. It's this meek acceptance of depilatory regimes that Emer is aiming to call to attention; embarking on a voyage of hair-filled discovery, in rejection of 'arbitrary, gendered' norms, and seeking to convert other women to the movement of fuzzy freedom.
The public's reaction to Emer was diverse and, predictably, largely negative. The biggest backlash though seemed to have come not from men, but from her fellow women.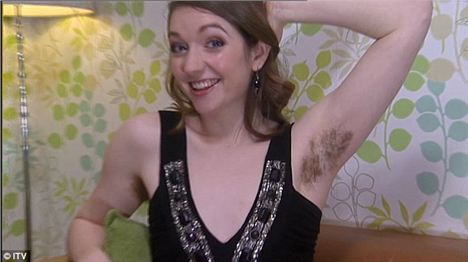 Do Emer O'Toole's Hairy Pits Make You Want To Part Company With Your Breakfast?
Amanda Platell of the Daily Mail wrote a scathing attack, with insults ranging from comparisons to 'a gorilla' to the accusation that she 'nearly parted company with her breakfast' when watching her exposed underarms.
The fact this seems to be something condemned more widely by females is unsettling. Rather than Emer's belief that this nation's obsession with hair removal is the product of patriarchy, could it be that we're more concerned with warding off the judgement of our fellow women?
The pressure to conform is undeniable. Women are inundated with the message that only smooth, lithe, honeyed limbs are acceptable. Anything else is unsightly and somewhat embarrassing: 'for the love of God, slap on some sun shimmer and hit the gym', is the resounding message sent by advertisers. There is nothing like a model of airbrushed perfection mounted on a massive H&M billboard to get the flutters of inadequacy going, and a part of that bronzed goddess' charm is the masses of hair flowing from her perfect head and the total absence of follicles anywhere else (eyelashes and eyebrows permitting).
But an element of our wish to look this way clearly stems from our own gender. I have friends who refuse to attend 'Ladies Only Swim' at Withington Leisure Centre without a good seeing to with a razor first. Not only are we worried about the criticisms of men, the thought of sharing our mutual hairiness with our fellow females fills us with dread.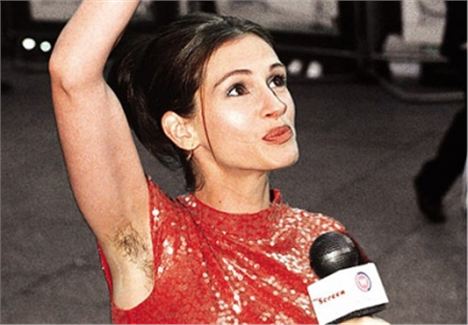 Who Could Forget Julia Roberts' Armpit-Hair-Gate?
Jennifer McMahon of the Manchester Feminist Network argues that the pressure to shave comes from all angles, noting that 'we still live in a society where hairy legs and armpits are frowned upon'.
Carlotta Boot, a 21-year-old student and waxing devotee, claims to continue waxing all areas of her body as a result of the pressure to conform to the feminine ideal from both men and women. For her, "hairiness is like a marker of uncleanliness. I don't want guys thinking I'm manly or other girls giving me weird looks. I also want to feel good about myself, and being well groomed is a part of that."
Whilst we're aware that all is not equal, and that a significant proportion of what we are doing hair-wise is a direct result of the archetype of beauty created by men, we must acknowledge the pressure heaped upon us by one another. At the same time, it is patronising to assume there is no way that a woman may wish to engage in a hair removal regime for her own self satisfaction, and personal preference for being preened.
Essentially, the majority will refuse to follow Emer, quietly applauding her from the sidelines whilst we sheepishly slink back to whatever Gillette are calling their latest Barbie pink, diamante encrusted, all- singing, all – dancing (Jennifer Lopez) number.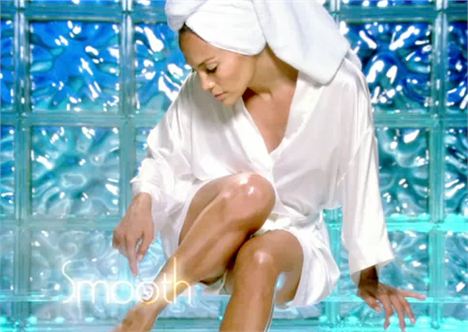 Can We Look And Feel Like Godesses Without Gillette?
Her confidence and willingness to make a statement about the undeniable grasp that misogyny holds over us is commendable. Likewise, if not removing her hair is how she is happiest, then that is her prerogative and in no way should she be vilified for her choice.
And so, perhaps the free-thinking revolution endorsed by Emer should be targeted not just at ending the reign of shaving. It should take into consideration encouraging both men and women to refrain from faces of repulsion if a woman chooses to forego the Veet, whilst simultaneously accepting that some will always feel most comfortable hair free. Accepting this diversity of preference is the only way to the actual freedom Emer strives for.
Do you think it should be socially acceptable for women to leave their armpit hair to grow? Rant below...

---
Follow Claudia on Twitter @ClaudiaCanavan